Welcome to a weekly feature on my blog – Ben's Zone. Written by husband… Ben. A foodie, coffee obsessed, ex-smoking, ex-drinking and Ridgeback loving Dad. Who is also seriously into his fitness.  You can find him on the blog (mostly) on Sundays. Enjoy!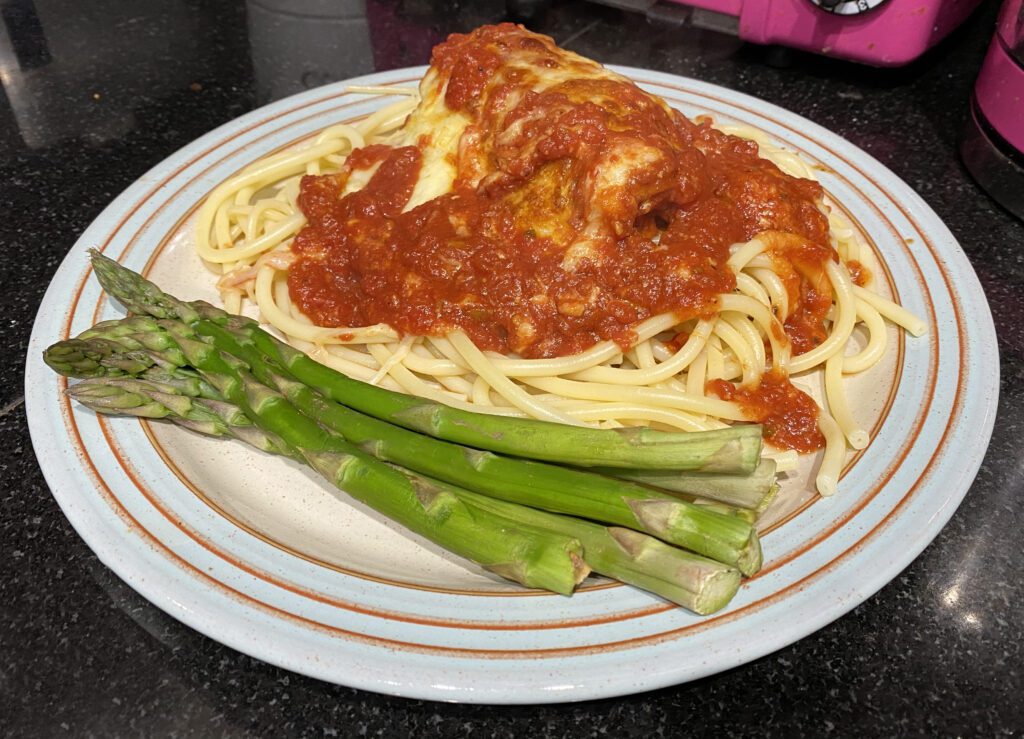 Volcano Chicken Recipe
This is a nice easy chicken recipe that has got a bunch of fairly bold flavours, feels pretty wholesome and makes for a nice midweek dinner. As with any recipe I cook it's usually started as someone else's work and I've tinkered with things here and there until they're how I want them, so if it looks like this is milanese for someone to lazy to platten and pane a chicken breast, that's because it is. You can be pretty free and easy with ingredients here, it's a nice one for using up veg or bits of ham that are perhaps a bit too crusty to have in a sandwich. I tend to serve with spaghetti and steamed asparagus but it's really all down to what you have to hand, it's also fine with chips and most veg I can think of (other than peas and carrots which are both pretty yuck). So here I present Volcano Chicken.
Ingredients (serves 2):
Lava:
Can of chopped tomatoes
Italian garlic style seasoning
Worcester sauce
Soy sauce
Tomato Puree
Herbs if you like
Chicken:
2 x chicken breast – boneless
2 x slices of ham / bacon
Salt and pepper
Grated Mozzarella cheese
Grated cheddar cheese
Method
1. Pre-heat oven to 190C.
2. First, make your lava. Take your normal chopped tomatoes and blitz with food processor or hand blender.
3. Mix in some good pinches of garlic Italian seasoning. You can make your own if you prefer.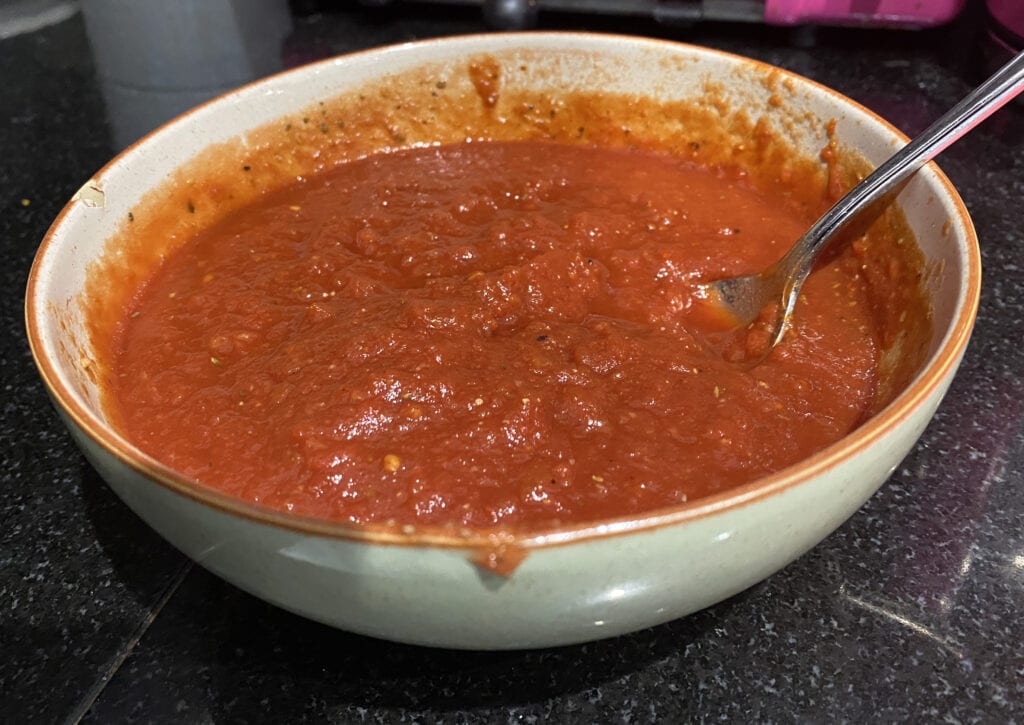 4. Dump in a dash of Worcester sauce and a dash of soy, this is just to season and bring the flavour up, don't go mental.
5. Put in a nice squeeze of tomato puree and a pinch of herbs if using.
6. The consistency you want here is pretty loose, a bit thicker than cream, so if you don't have that mix water in by the tablespoon until you do.
7. Now get the chicken ready. You need to cut a slice into the chicken horizontally and the way to do this is to turn the chicken breast over and look for the little droopy bit (the false fillet or 'tender'), remembering where that is, turn the breast back over and put your knife horizontally against the breast just above where the false fillet is. Cut slowly into the chicken to the depth of 2cm at most. You can widen your slit if you want to by gently running your knife inside the slit. The aim is to cut a pocket without going through the whole breast. Open up the breast with your fingers and lay in the ham (or bacon or whatever), at this point, if you have random antipasti at the back of the fridge you can put them in too.
8. As a final touch pour in about a tablespoon of lava and close up the breast, it's really just there to keep the chicken moist.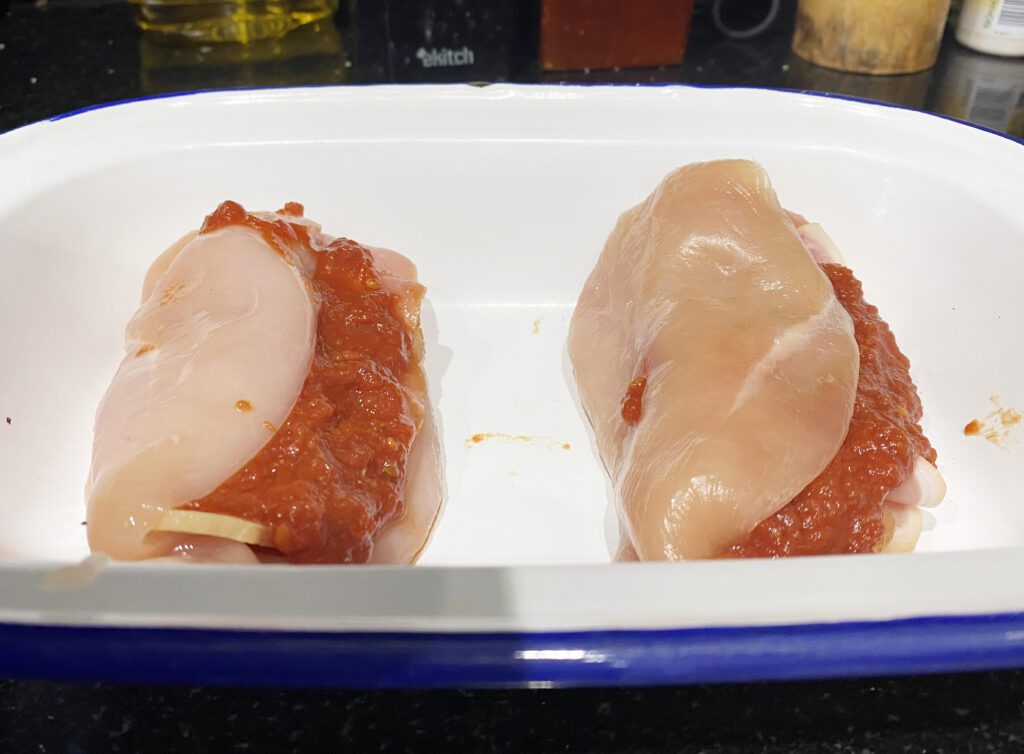 9. Put in a dish and bake for about 24-30 mins. Check at 25 mins, you should see clear juice in the dish.
10. While you wait take the grated mozzarella and grated cheddar, probably about 80g of both and mix together. You want grated mozzarella as it is drier than fresh which is what you need here. The mozzarella is because no cheese on earth melts as well, the cheddar is because, let's be honest, mozzarella has no taste.
11. If, when you check the chicken, the juices are clear take out the chicken and crank the oven to proper hot, like 210-220C.
12. Pour over the lava and then the cheese. Put back in the now super hot oven and bake for another 5-10 minutes until the cheese has melted and started to darken.
13. Serve with any veg but peas or carrots and some form of carbs, or don't.