Welcome to a weekly feature on my blog – Ben's Zone. Written by husband… Ben. A foodie, coffee obsessed, ex-smoking, ex-drinking and Ridgeback loving Dad. Who is also seriously into his fitness.  You can find him on the blog (mostly) on Sundays. Enjoy!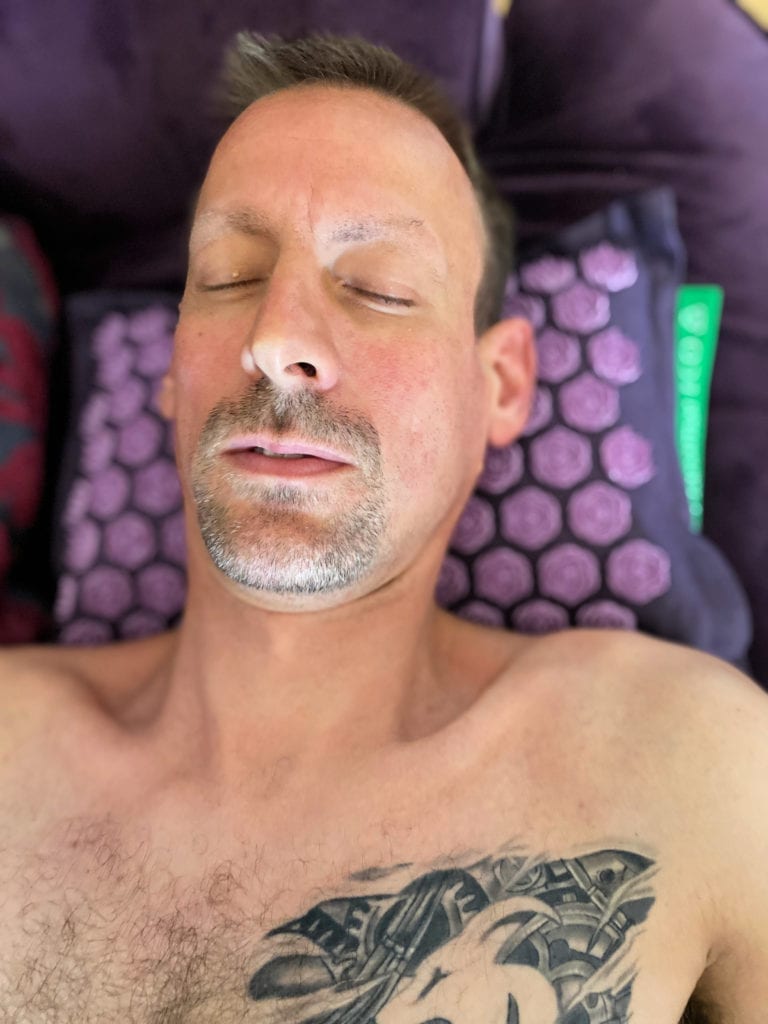 Pranamat Eco Acupressure Mat Review
*Advertisement Feature*
I've been exploring meditation for a couple of months now and this week I'm lucky enough to have been sent an item that allows me to take this to the next step. In this post I'm reviewing the Pranamat ECO acupressure set which is an acupressure mat and pillow set.
What is an Acupressure Mat and Why Use one?
An acupressure mat is a mat designed with multiple spikes on it, when you lie on it it has puts pressure multiple acupressure points along your body. Providing you with an intense, deep tissue massage at home. It can help with muscle tension, back pain, headaches and stress relief – without even having to leave the house. For guidance on how to use the Pranamat Eco massage set have a look at the video on their website.
Why would you want to use something like this? It comes back to what I am looking for in my meditation. I'm not looking for a relaxation or means to go to sleep, heaven knows I have no trouble going to sleep (I have 3 children!), I'm looking for energy and increased focus. The idea is nothing new, the concept of a 'bed of nails' being used alongside meditation to up the energy levels has been around for years. What we have here is the modern equivalent of that.
The set itself consists of a pillow and mat on which you lie with your skin against small plastic rosettes which then push into you. I liked this particular set due to the focus on natural materials being used in the construction, such as coconut husk for the padding. There's also a lot of effort made to ensure that the people who make the mat are looked after with it being hand made and with the people making it paid a proper wage. I like this, people should be fairly compensated for the work they do and I like that Pranamat ECO puts this front and centre. So, it's properly made and from materials that are not going to be damaging the environment.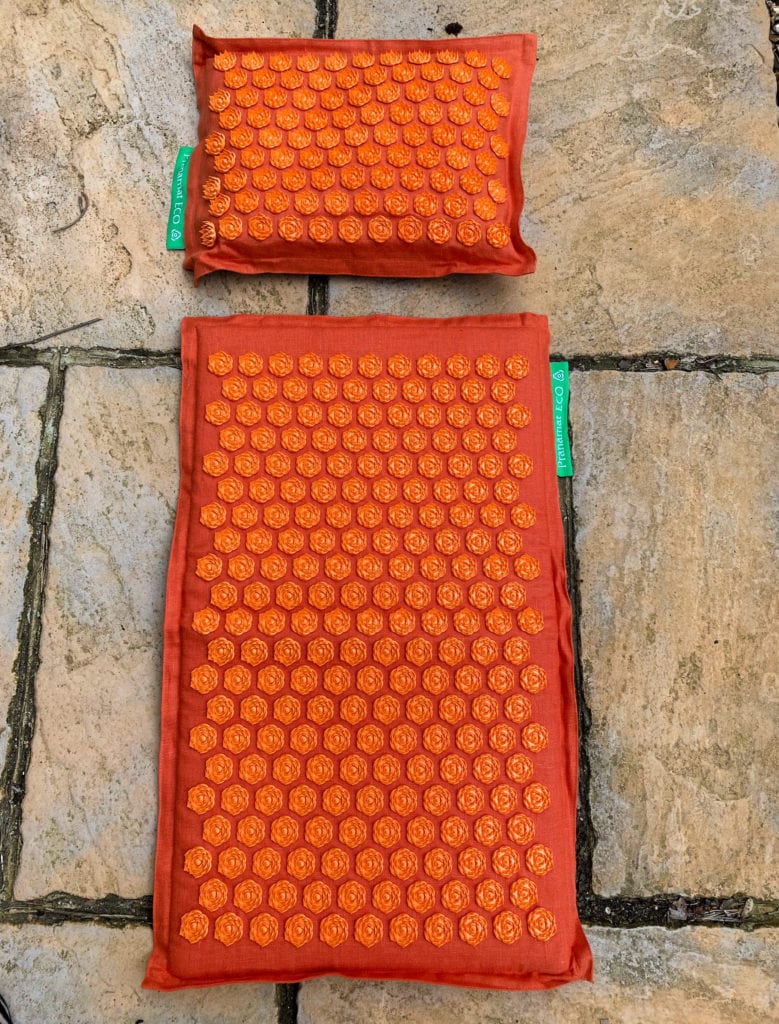 What is the Pranamat ECO Like to Use?
So, being an 'old hand' at meditation I was pretty excited to try the set and so I jumped straight on to it. What I had not done was read the suggestions that come with the set and so not noticed that using it on wood floors straight away may be too intense. It was definitely intense. I am not sure I would define it as too intense per se, but it was a bit overwhelming. The body mat settled down very quickly but I could not seem to get my head and neck into a good position. The issue I have is that my hair is very short and so the contact of the pillow against the skin on my head was very, very intense.
What I did was to read the instructions which suggest that a cushioned surface is a better starting point for people (like me) who are newer to acupressure. That was indeed a lot easier to start. With the pillow and mat on the sofa I found settling in much easier and was able to get into my meditation space a lot easier. I've just added a ton of strength based exercises into my normal daily routines and so it's fair to say I am a bit achy at the moment. I find that the Pranamat ECO is giving me a good amount of relief from those aches as it acts a bit like a massage. I do wish it was longer actually as I could do with my calves getting the same treatment on a daily basis.
Another area I am finding this helpful is in terms of focus. I meditate for 10 minutes a day but I often do this on my desk chair using my meditation guide of choice. This is working for me but sometimes it does feel a little slotted into my day. By using the Pranamat ECO I'm forced to lie down, which is nice as it means I'm making more of an effort to have a little focus time in the day, as opposed to slotting it between work calls. In terms of increasing focus and energy it is absolutely perfect as the acupressure flowers really kick me into a higher gear.
For functionality I am pretty pleased, it does exactly what it sets out to do. I like the fact that it helps with aches and pains because, while I appreciate the usefulness, I don't tend to get massages. I also like that it helps me with my meditation both in terms of the actual practise itself and also in the fact that it adds a little ritual in that means it's harder to get distracted. I would say that this is something that needs to be used regularly. The manufacturers suggest 20 minutes use per day. I have started at 10 minutes, but am going to be increasing this day by day. But, even during that shorter time I do feel like I have seen the benefits.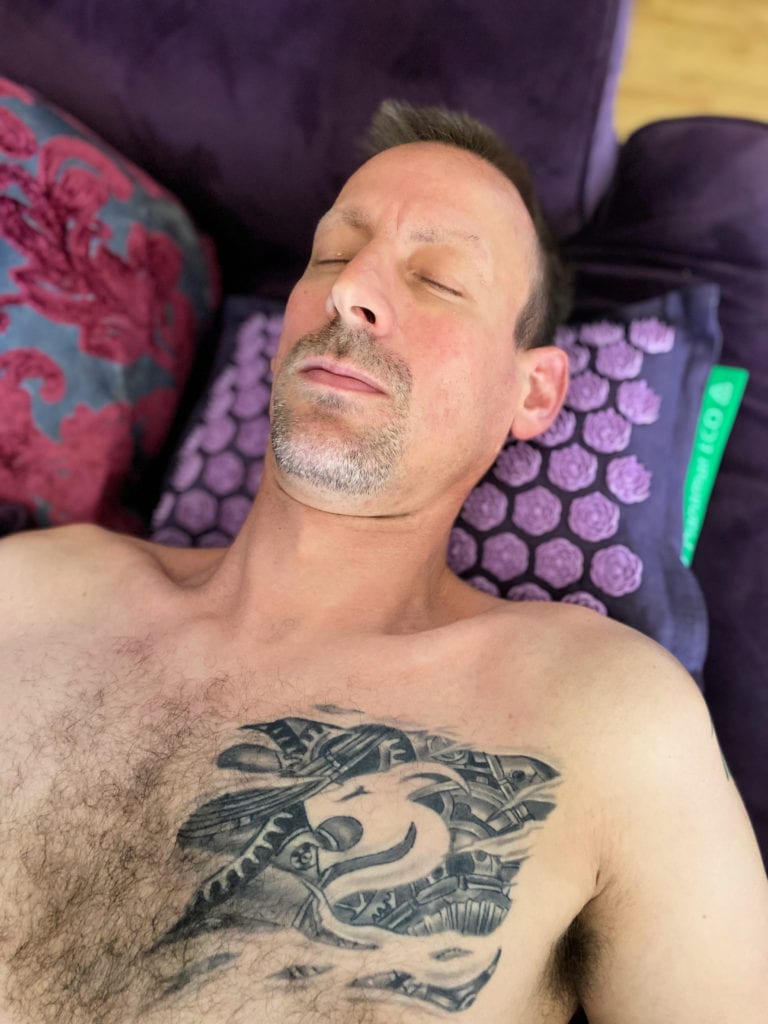 Why Pranamat ECO?
Pranamat ECO have been on the market for 11 years and have more than half a million customers. It is the only acupressure set that is hand made in Europe. It is ethically produced also certified as non toxic by OKEO-TEX. They have a 30 day trial period too, so if it doesn't work for you, you can just return it.
In terms of price the Pranamat ECO is very similar to other acupressure mats. Here, the ethical material and fair wages for the people making the mat come into play for me. While I'll always try my best to make ethical choices when I buy goods, if, like here, you can have an ethically made and environmentally friendly mat for the same price as any other, it's just a no brainer.
I'd recommend the Pranamat ECO for people like myself who have an interest in daily meditation and also people who, whether from sports or injury get aches and pains, particularly in the neck and back. You can purchase a set for a similar price as a single trip to the physio and for that reason alone I'd suggest giving it a try.
If you would like to see a Pranamat ECO video review check out this link. It's completed by someone with no experience of sports or meditation, you can see that neither of these are a pre-requisite for getting a great experience.
In conclusion, would I buy one? Yes, definitely.