AD | Gifted
If you're children are in primary school, there is a very good chance like mine they are learning their times tables. It's something I still have a clear memory or practising myself in preparation for all of the tests. But, what if there was a way to make it more fun?
Orchard Toys have sent us two games to review aimed at the just that.
First Times Tables Review (age 5-8)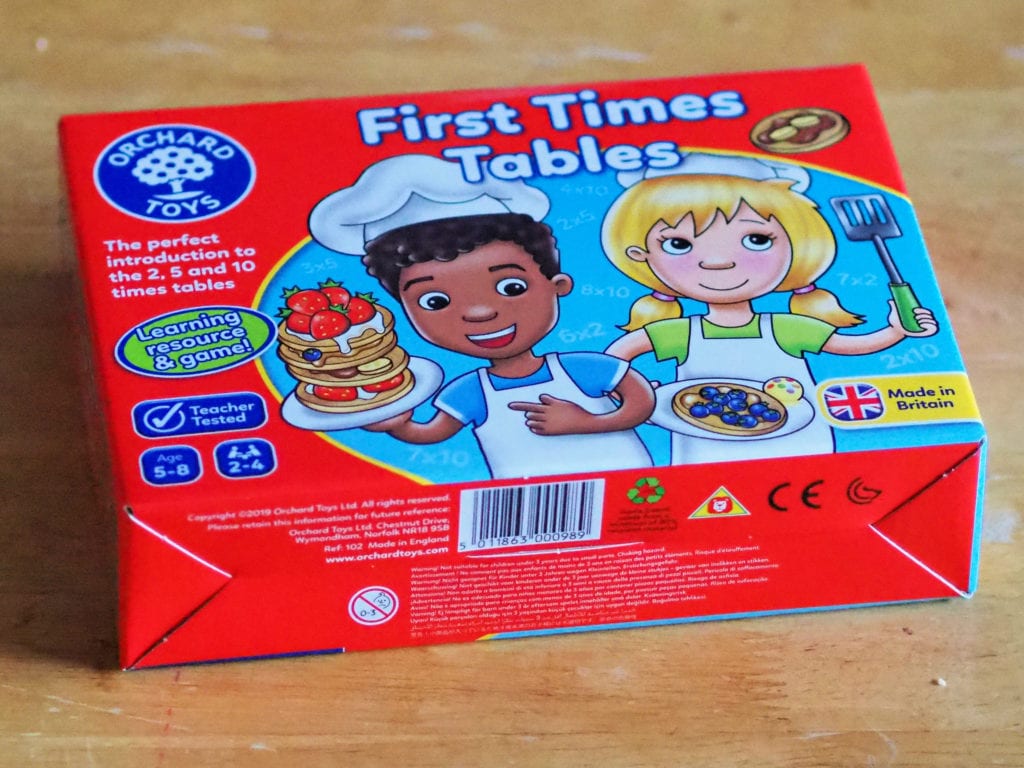 First Times Tables is the first times tables game they have sent us to review. Is is aimed at younger children at key stage 1 level and focuses on the 2, 5, and 10 times tables.
Game One – Introduction to Multiplication
This game is just as it sounds, and is an introduction to how times tables work. It has cards of 2, 5 and 10 times tables with pictures of fruit and a sum on one side and the answers on the back. The bananas are 2 times tables, strawberries 5 and blueberry 10.
These cards are less of a game and more of a visual representation of how times tables work. There are also number lines, which you may have come across in your children's homework, which is a visual line with numbers that help young children to count, add, subtract and multiply numbers using a visual line as a visualisation. This is a really handy tool if you have a child who is just starting out learning their times tables.
Game Two – Flipping Pancakes
We pretty much started off with this game as Aria has already started doing her times tables (year 1). In this game, it's all about flipping pancakes using times tables of course.
Each player gets their own dinner plate, you sort the different times table cards into their numbers (or fruit), then you spin the spinner. The spinner tells you which fruit you should pick up, unless you get a splat which means you skip a go. Then you have to work out the sum on the card. After you have given your answer you flip the fruit pancake over the the spatula to see if you have got the answer correct. If the answer is right you get to keep the card, if it's not you don't. At the end of the game the person with most cards (you can set a time limit) wins!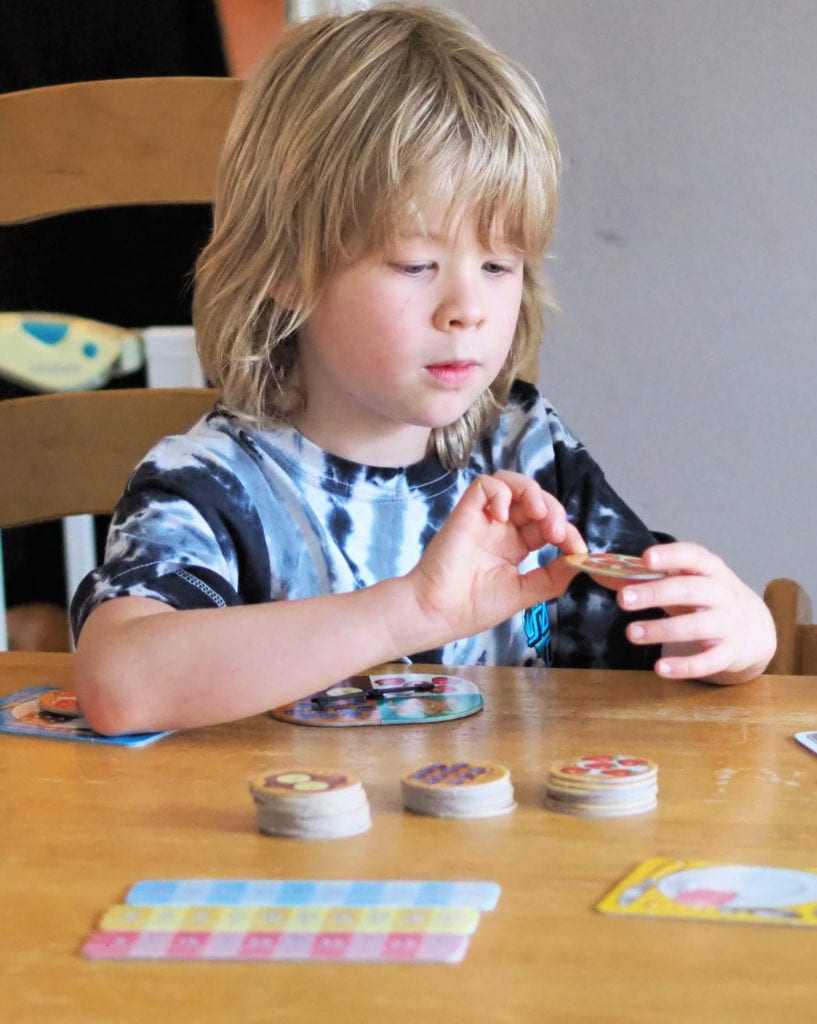 Times Tables Heroes (age 6-9)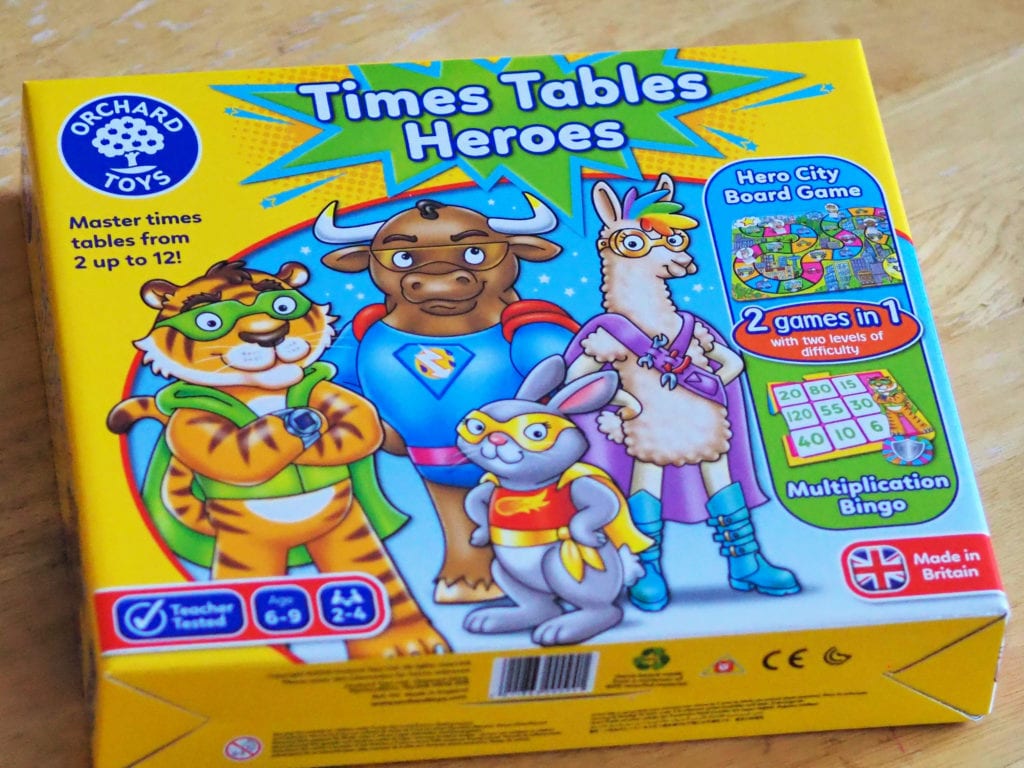 Times Tables Heroes is aimed at slightly older children and features all of the times tables up to 12. It has two games in the box – the hero city game and three in a row bingo.
Game One – Hero City Game
Hero City Game is a board game where each child can choose a character to play, that character has specific super powers like running super fast or being able to time travel. The game has two spinners and you can spin to get a times table sum. Get the answer right and you can move forward on the game. Land on a Shield square though and the picture will tell you what problem you have to solve with the help you your character's super powers. The one that gets to the end first wins.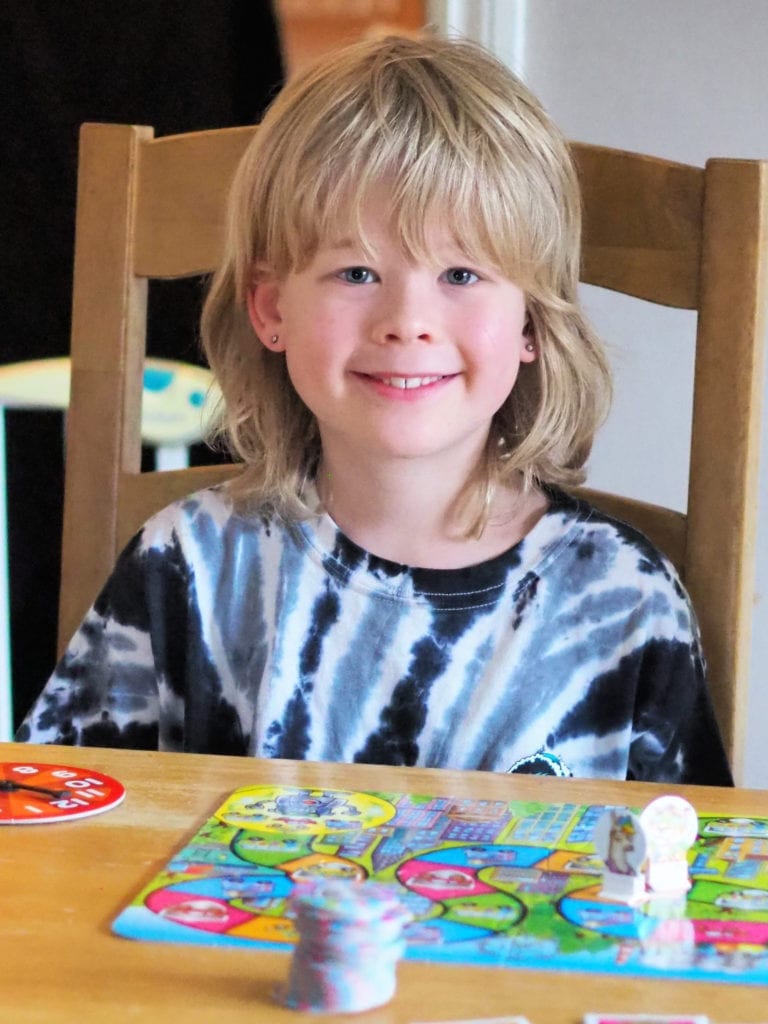 You can choose which times tables you want to do as your questions. There is a 2, 5 and 10 spinner and an all times tables spinner. I really liked this as it gave children of different abilities to play together. Aria who is 5, could play on the easier times tables against Logan who is 8 who did the harder ones and it put them on a level playing field.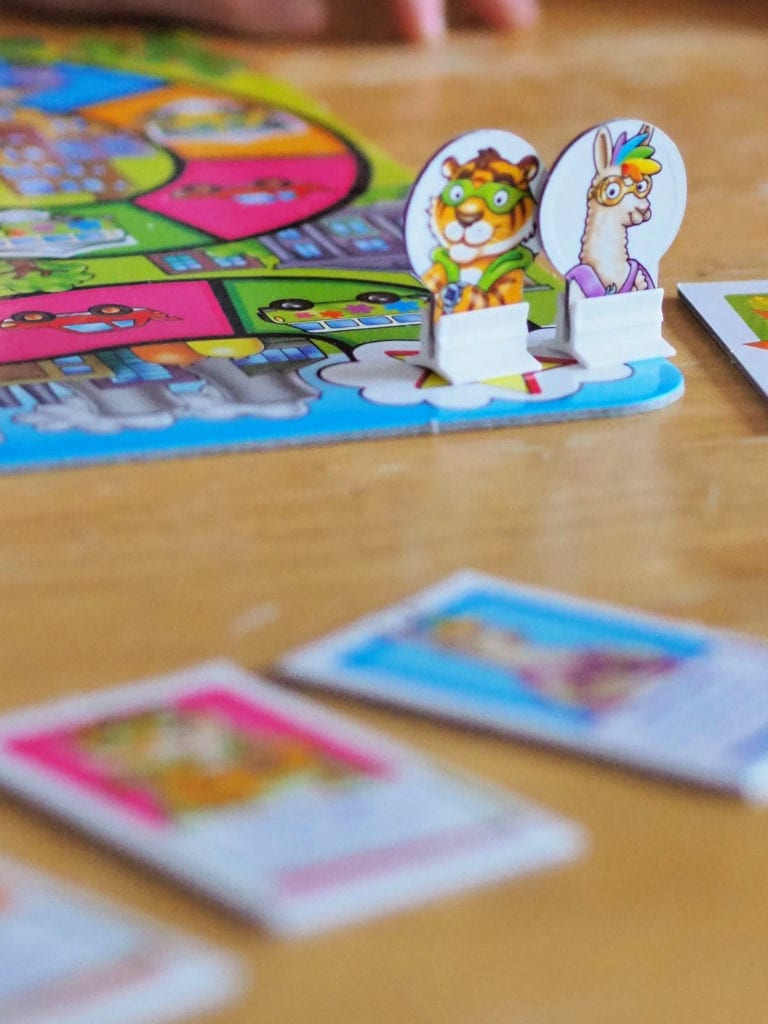 There is also a handy times table checker included to make sure you are getting your sums right.
Game Two – Three in a Row Bingo
If you turn the board game over, you can break it into squares and have four times tables bingo cards. Using the same spinners as above, you spin to get your times table sum and then you need to work out if you have that number on your card. If you have the number, you need to cover it with a card. The first one to get three in a row wins. This game is faster paced than the previous ones and used all of the times tables, so it more suitable for older children. But Logan and I had great fun playing this and it got my brain working on my times tables again!
Two really great games to help your children learn their times tables in a fun and creative way.
Giveaway
I have a fantastic Orchard Toys board game bundle to giveaway. The prize includes:
First Times Tables and Times Tables Heroes
HeroesMatch and Spell
Dinosaur Discovery – 150-piece jigsaw puzzle
Giraffes in Scarves – to develop colour and number skills
More Things to do activity book
To be in with a chance of winning simply enter your details below:
*Terms and conditions: Entries are open to UK and Ireland residents. The competition closes on the the 12th April 2020. Winners will be announced on social media and contacted via email. If the winner does not respond to the email in two weeks, a new winner will be randomly chosen. No cash alternative available.
a Rafflecopter giveaway