*AD – please note we were gifted this book for the purpose of this review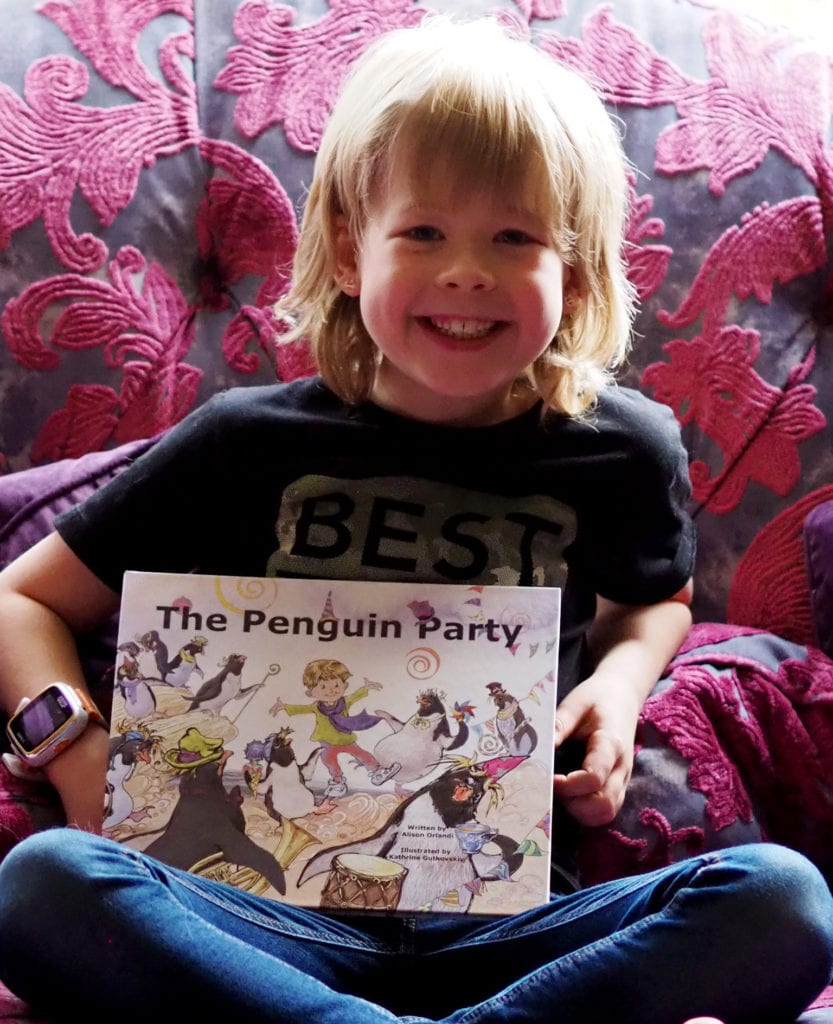 The Penguin Party by Alison Orlandi
Illustrated by Kathrine Gutkovskiy
Children's Fiction
Annabee's Books
Age range: 4+ Years
The Penguin Party is a beautifully personalised book created by Annabee's Books. Every part of the book is personalised for the person the book is created for, even down to the illustrations. When you first order the book you choose an illustration that looks like the child the book is for, and pictures that look like their Mum and Dad. You then enter names of their friends and family who are also introduced and used throughout the story as characters. There is also the opportunity to put a personalised message for the book's recipient at the front.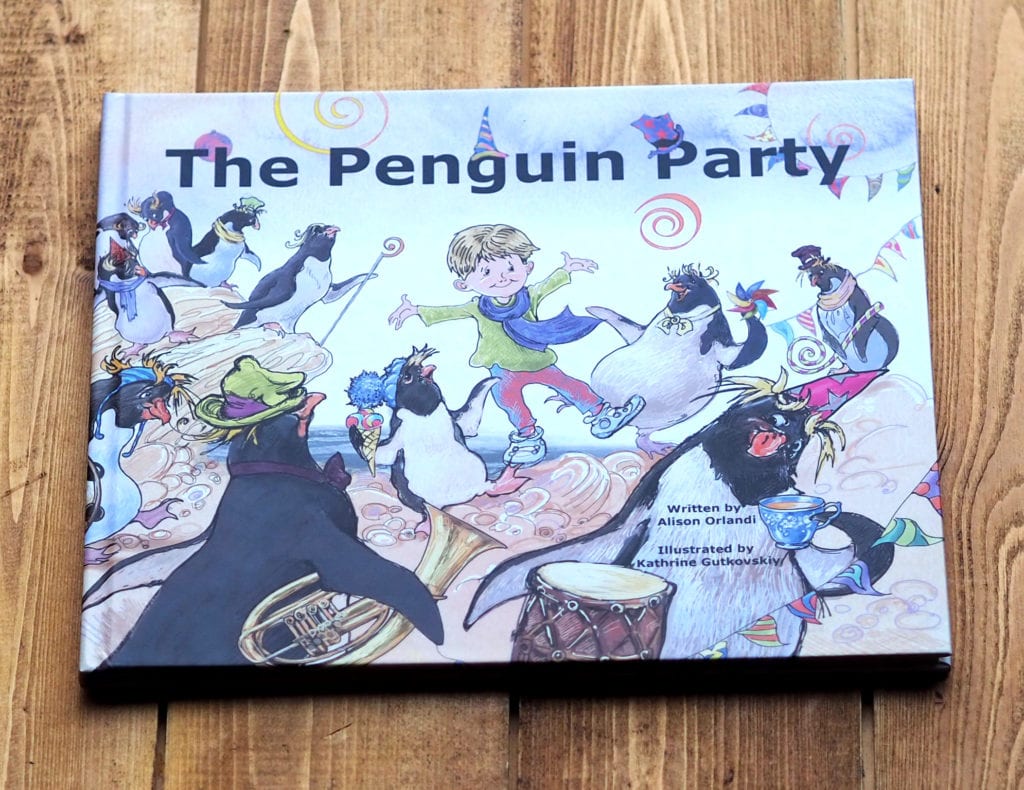 All of the books that Annabee's Books create are based on growing children's resilience, confidence and self esteem. As Logan has a few issues with anxiety, I thought that this would be the perfect book for him to review.
The Penguin Party is a story about the birth of a new baby – in this instance Logan – he lives on a magical island with a tribe of penguins called the Rockhoppers. But these are no ordinary penguins, oh no, they can actually talk.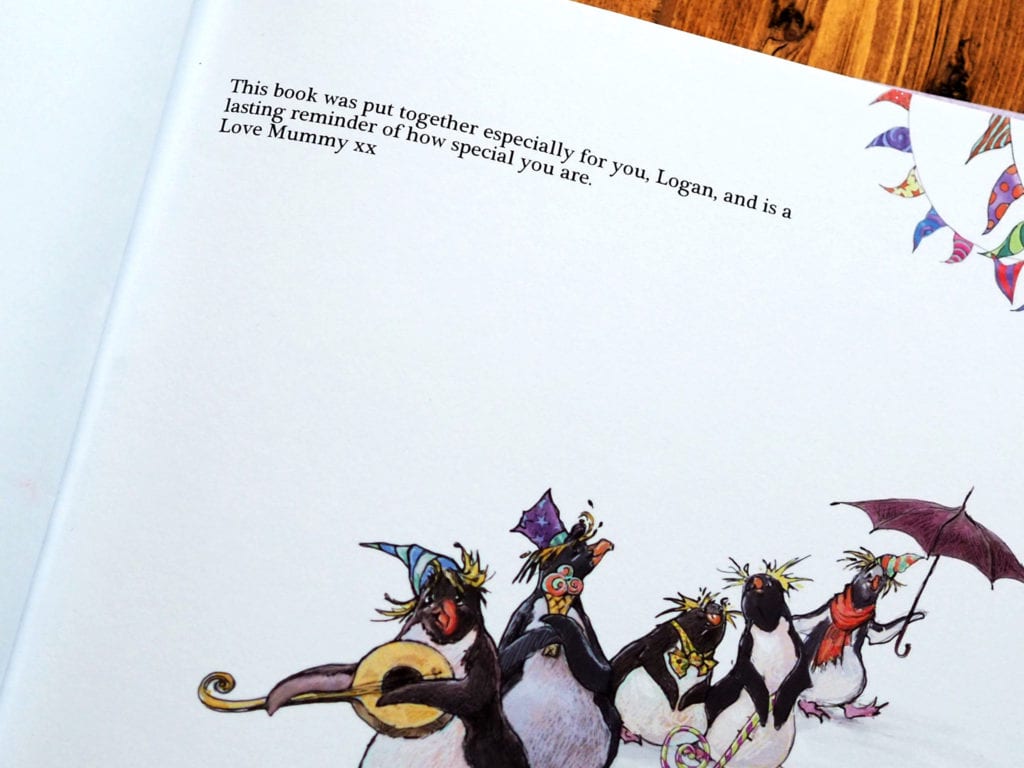 To celebrate the birth of Logan, the penguins throw a party and present Logan with some rather special gifts.
This book is genuinely lovely. As you would expect, a little bit Sleeping Beauty style, none of the gifts bestowed are material gifts. They are all important skills, traits and behaviours that make people happier. From happiness, to gratitude, to growth. It talks about all of these gifts and why they are important in life and how looking at things differently in life can make you a happier and more content person.
I have been trying to teach my children gratitude and mindfulness as I think they're so important. This book brought it alive in such a creative and sweet way. The inclusion of all of Logan's friend's names in the book was such a lovely touch too. Once he twigged that was what was happening and it wasn't just coincidence, he smiled at each page and said to me – I wonder who is going to be next.
At the end of the book we had a chat about each of the themes and then I asked Logan what made him unique and he had a real think about it. He seemed to be absorbing the message and asked if he could take the book to bed with him.
Verdict:
This is a gorgeous book and would make a very special gift too. I love the themes with in it and I think it's a very important message for any child.
Rating: 4/5
Giveaway
If you would like to get your hands on a copy of this beautiful book, then I have one to giveaway to one lucky reader. Simply enter your details below.
a Rafflecopter giveaway
*Terms and conditions: Entries are open to UK residents only. The competition closes on the the 8th March 2020. Winners will be announced on social media and contacted via email. If the winner does not respond to the email in two weeks, a new winner will be randomly chosen.