Welcome to a weekly feature on my blog – Ben's Zone. Written by husband… Ben. A foodie, coffee obsessed, ex-smoking, ex-drinking and Ridgeback loving Dad. Who is also seriously into his fitness.  You can find him on the blog (mostly) on Sundays. Enjoy!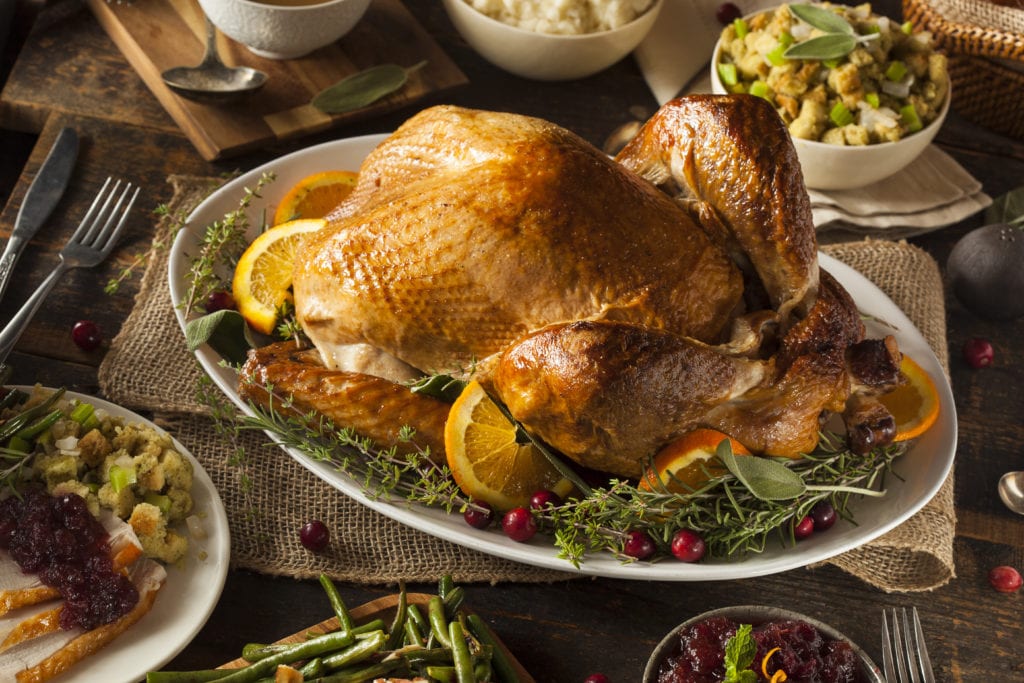 My First Thanksgiving Dinner
I often travel to the US in Autumn for planning meetings. This year I decided to coincide my trip with Thanksgiving. The loss of 2 days working time was more than made up by the fact that I could take on the Thanksgiving and Black Friday on-call shifts and give my US colleagues those days off. What I had not taken account of was the fact that in the USA, most places are closed on Thanksgiving, including all the takeaway haunts I would normally frequent for food. One of the few places I could find open was only doing a thanksgiving set menu. So, I thought, I'll give it a whirl and review it for the blog. Regular readers may be aware that I am quite a fan of nice food, so I thought it might be fun to share my thoughts.
The Starter
The first course was pretty super, local greens with pecans and goat cheese. There was also something orange which was relatively inoffensive. The salad itself I really enjoyed, the mix of chicory and other leaves worked perfectly with the relatively mild goats cheese and the oaky pecans. I ate the orange thing too. The only negative I have here is that there was a really lovely buttermilk dressing but that it was underneath the salad so I didn't really discover it until I had eaten the salad I might have put it on, which seemed pointless.
Main Course
I must have been holding up a table as my main course arrived while I was still enjoying my salad.  In normal circumstances I would have sent the waiter packing (while apologising profusely because I'm English) but it suited my purpose to finish quickly so I dove straight in.  First thoughts were that it was a fairly colourful affair.  I'd gone traditional with the turkey dinner which had mash, yams, stuffing and beans.  The plate itself was very colourful, the yams and the cranberry were both very vibrant which made a change to a British roast which is much more of a stodgy brown.  First up I tried the cranberry which was pretty good, not over sweet and with a heavy orange influence.  Not awful.  The turkey itself was brined, apparently.  I don't understand this, you brine meat to get more moisture and flavour there but this was not hugely moist, not dry either, but uneventful.  I reckon I can get a better result with a good quality turkey and a meat thermometer (plus a decent rest). The mash was very creamy but I just don't like mash.  It has no place with a roast really, if you have sufficient gravy it just ends up as a soupy mess.  Thankfully this did not have sufficient gravy and it was 'pan gravy' whatever that is.  Beige thin sauce really. Compared to the majesty of thick meat juice I can conjure (and indeed any who reads Jamie's recipe for get ahead gravy can conjure) this was a poor second.
The yams were pretty good, slightly sweet, not herby like a parsnip, 7/10 would eat again.  The green beans and stuffing were pretty sublime though, just a hint of garlic, still crunchy enough to squeak, I could not have done better myself.  The turkey was just a bit uneventful.  Well sliced but not super flavoured or super nice.
Dessert
Last up was pumpkin pie. I was going to have a pear galette but at the insistence of my wife (via text) I went with pumpkin pie for authenticity. It originally came with bourbon caramel sauce and as I don't drink I asked for cream instead. When it came out it was a lot less orange than I had imagined. The taste was just very cinnamon and not a lot else. The pumpkin filling had a pleasant heavy mousse texture but no real taste I could really discern, so the cinnamon was the overriding impression. The pastry was moist but not very short and so the buttery hit I had been looking for was definitely missing. What did upset me quite badly was that, unbeknownst to me, despite me having been very clear on the fact that I do not take alcohol in drink or food and requesting whipped cream instead, the pie, which came with whipped cream also came with the boozy caramel sauce. Two things here, very annoying that they ignored my food preference, two, cream with booze in is not the same as caramel sauce, idiots.
So, the verdict then, I had initially hoped to compare to a Christmas dinner but a few bites in it was clear that this would not be a fair comparison, so I am going to compare to a nice Sunday roast. Thanksgiving dinner was OK, not amazing. I liked the various components individually but I think overall it misses the point. A roast is about the meat and the other items are really like supporting actors only. Faffing around with slightly sweet and brightly coloured stuff is all well and good but if you're getting basics like gravy wrong, it's all for nothing. The meat itself was OK but there was nothing to lift it out of mediocrity. I do understand that Thanksgiving is about eating the stuff that's going to carry you through winter but simple mistakes like mash rather than roast potatoes are, ultimately, unforgivable.
I am sorry American friends, there are so many things to like about America and some of the food is truly great (if you're thinking of sneering at that and you've not had an In N Out Burger then you can shush) but Thanksgiving dinner is not the one.