My daughter (aged 5) had her ears pierced over the summer. She asked for it t to be done on her birthday in May and I wanted both of us a couple of months to think about it. I talked to her about how it would hurt, that they would have to be cleaned every day, that she couldn't touch them and would need to look after them.
After deliberating we got them done at the beginning of the summer. What surprised me is at the time of the piercing her brother (aged 7, nearly 8) asked to get them done too.
In the sense of fairness, I told him he needed to wait and think about it for a couple of months, just like his sister. Again, we talked about the pain and that it would need looking after etc.
Here's the thing I wasn't keen, and when I sat down and chatted it over with my husband the reason I wasn't keen, is because he's a boy. And the more I thought about it, the more I realised that that was not ok. Here I am going to forums on gender equality and yet I wanted to say no to my son because of his gender.
The only way we can break away from gender norms and gender bias is to have the courage to do so and live it in our lives. So this past weekend, we to get his ear pierced.
He couldn't decide whether to have one or two ears pierced. So we decided to go for one, and the piercer said he can come back and have the second one done at no extra cost if he changes his mind. Which it looks like he wants to do this coming weekend. I cannot tell you just how happy he was after he had it done. When the piercer showed him his earring in the mirror, he absolutely beamed. He was so very happy with his choice.
What makes me sad is that before we did so I had to chat to him about this being unusual and not necessarily something that boys always do. He didn't seem to care, he just wanted earrings.
But that evening, it was only when he began to think about school that he began to question his choices. He was worried that some of his friends might not want to be his friend anymore because he had an earring. We talked about this, about what real friends were, that some people might have comments, but if he was happy then that was ok. Our choices, do not always have to be the same as someone else's choices.
Monday morning came and I felt a little trepidation for him. Told him he looked great and off he went. As expected, he received mean comments, isn't it always the way? One friend politely said he didn't understand why he had it done. Another child (not a friend), in the class declared Logan should now be called 'Lo-girl'.
After school I asked him how this made him feel and he said he had thought about taking it out. I reiterated our conversation about doing what makes him happy and not others and he said he really liked it and wanted to keep it.
The second day was much of the same, lots of 'girl' comments, a lot from older children in the playground (Year 6 when he is Year 3). I suggested he say to them 'not your body, none of your business'. I was proud of him when he told me he did indeed say this to them. But also that most of the children who had been unkind didn't know how to respond to that.
However, yesterday things escalated and a child said he would slap Logan until he took it out. Naturally, I will now be going in to talk to the school about this behaviour.
I can't help but feel cross and frustrated, because I saw his face and just saw how happy he was in that chair after he had had his ear pierced. It's not even that unusual in modern society, for goodness sake David Beckham's got it done!
Since Logan has started school I have watched my son slowly shy away from anything that is out of the norm. He no longer wears pink, and yet he had pink jeans and a sequin jumper before school. His choice in clothes have become more sedate. I guess part of this could be growing up, it's hard to tell. If you watch my insta-stories he cried when I could only get him a pink lunch box worried about what other children might say if he went to school with one.
This is toxic masculinity. The belief that children should wear and do certain things because of their gender. It needs to stop. Yes, I floundered for a moment when he asked to get his ears pierced. This is a society I have grown up and been raised in. But, I questioned and changed because I was wrong. When children as young as 7 or 8 have these conceptions of gender norms, how are we going to change things?
It makes me feel equally sad and angry that Logan is afraid to wear what he wants to wear because of what people might say or do. It's only an earring and yet he's encountered mean and unkind comments from other children everyday so far. I'm not a perfect Mum and I am trying my best, we still have 'pink' and 'blue' things in our house, it's hard to break away from. But I want my children to be free to be who they are.
If you're parent, please spare a moment to chat to them about differences, choices and how it's not ok to be a mean to a child because they have done or are wearing something a bit out of the ordinary.
An Update Two Years On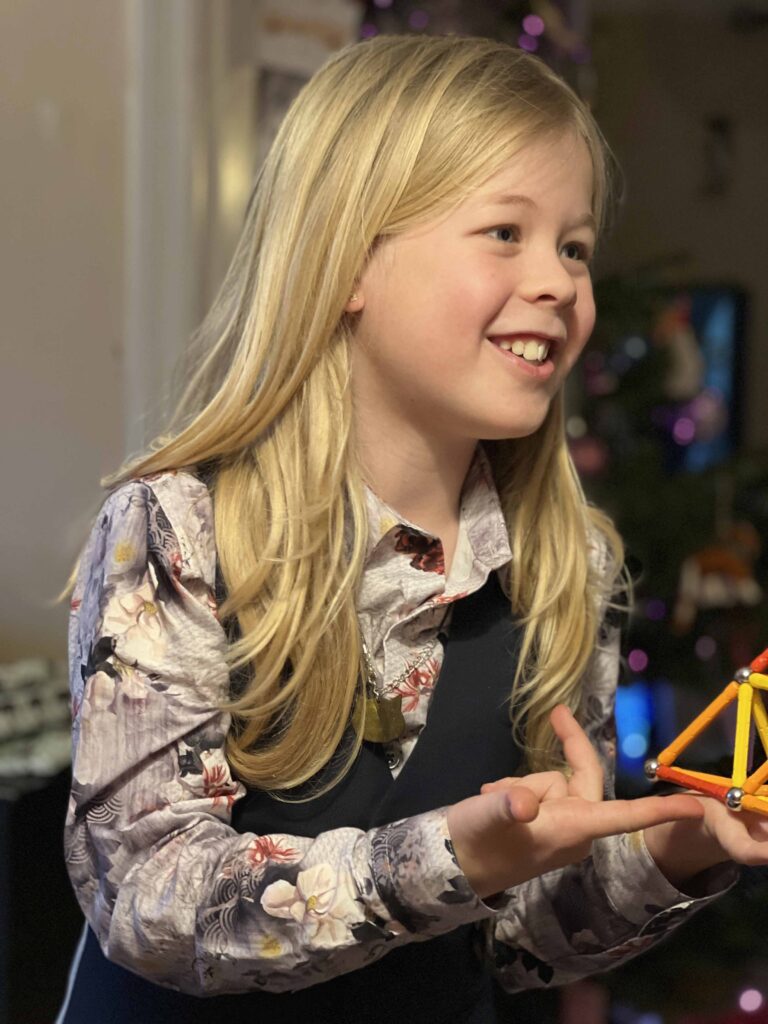 This post has surprised me with how many people have read it, so I wanted to give a little update. It has been over two years (and a pandemic) since Logan had his ear pierced. He did go on to get both ears pierced, which he really wanted to do. I went into school to have a chat about some of the behaviour of other pupils. The school were very supportive and tackled the problems straight away. Since the worst incident things have settled down and nothing more has really been mentioned. I think he gets the occasional comment, but he now tells me when he comes home that those people are idiots. He wears all sorts of earrings – dinos, cats, planets or today's favourite a pair of converse boots.
As Logan has got older and beginning to develop his own sense of style, he also decided to grow his hair – again totally his choice. He plays the guitar and wants to be like his rock heroes and awesome guitar teacher. It now sits halfway down his back and is beautiful I have to say. His style veers between band t-shirts and jeans, nerf trackies and his going out favourite – a shirt, waistcoat and jeans (like his Dad). It makes me smile watching him grow into his own person.
I don't regret getting his ears pierced, it was the right thing to do to encourage him into becoming his person. His body, his choice. Yes, I had a wobble at first, but I am human and I challenged those thoughts. If we can give the children the gift of anything it's the freedom to be who they want and who they are meant to be.