Welcome to a weekly feature on my blog – Ben's Zone. Written by husband… Ben. A foodie, coffee obsessed, ex-smoking, ex-drinking and Ridgeback loving Dad. Who is also seriously into his fitness.  You can find him on the blog (most) Sundays. Enjoy 🙂
---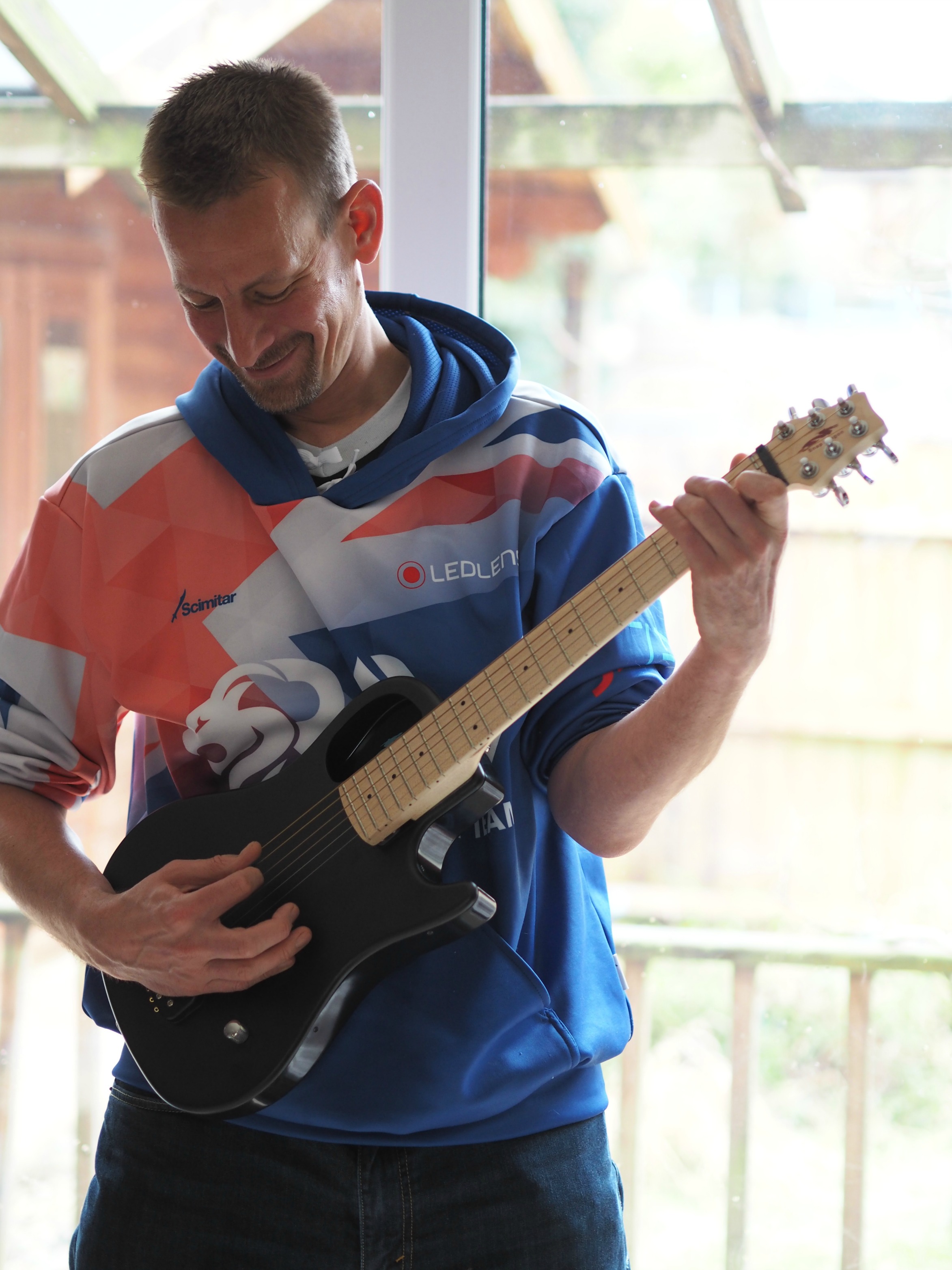 Snapdragon Traxe Noire Review
I've just started a new job that involves travelling for 2 week periods. This is exciting because I get to visit places I enjoy, but I also miss the things I love at home. I can't bring my wife and kids with me but, thanks to the wonders of modern technology, I can at least take a guitar to play. Since Logan, my son, started playing, I've really enjoyed playing the guitar again, so having a 6 string with me as I travel is enjoyable and makes me feel connected to home.
My solution then, is the Snapdragon Traxe Noire. Snapdragon are a British firm who specialise in building folding travel guitars, yes, you read that right, they fold. At this point I would really suggest that you check out the unboxing video that I did (below). The reason I suggest this is that the folding mechanism has to be seen to be believed. Essentially, the neck turns so that it can be stowed on top of the body of the guitar. The body itself is pretty small so this creates a very small unit. When stowed in the gig bag (which is supplied) the guitar will fit easily in the overhead locker on a plane. The neck is maple but the body is made of polycarbonate. There are 4 models in the Snapdragon acoustic range, the Mini Traxe has a wooden top to the polycarbonate body, the Snapaka has polycarbonate sides that detach for travel, the Traxe Noire with a full polycarbonate body and the new Picnic which is a parlour style wooden guitar. The Picnic is very new and was not available when I bought my guitar. When choosing I chatted to the guys at Snapdragon and I decided to go for the Traxe Noire. I intend to carry my guitar in my suitcase and all polycarbonate body is the toughest guitar they make. The single piece body also leads to a smaller profile when stowed.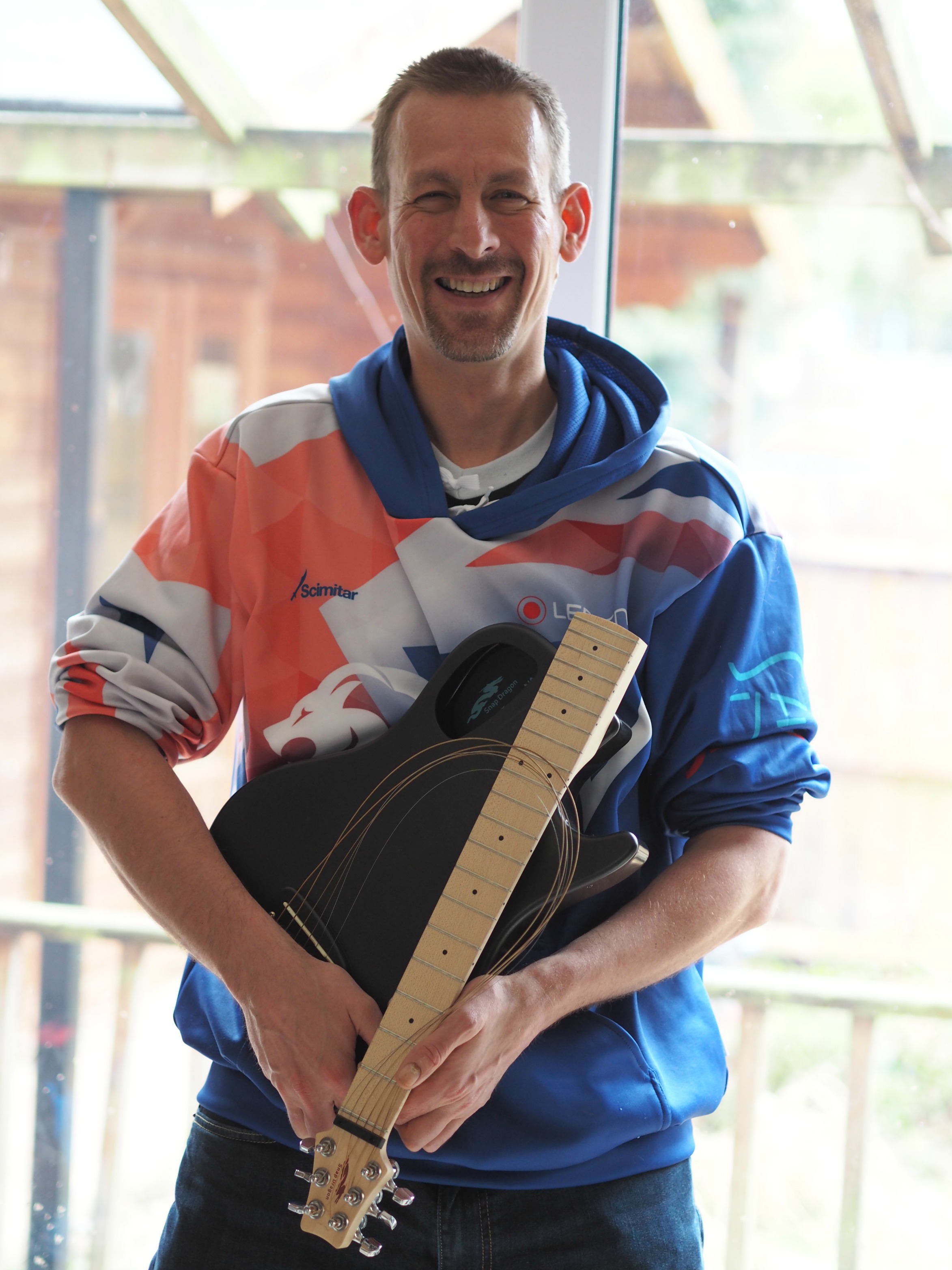 The guitar itself is really neat. Overall it's quite small but the neck is a full 24″ and 20 frets. In practise this means that it's slightly shorter than a Les Paul and the same length as a Fender Mustang. It's on the smaller end of 'normal' as opposed to a teeny tiny toy thing. I am 6'2″ and so have reasonably big hands and I don't feel cramped at all when playing. Snapdragon do electric guitars but I went acoustic as I just want to play in my hotel room. I didn't want the hassle of taking an amp out with me. That being said, should you wish to plug in, there is a Piezo pickup under the bridge (the jack is part of the strap button, which is a neat touch). I did a quick test with a small amp (a Blackstar Fly) and the guitar sounded pretty nice on clean tones and really not great on the overdrive channel. As far as I am aware this is what you'd expect from a piezo pickup as they are known for delivering the sound of the guitar 'as it is'.
So, what is it like to play then? Really nice actually. It's not super loud as the body of the guitar is relatively small but it has a pleasing sound. When unfolding the neck you do need to make sure that the strings sit nicely on the bridge. That is not difficult at all though, essentially it just means unfolding the neck smoothly. I did find that it's sensitive to how you fret the notes. When the note is fretted correctly all is well but you do have to be precise with your fingering. Initially I found this tough but it's easy enough to develop with practise and it is a very positive aspect for playing in general. The action and intonation certainly seem fine (it's got a nice low action as standard). Tuning stability was pretty good, often I would have to do a little tweak before doing practise but once done it would hold the tuning well. Given that the neck moves I was pretty pleased with this. The electric models can be fitted with an Evertune bridge, so would keep their tuning even with the neck folded and unfolded but that does increase cost significantly.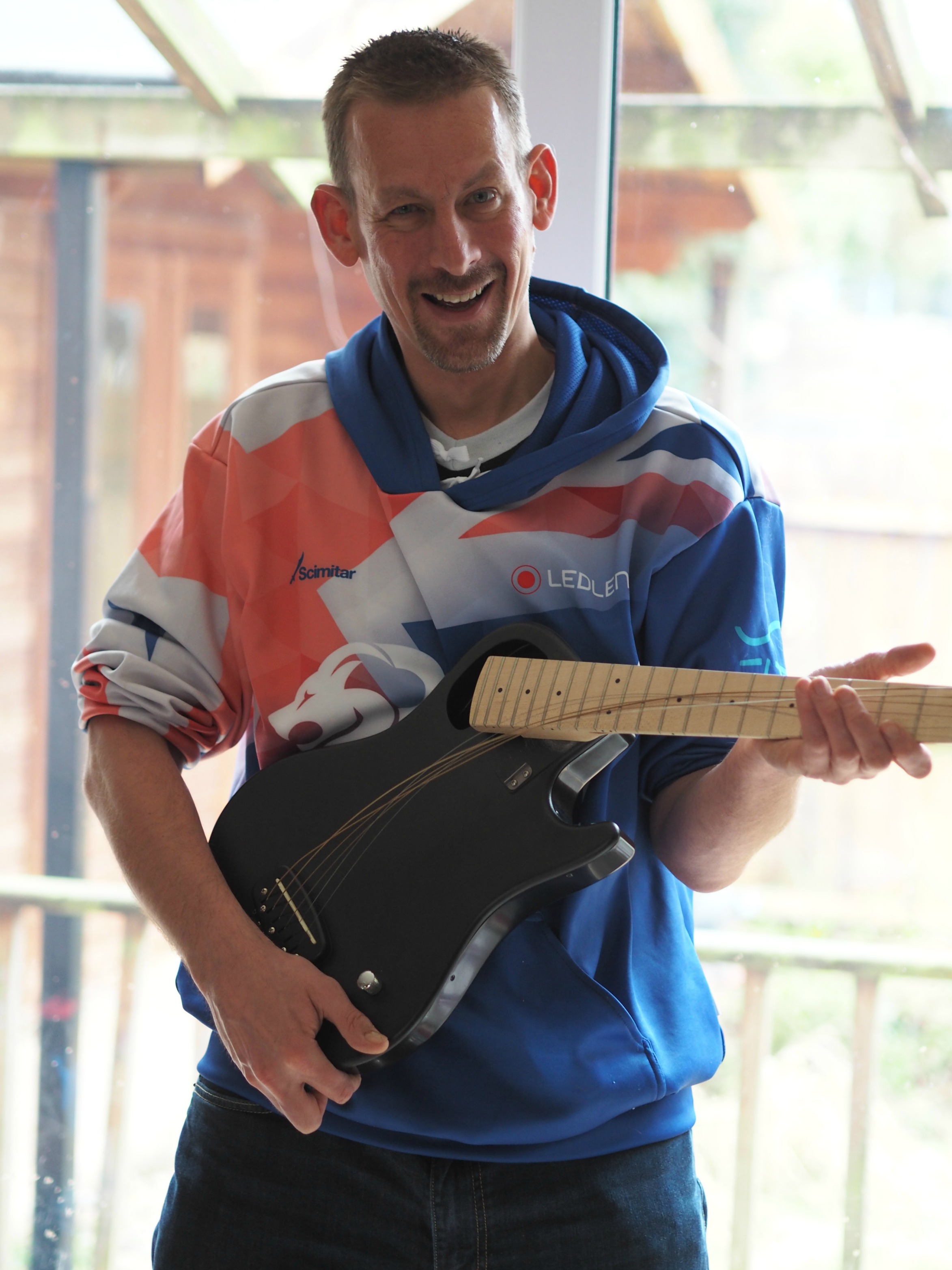 What I liked most about the guitar was simply how much I wanted to play it. Oftentimes, while sitting in my hotel room, I'd find myself picking it up and playing away while watching Netflix. I won't say it was an unconscious action but it was often something I would do without really thinking. I had a lot of fun simply running up and down scales or strumming away. I can't even put my finger on what it was I liked so much, the upper frets are a bit hard to access and the neck is not anything evidently special but it just all felt quite nice. The body is nice and compact and comfortable and really light and overall, the guitar just feels good. This isn't necessarily a guitar you'd play around a campfire unless you were prepared to bring a small amp as well but in the confines of my hotel I found it created an ample and pleasing sound.
I think it's evident that my conclusion on the Traxe Noire is that it's a good investment. I'm neither a great guitarist nor an expert on travelling instruments but the Traxe Noire fits my needs perfectly. It weighs abut 2kg in the bag so it travels well and fits easily in my hold luggage. The sound is sweet, the feel is natural and I never once felt that there was any element of compromise with the instrument. The price (£239 delivered) was also spot on. It has afforded me the opportunity to enjoy playing during what would have otherwise been a boring time in the off hours of my business trip. I'd recommend Snapdragon guitars as they play nicely, sound good and are very well designed and finished instruments.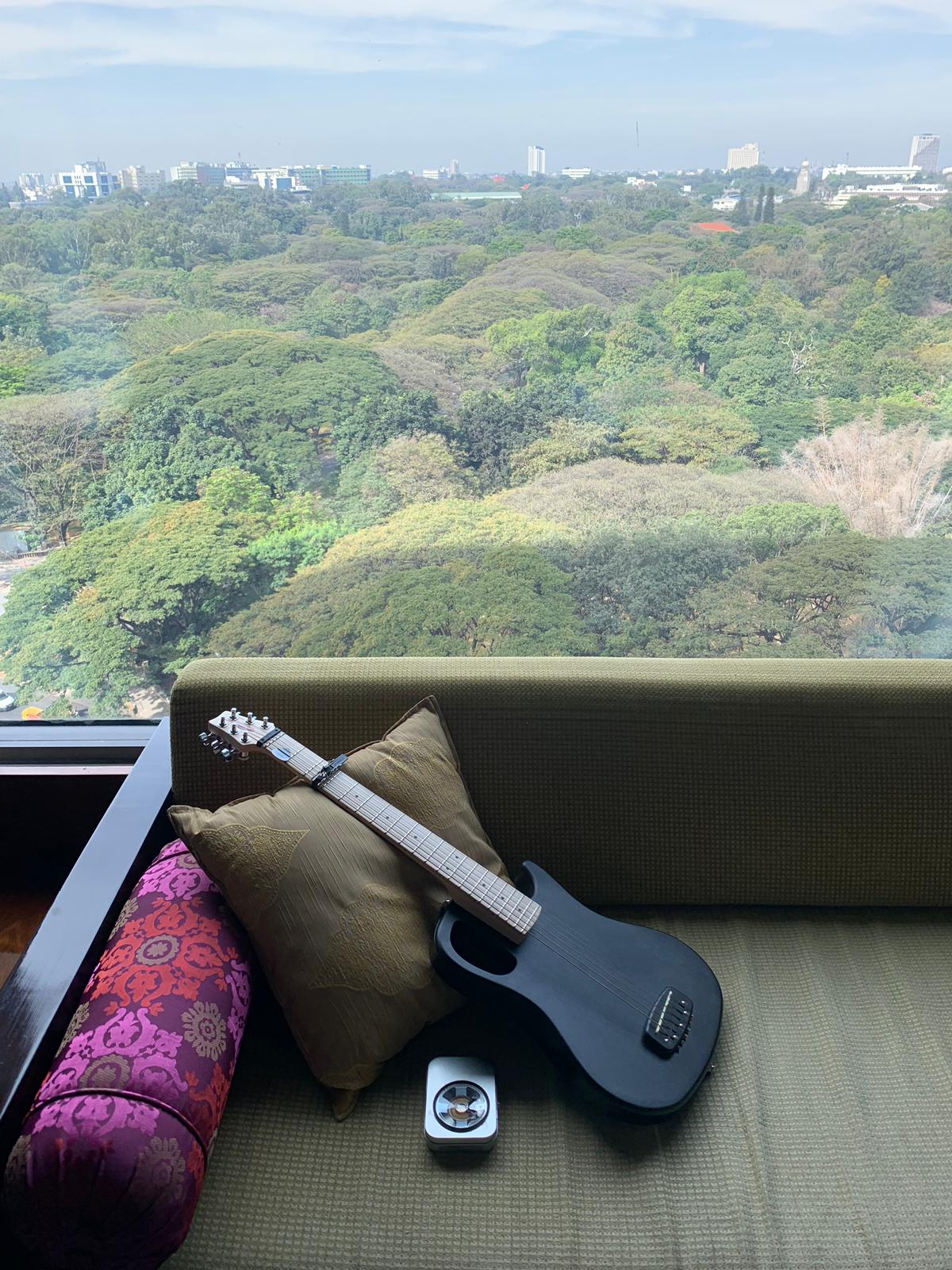 As an update to this review I would recommend getting the passive volume control fitted when buying the guitar. It is a £20 optional extra and well worth the money. I got a small cigar box amp for Christmas (that I'll review soon) and that has no gain control, so to change tone you need to change the input volume. The passive volume is unobtrusive and looks good and really gives a lot of tonal flexibility without having to adjust anything on the amp. I've now done a number of trips with my Traxe Noire and have gone from 'quite like' to 'love', it's superbly practical and a real joy to play.