*Disclosure: We were gifted the items in this feature, but all opinions are my own
Have a Smiggly Christmas
If you have young school age children, you pretty much know that Smiggle is the coolest stationers in town. A Smiggle rucksack is what a Head bag was to a school child of the 90s. Ahh… how much I loved my Head bag. Take my children into a Smiggle store and I know that my purse is going to come out somewhat lighter.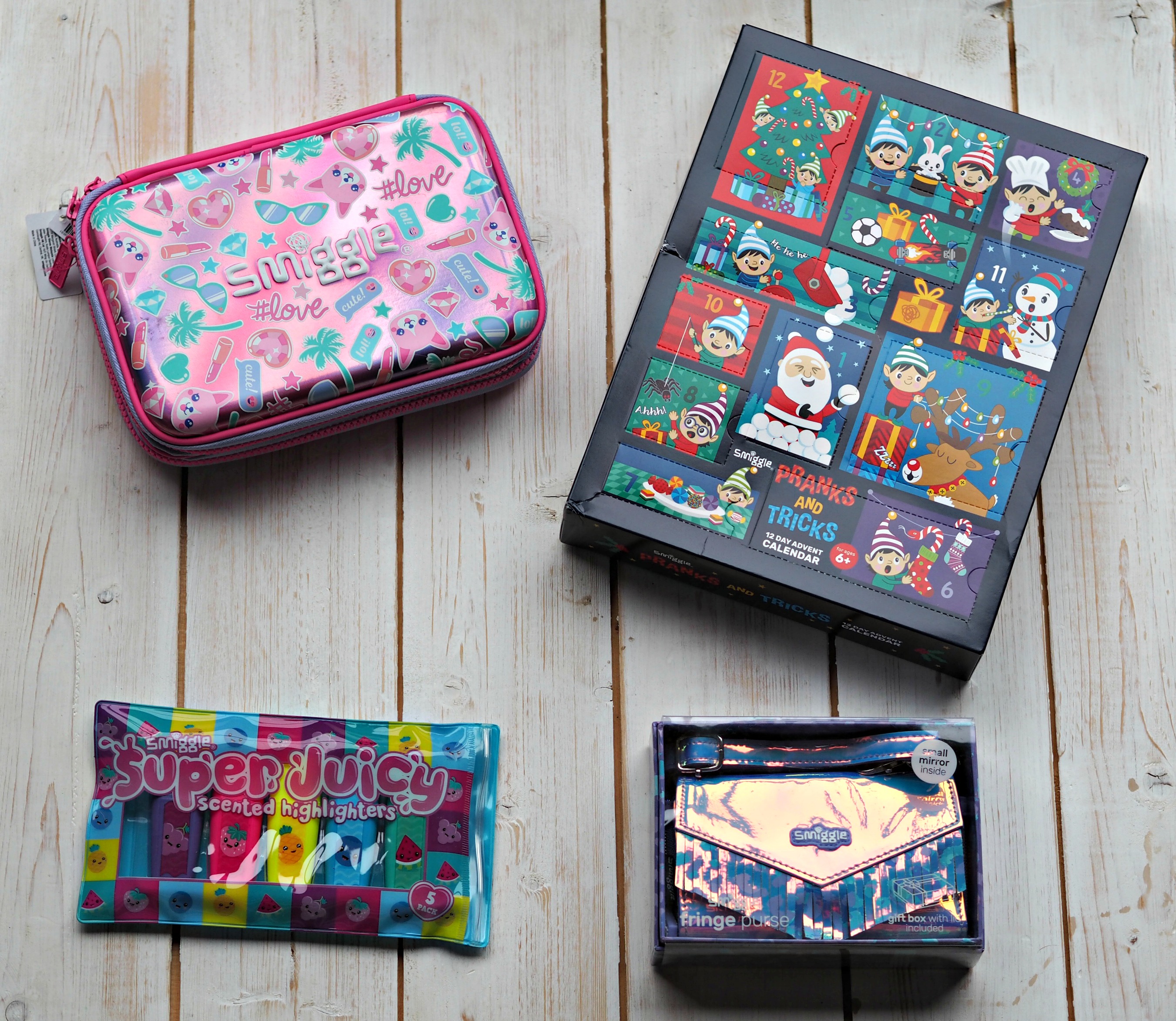 With just over a week to go until Christmas, there is still time to get in some presents. Today (Monday 17th) by 2pm is the last time for delivery before Christmas, but of course there's still you local store. Here's a few goodies that would make great presents and stocking fillers.
Pranks and Tricks Advent Calendar
Did you know the 12 days of Christmas are actually the 25th December to the 6th Jan? If you wanted to use your advent calendar slightly differently this year, you could get your child a 12 days of Christmas one which would spread out the advent fun well past the big day.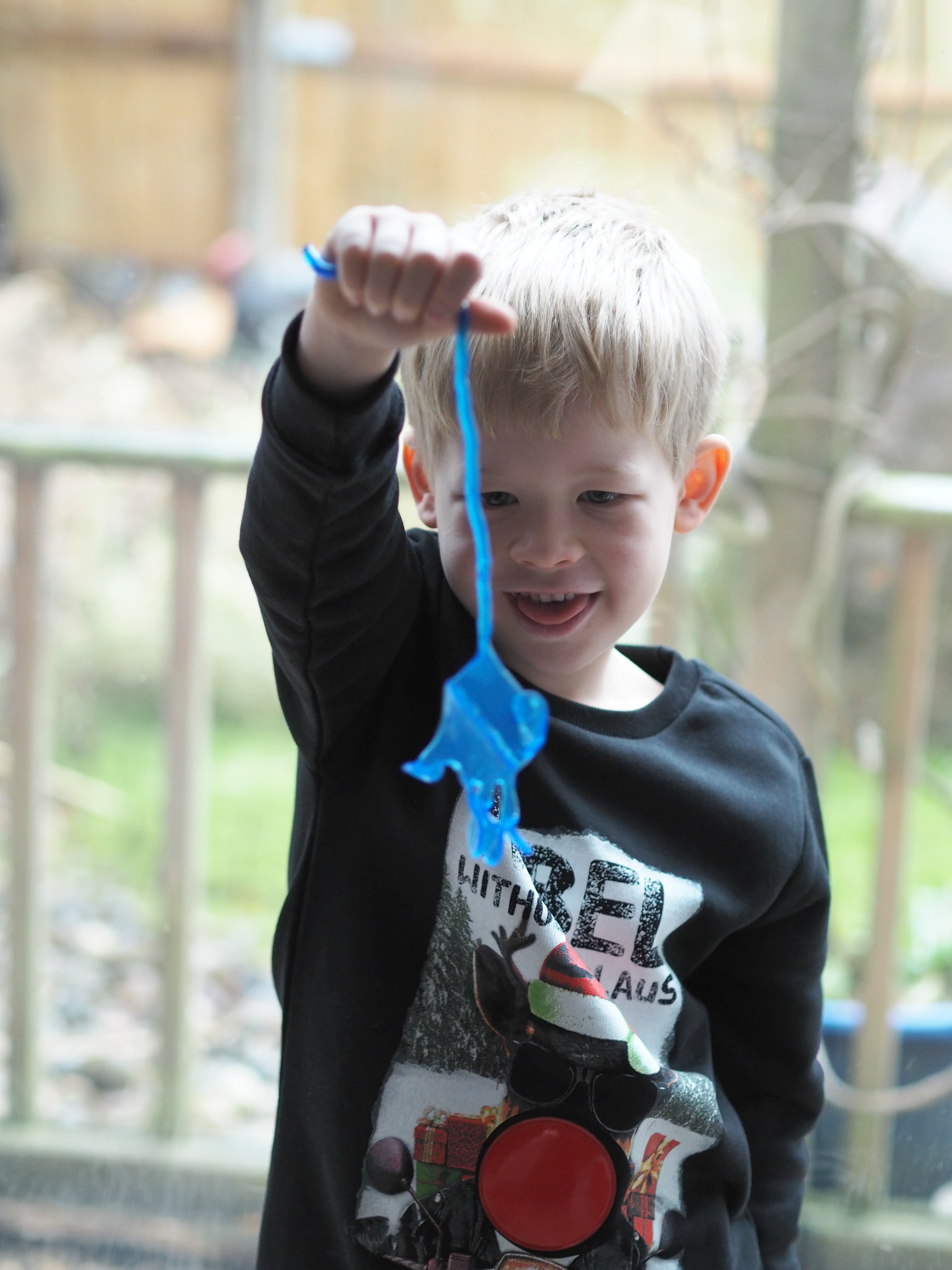 We've been sent this Pranks and Tricks Advent Calendar which is full of pranks and tricks which, well, I think Logan's face (below) pretty much says it all. Whoopee cushions, fake poo, magic tricks, fake chewing gum that snaps your fingers when you take a piece.  They have been a source of delight and so many giggles for my 7 year old son.
If you fancy getting your hands on one, they're currently reduced down to £5 from £18 – bargain!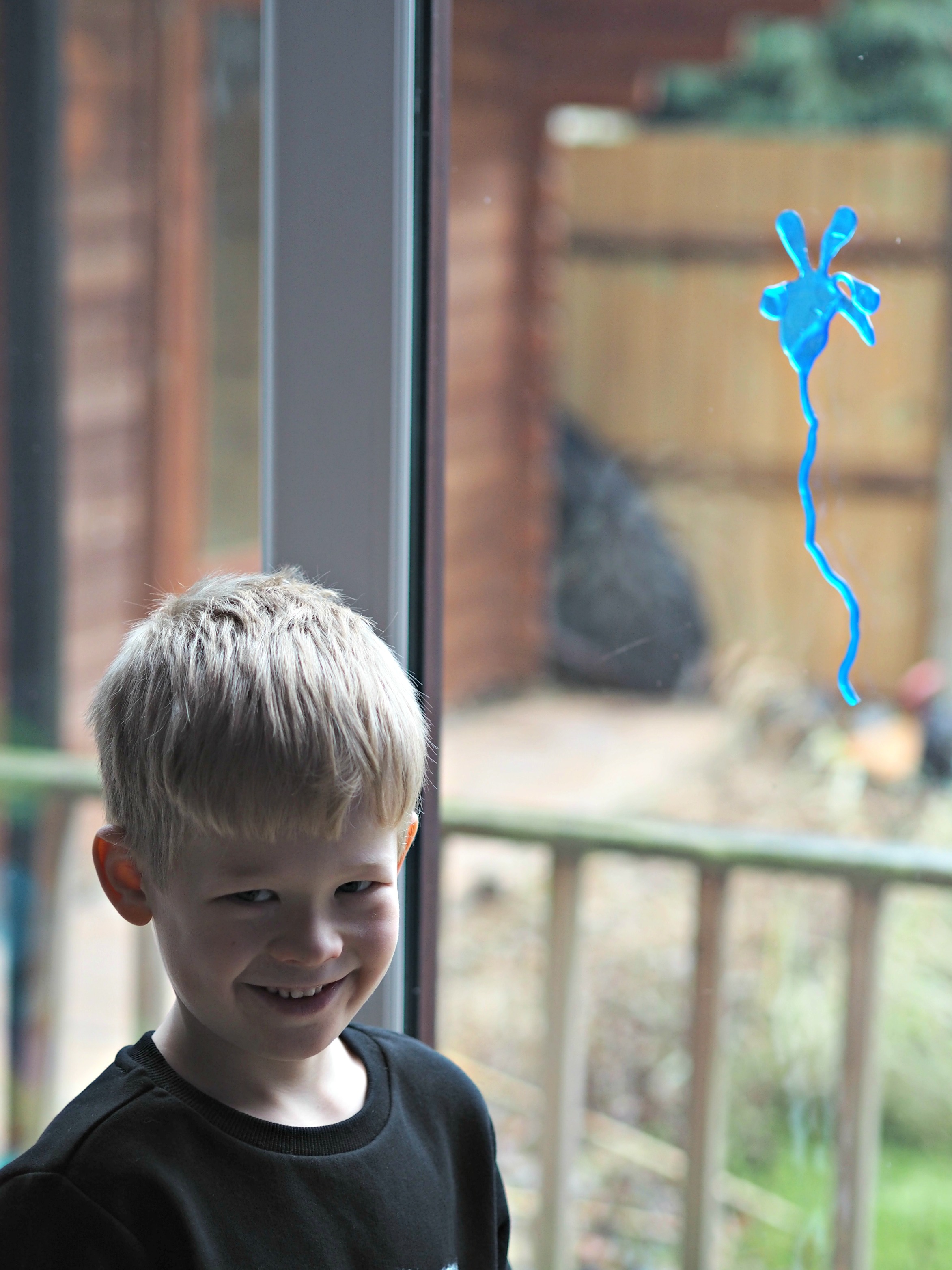 (Ps I love this cheeky photo of Logan!)
Stationery and Handbags
If you're on the hunt for some stocking fillers, there's quite frankly, loads to choose from. There's this pretty fringe strap purse that Aria is wearing. The strap is adjustable so even small children can wear it, as well as older ones, and it has plenty of pockets to store every little girl's essentials.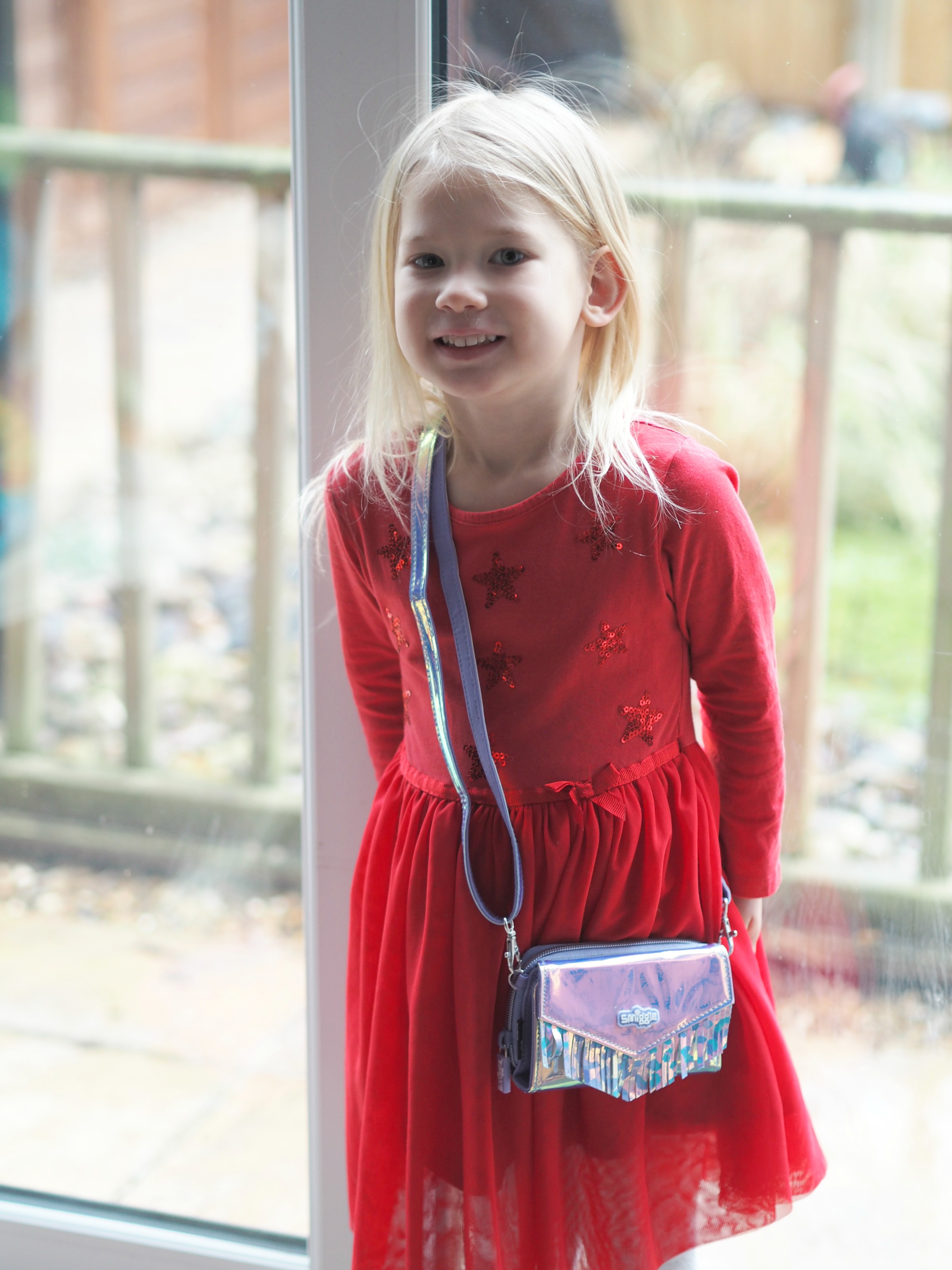 The scented highlighters were also a winner, as Aria went about sniffing them to work out what each one smelt of. They are perfect stocking fillers.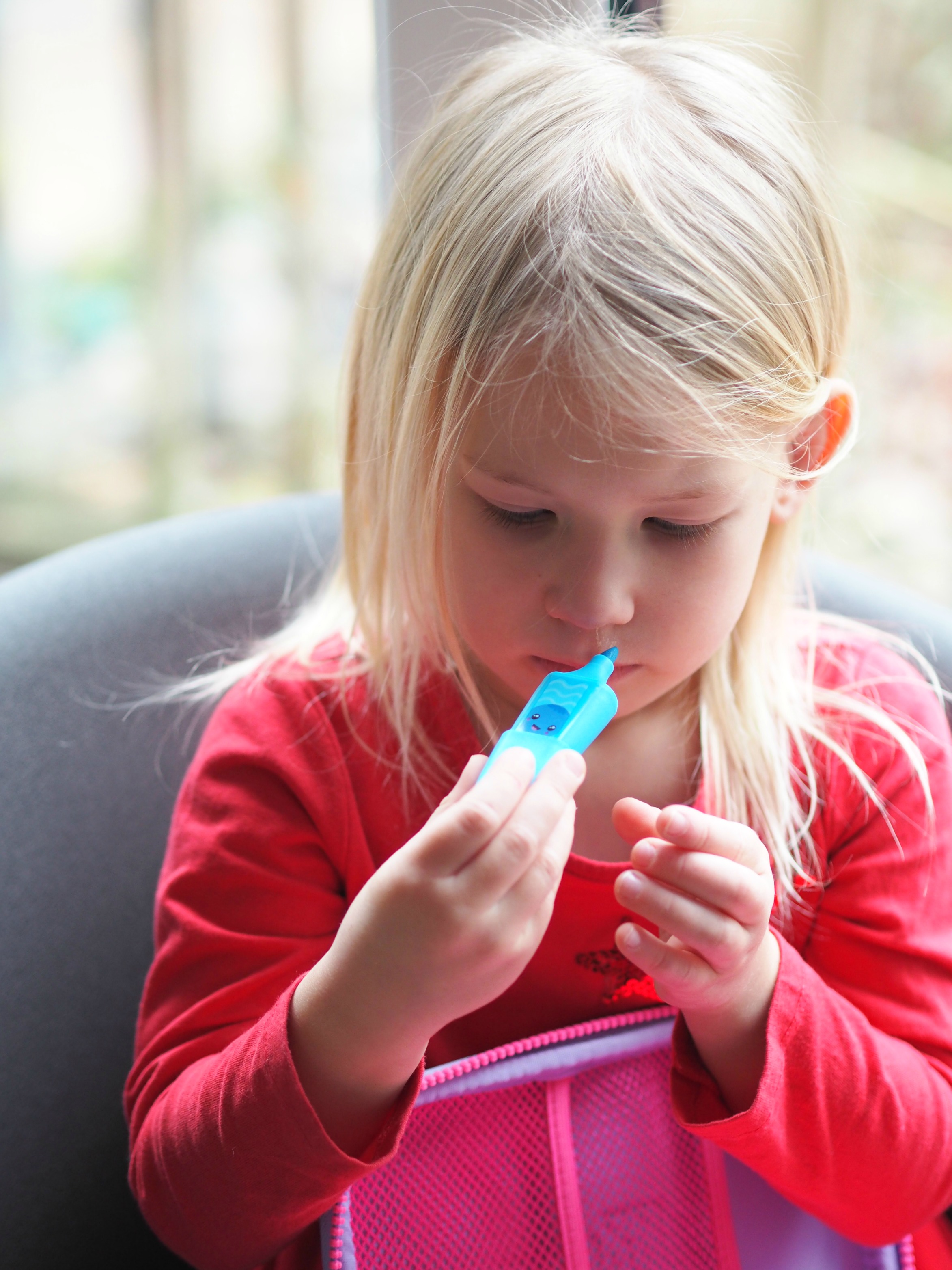 You also quite simply cannot go wrong with a Smiggle pencil case. I think they are perhaps even more popular than the bags and I quite fancy having one of the organisational ones for all of my pretty stationery myself!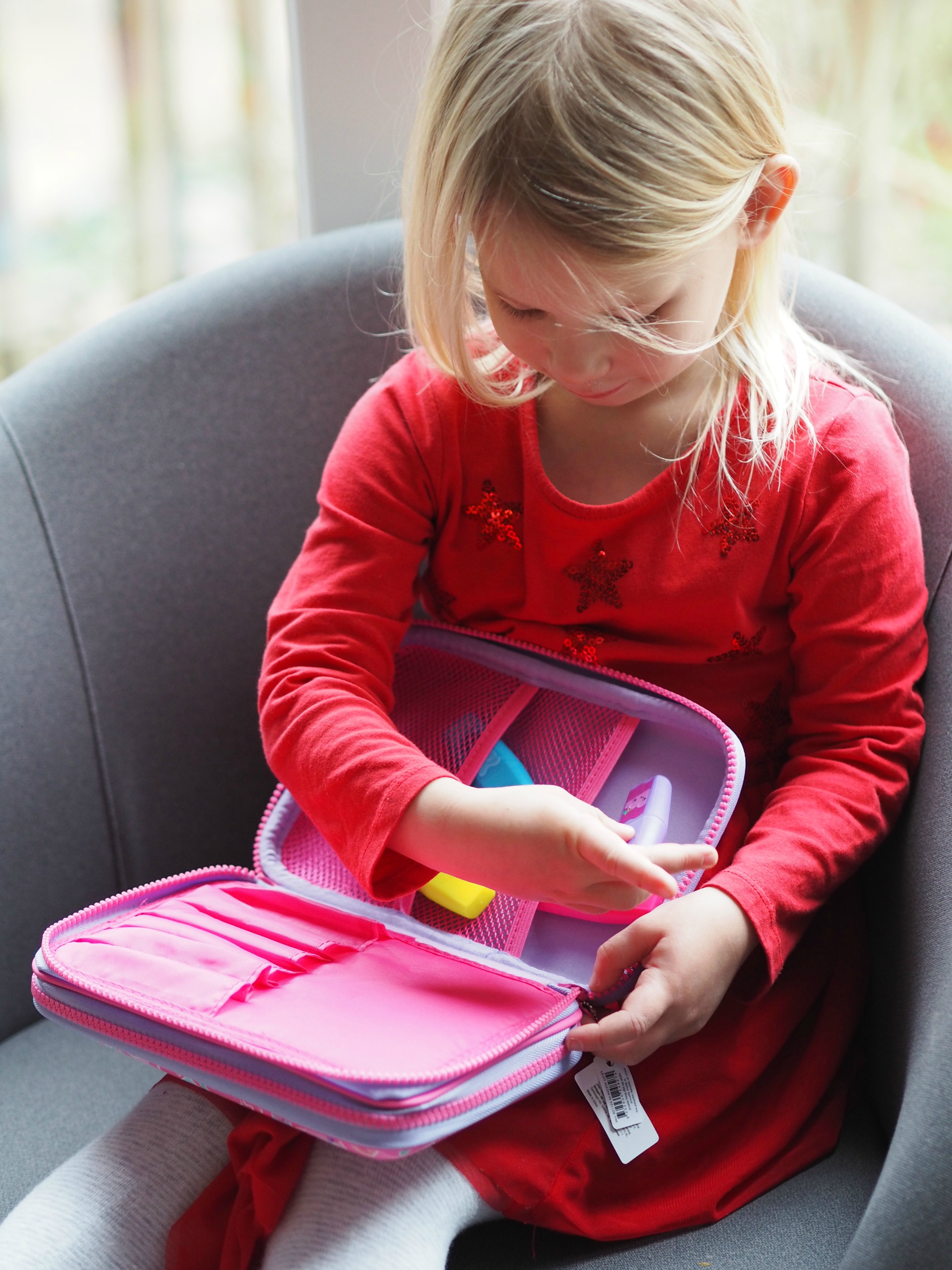 They do also sort,s from large organisational ones, ones with secret compartments, voice recorders, in-built calculators, one in the shape of a doll with legs, glitter, lights, sequins, rockets, robots, unicorns. Pretty much you name and they've got it and find me a child who doesn't love them!
Here is just a minuscule selection of the items they have at Smiggle, if you haven't made it into store yet. In essence, they have everything a child could need for school and beyond, but so much cooler. Water bottles, lunch bags, jewellery, slap bands as well as stationery in every shape, smell or size. You name it, they have it!
Have you done any of your Christmas shopping there?