Hatchimals Hatchibabies Review
We kind of missed out on the the Hatchimals craze a couple of Christmases ago as both of my children were a bit too young really. But this Christmas there is a new Hatchimals in town – Hatchibabies – with two new EGGciting species to be hatched! Not only that, just like if you're expecting a real baby, you don't know if you are having a boy or a girl.
Whenever we receive a toy to review I am always interested to see how both of the children react to it. If it's something both of them will enjoy, due to their age difference (4 and nearly 7) and the fact I have a son and a daughter. The arrival of the Hatchimal elicited much excitement in our household, I wasn't sure if Logan would be as excited but he really was and couldn't wait for us to hatch our new Hatchibaby.
Boy or a Girl?
The first was the anticipation of whether we were going to have a boy or a girl, predictably Logan wanted a boy and Aria a girl – declaring she had already had a new baby brother a few months ago! You have to wait for the egg to hatch of course to find out.
How to Hatch your Hatchimals Hatchibabes
To start the hatching process, you have to remove the plastic discs from the bottom of the egg. The process itself took about twenty minutes, although I didn't technically time it for the egg to full hatch. What I would say is the children were totally enthralled for the entire time.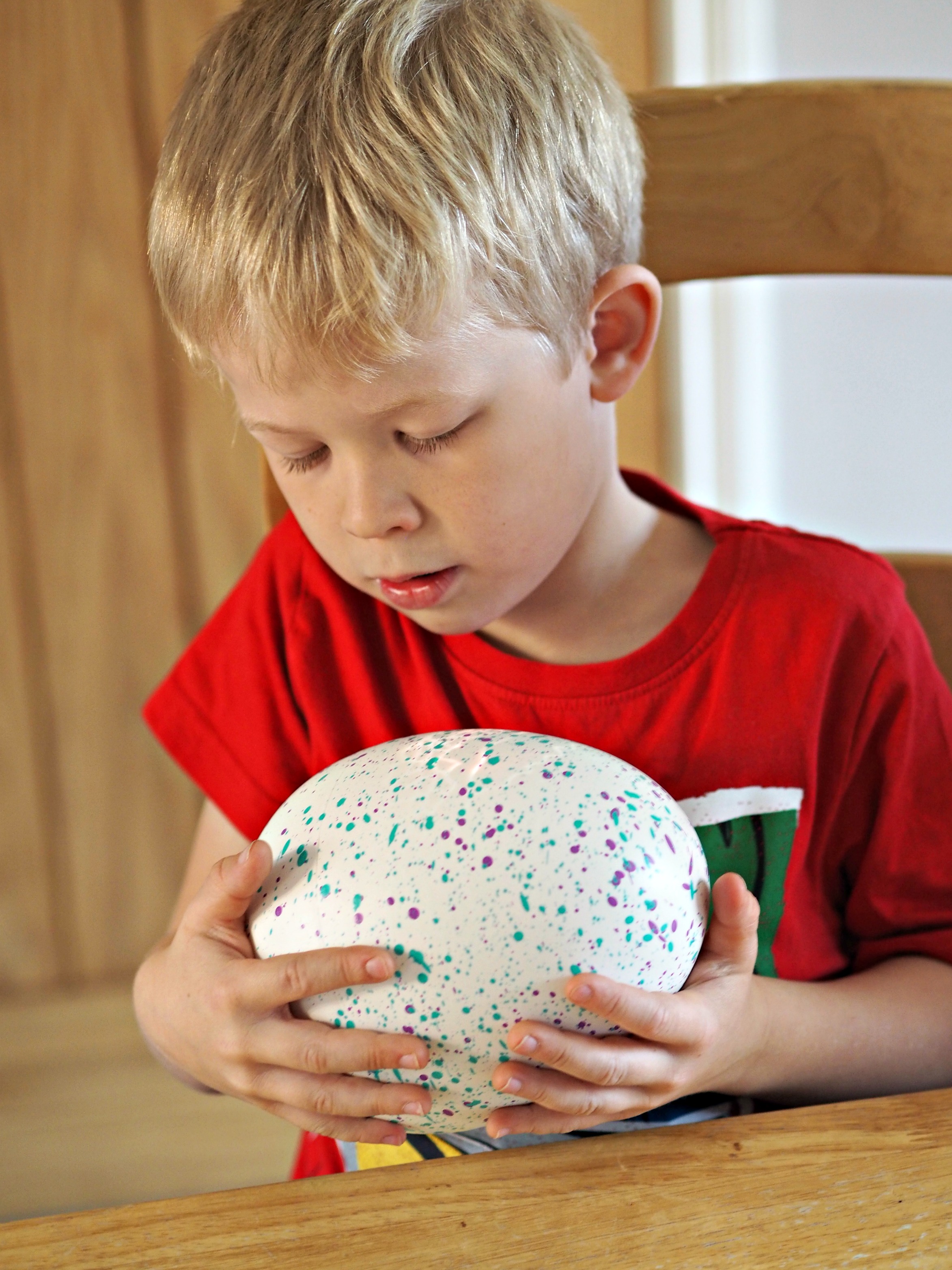 The egg comes with a leaflet of things you can do during the hatching process to help your Hatchibaby to hatch. From rocking it, rubbing and patting it, tapping the shell (gently) and when you place it down on the table it rocks from side to side which is rather cool.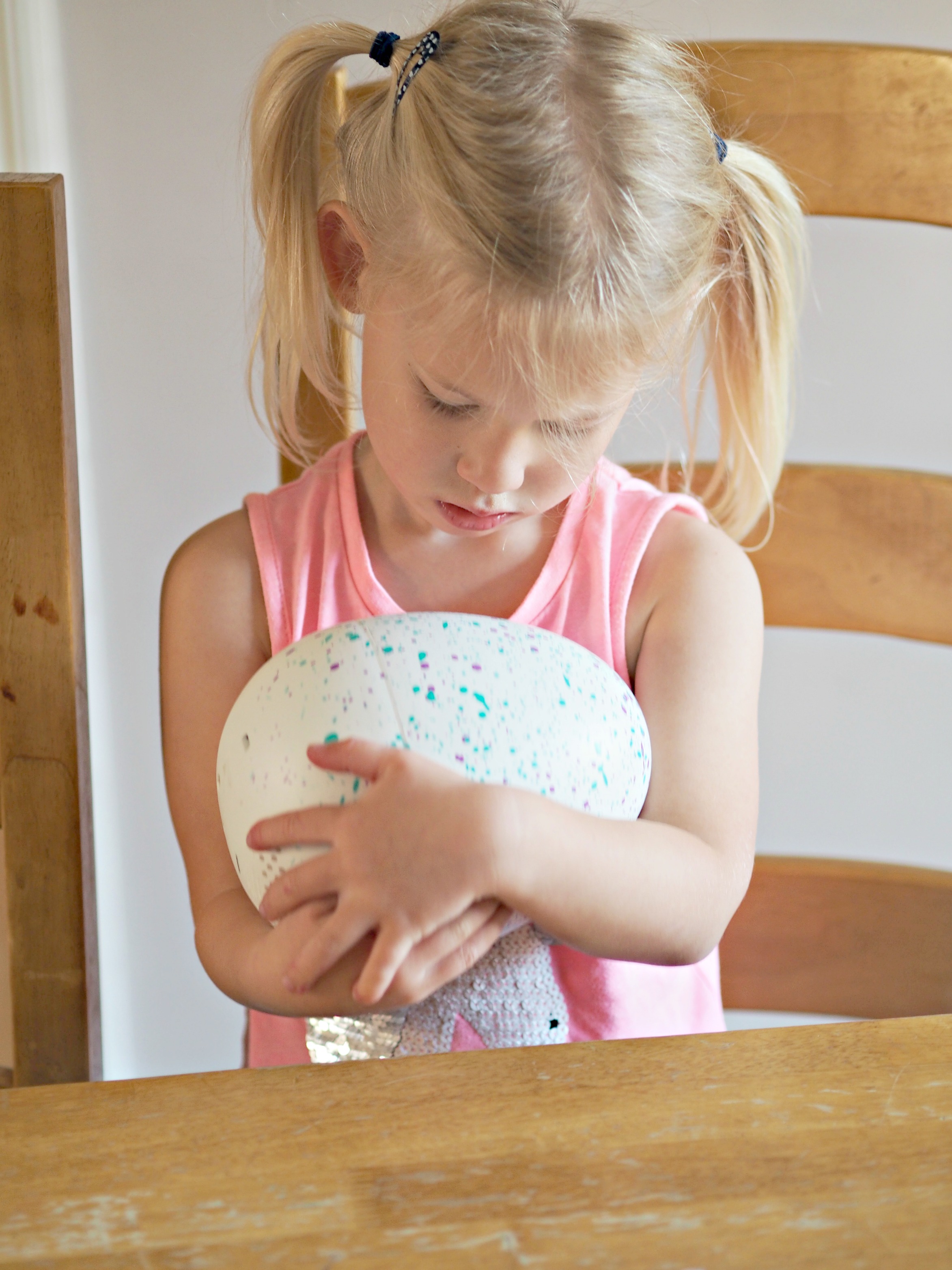 The Hatchimal's eyes glow through the egg during the hatching process and it also makes lots of noises, which the children loved. The eyes changed colour and different colours had different meanings.
This is what the different eye colours during hatching mean:
Red – upset – rock the egg or rub the bottom
Orange – gassy – pat the bottom or tilt the egg
Yellow – happy – continue to care for the egg, try tilting
Green – sick – rub the bottom of the egg
Blue – cold – rub the bottom of the egg
White – sleepy – to make it sleep tilt the egg sideways and rock the egg. To wake it up put the egg down, remove hands and pick the egg back up again
Pink – Heartbeat – Hold the egg and listen for the heartbeat
Black (eyes off) – listening – tap on the egg
The egg comes with a cheat sheet telling you all the eye colours and what they mean before and after hatching, so you know just what you need to do and it was a piece of paper my son took very seriously!
While it was hatching, the children didn't take their eyes off the egg, my son even got a little upset that he needed to go to the toilet during the process (parenting tip – make them go before!), even though he was back very quickly. They found the whole thing rather amazing and exciting to them.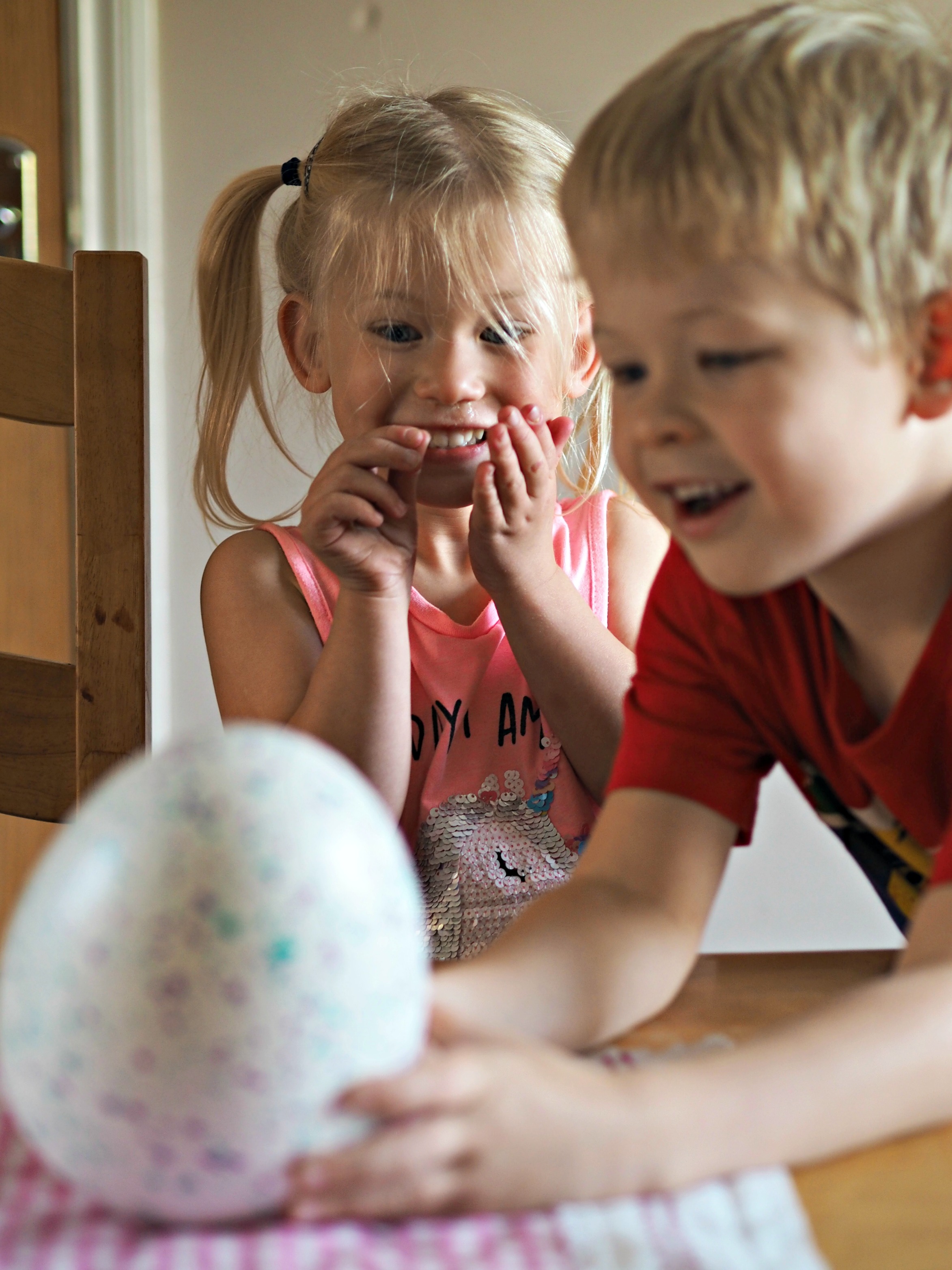 When the egg started to do something new like rock or sing it made them gasp and they were so delighted with all the little things it did. Before the Hatchibaby was born they agreed a name for a boy and a name for a girl and they kept talking to the egg saying they couldn't wait to meet it.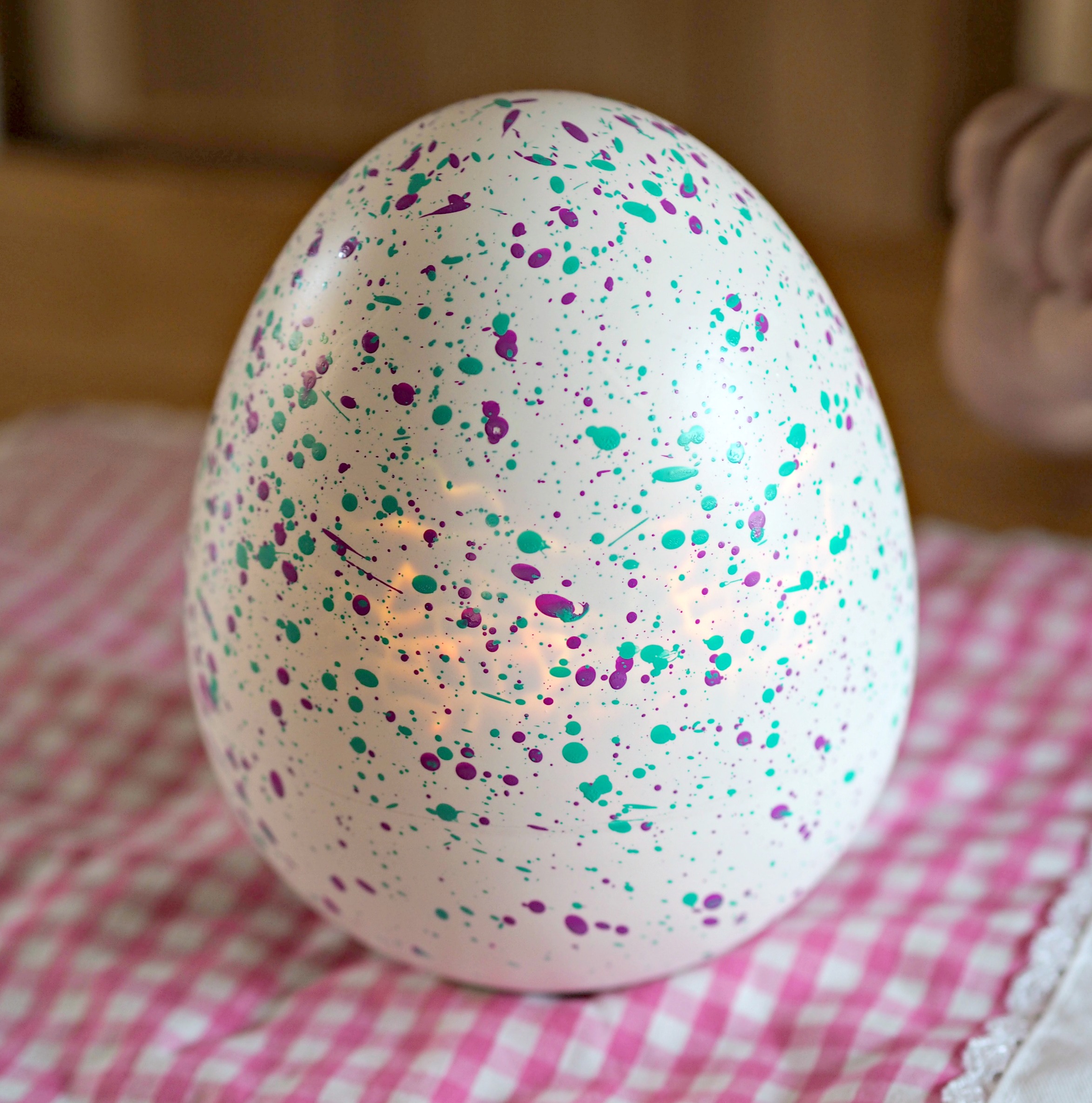 When the egg is ready to hatch the Hatchibabies' eyes turn rainbow colours, so they were watching out for this too. I think my daughter may have actually squealed when the egg cracked and lines appeared at the top of it.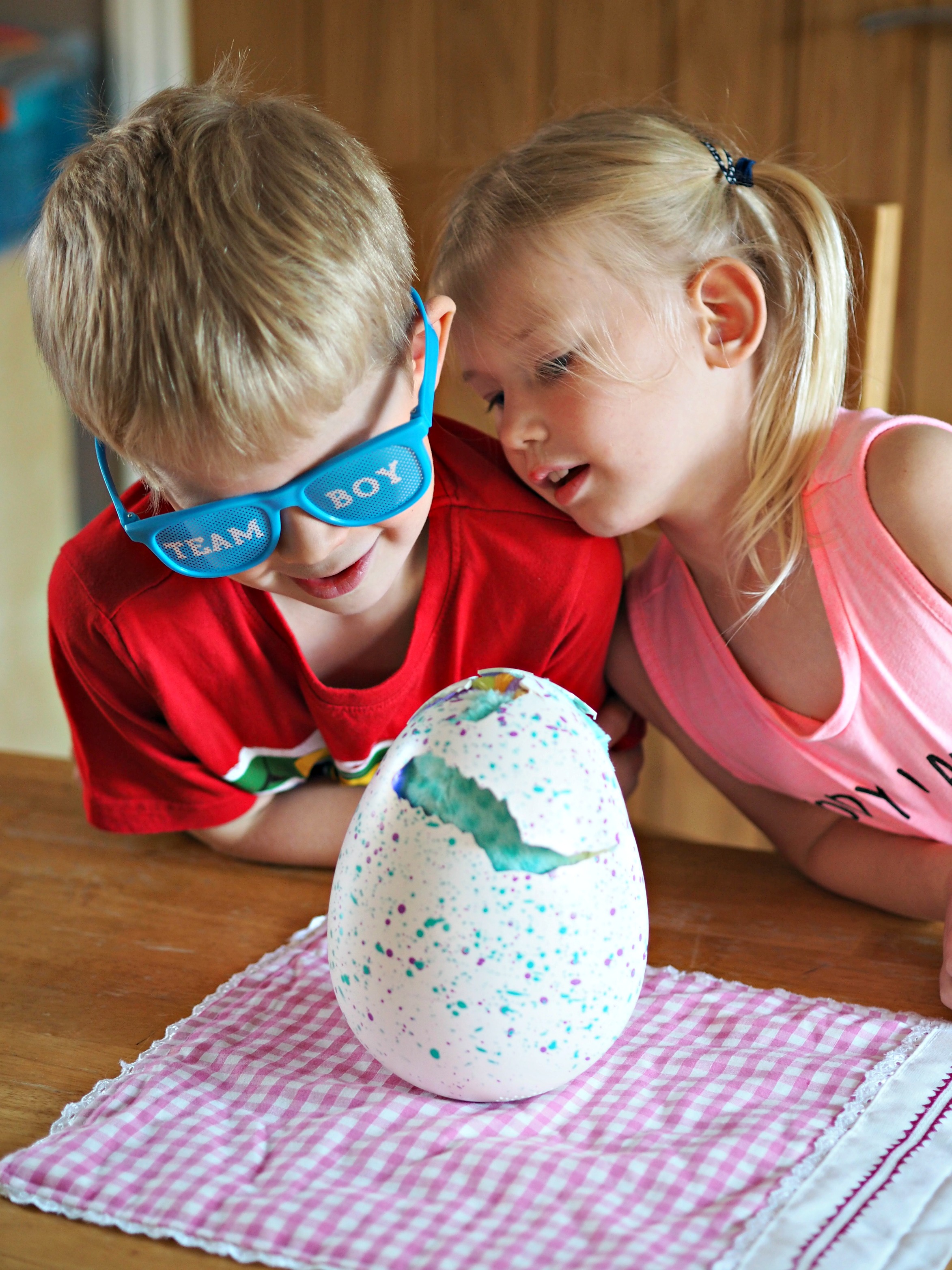 The very top of the egg hatches and you know when your Hatchibaby is born because it sings Happy Birthday, and then you can take it out of the egg to see if you have a new boy or girl to add to your family. At the very bottom of the egg is a very tiny scroll (I had to look several times to find it as it's so small) to tell you what sex baby you have. We are very proud owners of a new baby boy! Which Logan and Aria have decided to call Oscar, Oscar came with his very own birth certificate too so we could write his name down on it after he was born.
The Hatchimals also now come in two different species – Ponette and Cheetree giving you different ones to collect should you wish to. There is a sheet in the box to tell you which species is which, but we gave birth to a little Ponette.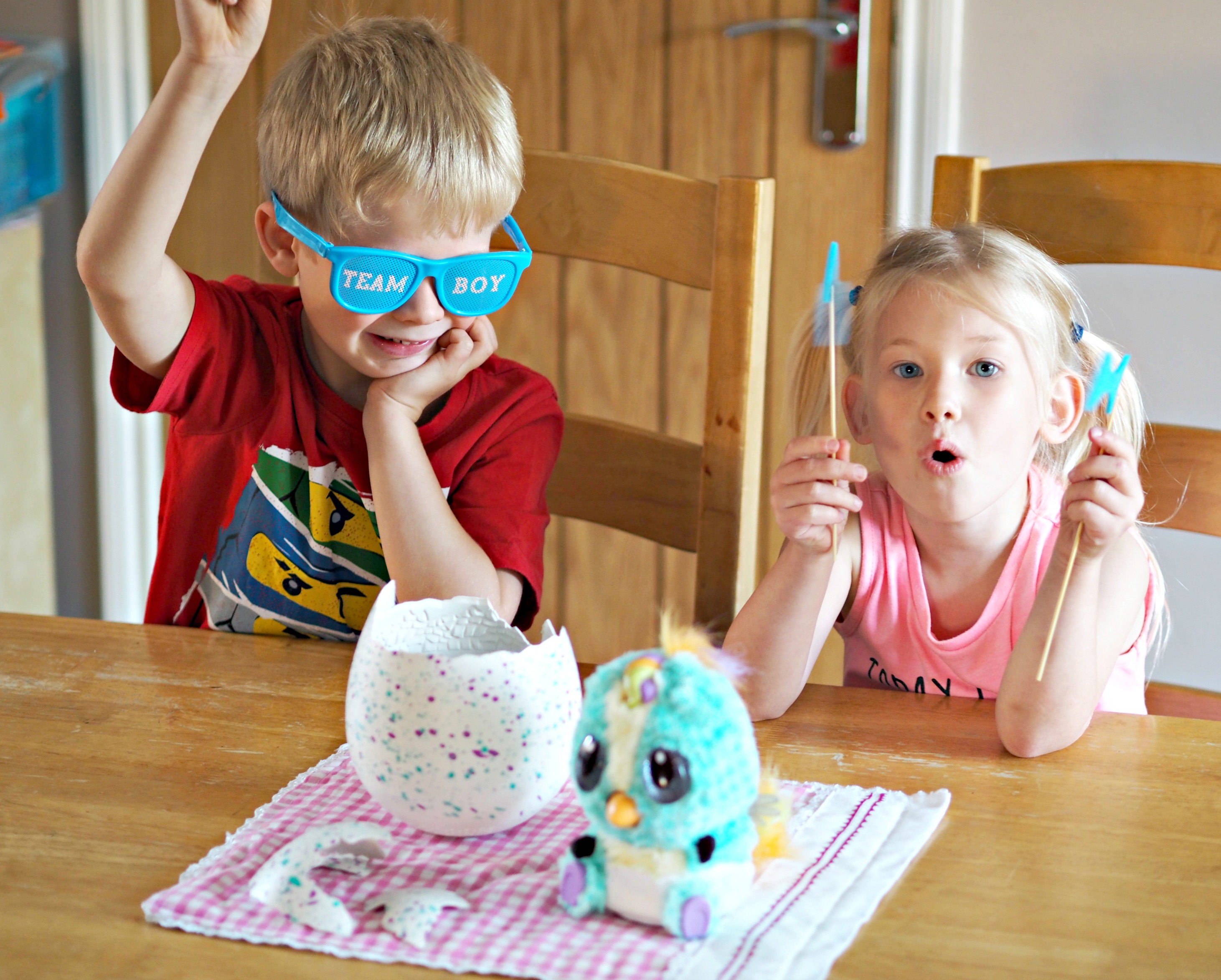 Hatchibaby Accessories and How they Work
The Hatchibaby also comes with four accessories a hairbrush, rattle, bottle and cuddly toy which the Hatchimal interacts with. There is also a pink highchair inside the egg. Just like when the Hatchibaby was hatching its different eye colours have different meanings and different interactions the children can do with them.
What the different eye colours mean after the Hatchibaby has hatched:
Red – upset – put baby in its egg base, or pet it
Orange – gassy – pat the back of your Hatchibaby's head
Yellow – happy – continue to care for your baby, try tickling its feet
Green – sick – touch and hold your baby's forehead to take its temperature, pet him to comfort him
Blue – cold – pet him or give him his cuddle buddy
Purple – hungry – feed him with his bottle
White – sleepy – put baby in his egg base or give him his cuddle buddy
Pink – cuddly – pet Hatchibaby's head and nuzzle his nose
To feed your Hatchibaby what you need is put the bottle in the Hatchibaby's mouth and press down on his lower beak. To get him to interact with his cuddle buddy or rattle, you need to hold the accessory so that the 'H' is facing you and the bring the accessory to the Hatchibaby's upper chest. It makes the Hatchimal itself fun and engaging after its hatched and Logan and Aria have really enjoyed working what is wrong with their Hatchibaby and doing the things to make him happy again.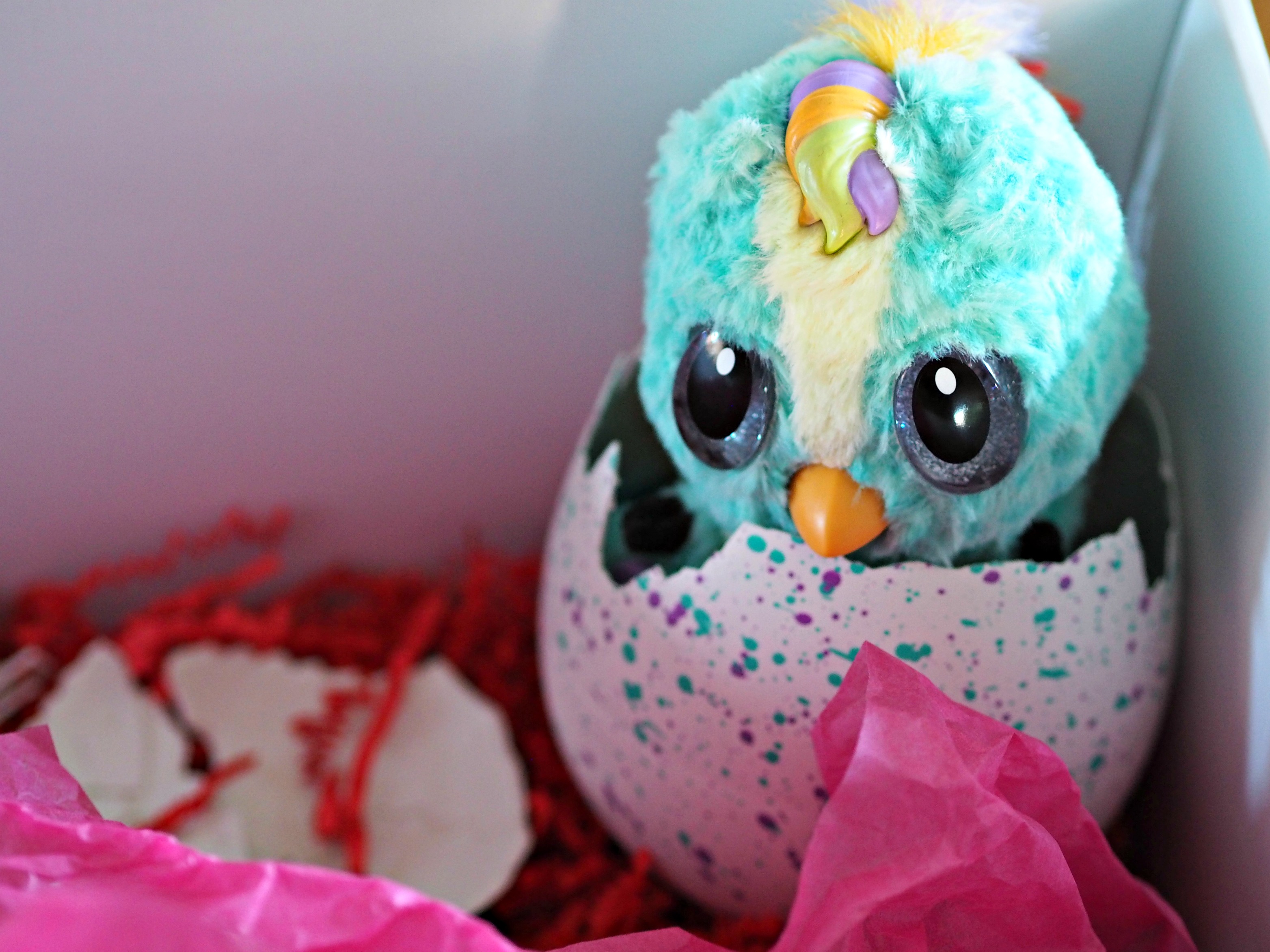 How to Play with your HatchiBaby
There are some other rather cool things you can do with your Hatchibaby now that it's hatched too. Such as:
Learn to 'talk' – touch and hold both feet and it will record your feet and repeat what you say
Peek-a-bo – cover the baby's eyes and remove to hear him say 'peek-a-bo'!
Dancing – give your Hatchibaby a rattle and it will sing and dance
Bouncing Baby (flashing blue eyes) – touch and hold right foot, when the music plays bounce the baby backwards and forwards. Then the music stops, stop bouncing.
Animal colours (flashing green eyes) – touch and hold left foot, tap baby's nose when you see the colour that goes with the animal sound.
Secret Trick
There is also a secret trick for you to discover! Wait until your Hatchibaby isn't making any noises or doing anything, then press and hold the back of it's head until its eyes turn purple and stay static, then when the eyes are purple, press twice on the back and front sensor at the same time and see what happens!
My Thoughts
I have to admit to being quite skeptical about the Hatchimals craze after having watched it from the outside as friends rushed around a couple of years ago trying to buy one. But, I stand corrected as both of my children have loved playing with this. I can see how this would be really exciting on Christmas Day waiting for your Hatchibaby to hatch, finding out if it's a boy or girl and then learning how to look after it. It's really interactive and engaging and rather sweet too.
The Hatchimals Hatchibabies are available to buy right now at Smyths, The Entertainer, Argos, Amazon and all good retailers.
*Disclosure: We were sent a Hatchimal Hatchibaby for the purpose of this review, however, all opinions are my own.