*AD – contains gifted item in photographs

What to Put in Your Bag for an Elective c Section
I am booked to go into hospital for an elective c-section quite soon, so it's time to get my hospital bag ready. I like to have the bag ready early just in case baby decides to make an early appearance. I have an inkling he may come early, but my husband seems to think it's wishful thinking (could be)!
I know I am going to be staying overnight for at least one night, and that if everything goes to plan I won't be going through labour so that influences what I pack in my bag to a certain degree.
I also asked for advice on my Facebook page as it has been 4 years since I've had to put together and some people came up with some really great advice.  So after listening to everyone's advice this is what I am putting in my hospital bag for an elective c-section.
What's In My Hospital Bag for an Elective Caesarean 
Two breastfeeding nightdresses

Both black (to hide stains) and cheap and cheerful so it doesn't matter if I have to throw them out afterwards

Breastpads
Maternity towels

Normal sanitary towels won't cut it, I have found Mothercare ones with wings to be the best

An old towel

Again this is an old one so I can throw it away afterwards if needed

Lansinoh nipple cream
Giant pants (10 pairs)

This was advice given to me from a midwife for my first born go to Tesco and buy a pack of Value pants two sizes bigger than you would normally wear that come up to your belly button. When you have a c-section you do not want normal size knickers as they will end up sitting on your Caesarean scan and is quite painful.

Flip flops

From experience my feet swell and the ward is so warm that slippers just don't work for me

A lightweight dressing gown

Again don't go fleece or you'll never wear it as maternity wards are just so warm

2 pairs of soft cotton hareem style joggers
2 breastfeeding vest tops

To wear with the trousers and to keep you cool in the hot ward

A lightweight wrap around cardigan
My Kindle
Phone charger and power bank
Lip balm
Cleansing wipes
Pack of cereal bars

I found they served breakfast was served really late and after nursing a baby most of the night I was starving

Hairbrush and hair bobbles
Toiletry bag including: shower gel, shampoo & conditioner, deodorant, toothbrush and toothpaste, moisturiser
Nursing bras
Two carrier bags

One for dirty washing and one for any gifts you may receive

CD to listen to in theatre
Bendy straws

Sitting up is not comfortable after a c-section, so these are definitely handy (you can get reusable ones) 

Plastic nose stud

I have my nose pierced and while I find my ears are fine, my nose tends to close up quickly. I've bought a pack of 5 nose studs for £2. So I have put a couple in my toiletry bag in case I go into labour spontaneously and the rest in my jewellery box to change into before if I go into the elective section as planned.
Mini Robinsons Squash'd

This was from advice on my Facebook page and I thought it was a great idea, they're really small and can add flavour to the often warm jug of water you're given.

In the Baby's Hospital Bag
5 bodysuits
5 vests
Scratch mitts
A cotton hat
Cardigan
Jacket to wear home
Blanket
Muslins
Pack of nappies
Baby wipes
Nappy cream
Nappy sacks
Swaddle blanket
Don't forget your baby car seat!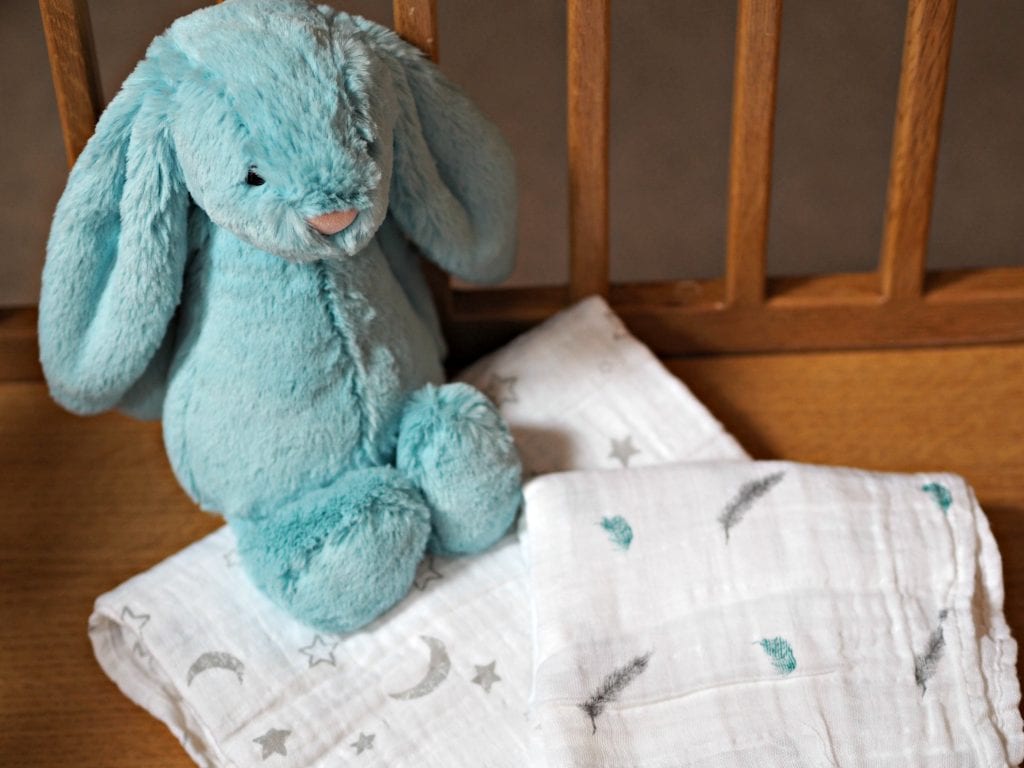 I was sent the above beautiful swaddle blanket and muslin from Petite Piccolo to go in my hospital bag too – how lovely are they? The bunny is my children's choice – they both have the same bunny in different colours which is much beloved by both of them so they wanted baby boy to have his own too which they are going to bring and give to him in the hospital. I will also organise gifts for each child from the baby too.
Have I missed anything?