*Please note this feature contains affiliate links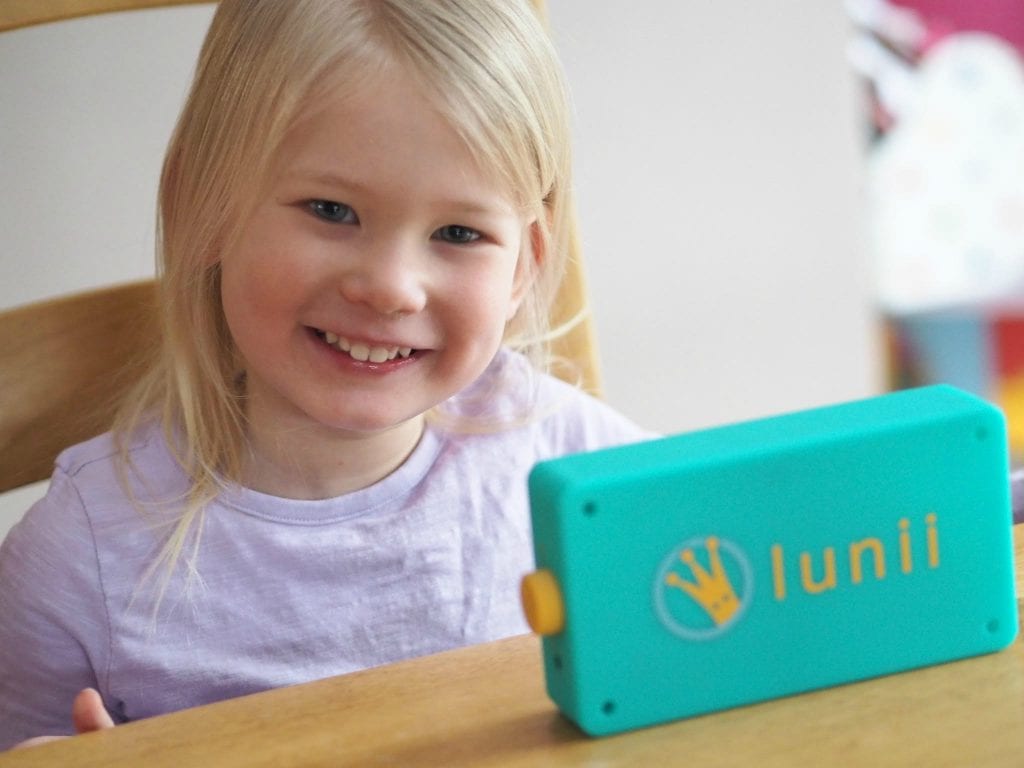 Lunii My Fabulous Storyteller Review
Lunii My Fabulous Storyteller is a little portable storytelling device, with a bit of a difference. It has 48 stories included but your child can choose what they would like the story to be about. It reminds me of the choose your own adventure books I used to read as a child. Where you can turn to a different page depending on what you wanted to happen in the story.
When you turn on the device your child can choose who they would like the story to be about – Ben or Susan. Where they would like the story to take place for example in a a castle, in the sea or a forest. Who they would like their character to meet an ogre, a ghost, a mermaid which changes depending on the setting chosen. Then an object that will feature in the story.
The controls are really simple to use, you simply turn it on, there is a big 'OK' button to press to confirm a selection and a large selection dial you turn to bring up the different choices. After showing my children how to use it they both managed to choose the stories themselves with no problem at all.
The device is charged via USB, and you can listen to it as it is or if you are in the car you can attach earphones for peace and quiet!
The Lunii comes loaded with 48 stories already, but there is also an app you can download onto your computer, and connect the Lunii to a bit like an iPod and download updates for the Lunii or purchase additional stories. There was a bedtime stories pack that was available free which we downloaded straight away, but any others you would need to purchase.
One area of improvement which I expect Lunii are working on is that the Lunii has been developed by a French company and translated into English. You can't tell at all with the stories as they have an English narrator, but for some of the download process the odd bit was still in French and not fully translated. It wasn't a huge deal as I could pretty much work out what needed to be doing, but it would be slicker if it was all in English.
While I expected my children to like the Lunii, I was a bit surprised by exactly how much they did. My daughter in particular, loves it. Like most people, we've had lot of snow days recently, and after a snowball fight one day, they both cuddled up on the sofa and really enjoyed just sitting there and listening to the stories. One morning when my daughter wasn't at preschool, I had set out some craft activities for my daughter to do and in the end for nearly an hour and a half she sat there listening to back to back stories instead.
It's a really great tool for my story loving children, the option to select different parts of the story yourself makes it more dynamic, creative and fun. The speaker itself is very simple and easy to use and perfect for young children. It's been a huge hit in our house and I can see myself purchasing more stories for it very soon!
Visit & buy on the Lunii website
*Disclosure: We were sent a Lunii for the purpose of this review, however, all opinions are my own.