*This is a collaborative post
Welcome to a new feature on my blog – Ben's Zone. Written by husband… Ben. A foodie (he doesn't admit it, but he's a total food snob), coffee obsessed, ex-smoking, ex-drinking and Ridgeback loving father (our dog adores him – as does our son whose favourite toys are cooking related just like his Dad). Who is also seriously into his fitness. Be it bikes (he has far too many) or more recently muddy racing after completely Tough Guy (and getting hypothermia just for the fun of it) in January this year. Oh and he has a bit of a penchant for pink. He will blog pretty much about the above and you can find him on the blog (most) Sundays. Enjoy 🙂
---
Running with Dogs (my experience with a Rhodesian Ridgeback)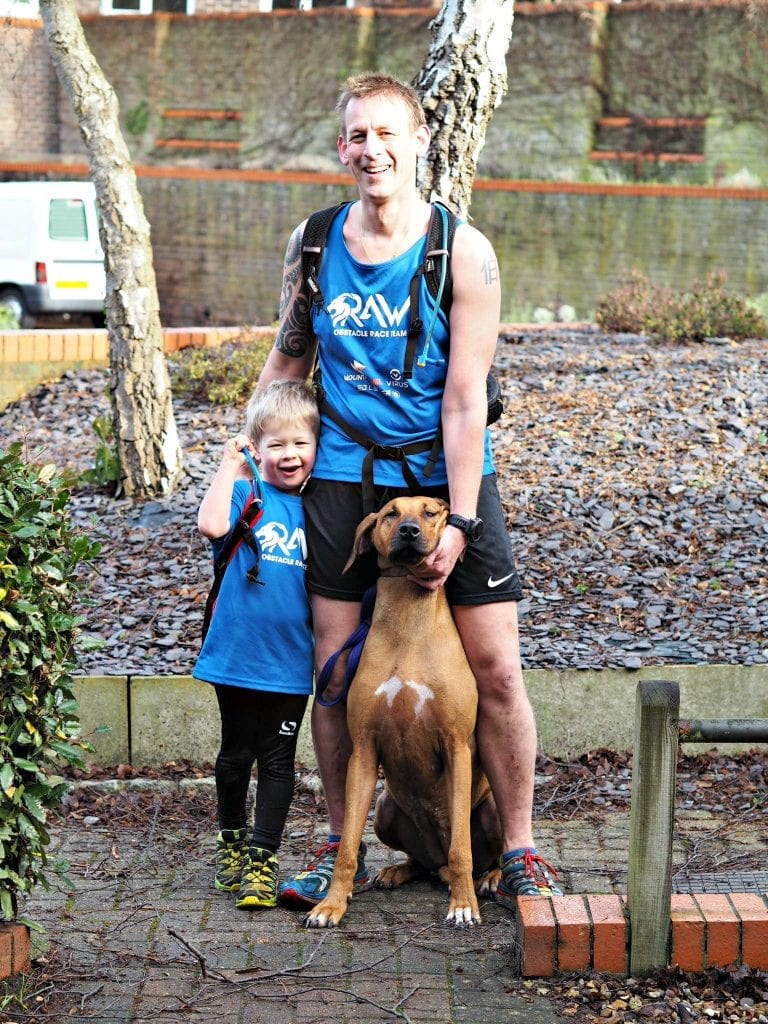 A common mistake made by people buying dogs is that they look for intelligent dogs. The reasoning here is that an intelligent dog is the ideal companion; game, witty, exciting and always up for some larking about. This is a mistake, when buying a dog you want them to be biddable, this is shorthand for 'they do what they're told. This was a realisation I made when Florence (our dog, a beautiful Rhodesian Ridgeback) was about 6 months old. Florence is highly intelligent and a total pain in the neck. Time after time I've found myself in the forest; no dog to be seen; voice hoarse from shouting; wishing that I'd got a dog just a little bit dumber and a little less aware of how far she can push things before she earns herself a one way trip to Battersea.
Let's call her challenging shall we?
When I started to run some months ago it struck me that taking Florence with me on a longer weekend run was pure synchronicity, combining companionship with tiring the dog out, awesome! Didn't work out that way. My vision of Florence trotting daintily behind me as I loped through the forest translated into Florence having a field day running as far away from me as she liked knowing I was loathe to break pace to go and wrest her back.
Now our runs together are as fulfilling as I'd hoped but it took some work on both of our parts. If your dog is happy to trot behind you for miles skip to another post, if, on the other hand your dog is challenging here are the steps I took to reach running nirvana.
Solve the recall issue
If your dog won't come back, put them on a lead, but think about how you're going to do this. Personally I would hate to run for 15km holding a lead, so I don't. I looked for a body harness to wear and a running harness for the dog. Factors to consider are that the harness needs to allow the free movement of your dog's shoulders, the lead should have some elasticity to allow the dog to move around and the harness for you should be comfy. If your dog is particularly strong (Florence is) the harness should distribute weight evenly and not concentrate strain on your lower back. Searching Google for 'Canicross' will yield several reputable online vendors. Try not to use a collar for attaching leads.
Learn to run together
 It may sound stupid but running alone is not at all like running with a dog and for your dog it is a whole new ball game. Start with short distances, learn where the dog likes to run and encourage them; try and discourage them from sprinting and most of all keep it positive, this works best if everyone has fun.
Allow toilet breaks, but nothing else
Challenging dogs like to do their own thing. Expect some degree of rebellion which will most likely be in the form of needing to stop and sniff or go for a wee. Let the dog go for a poo and the odd wee but if they start to push their luck nip it in the bud. Look for the nose to go down and gee them up at this point.
Pick it up
You still need to do this when running. This also implies you need somewhere to put the mess.
Take water in the summer
Dogs can get severely affected by heatstroke, make sure they stay hydrated on a summer run. The easiest way to do this is to run with a hydro-pack, this also gives you somewhere to store poo.
Be aware of your surroundings
When I run alone, part of the fun is zoning out with the music and endorphins. You can't do this when running with a challenging dog. You need to be aware of what is going on in the environment. Other dogs, birds, cats, even gusts of wind can distract the dog and cause a change in behaviour. These need to be spotted and action taken before anything happens. Particularly watch for dogs off the lead, do not assume that because your dog is leashed other owners will follow suit. If this ruins your run, run solo.
Look after your dog physically
If you have gone for a long run they may need a little extra food, I give Florence a small meal for anything over 10km. If your dog is deep chested beware of gastric torsion. This is a fatal condition dogs can get which can happen if they run on a full stomach. Allow a minimum of an hour between food and running. Finally, consider the age and development of your dog. Running too far, too young, can cause permanent joint damage and lead to arthritis and other nasties. By the same token, don't run your old boy into the ground, a dog will always want to run but you need to make the call as to whether it's a good idea.
That's what I've learned and while we still have 'blips' I can honestly say that my weekend run with Florence is the one I look forward to most.
If you're thinking of running with your dog, pet food specialists Love Joys have put this fun, interactive graph which lets you look at different dog breeds and help you ascertain if they would be a good running companion or not. As you can see, Rhodesian Ridgebacks are definitely good running pals!
Please feel free to use the comments section to share your experiences.