*This is a collaborative post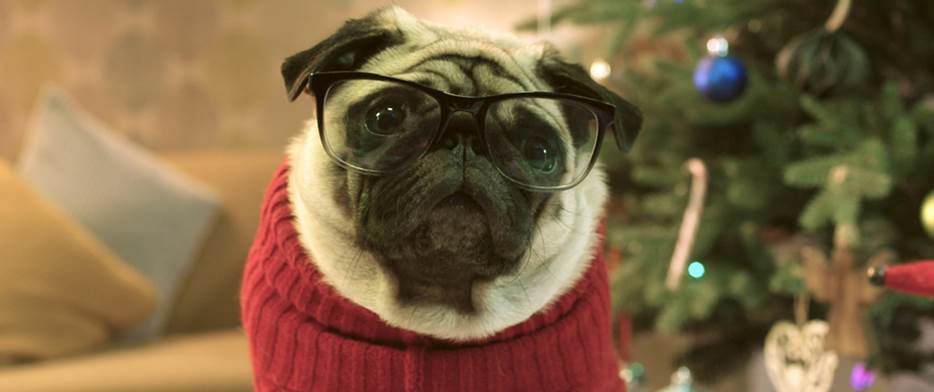 Gizmo the Pug Saves Christmas in New Vision Direct Advert
There are lots of things I love about Christmas: Christmas presents (naturally), Christmas cake, mince pies, mulled wine, family time, Santa, decorating my house. But one of my other little Christmas weaknesses is (good) Christmas adverts. Or perhaps more accurately cute Christmas adverts with animals in. I totally love the Buster the Boxer advert from John Lewis and a personal favourite last year was Mog the cat.
As a dog lover, adverts with dogs in always get the thumbs up. Which naturally means I completely love the new Christmas advert from Vision Direct featuring Gizmo the pug. Did you see their advert last year featuring Gizmo? Where he kept on breaking his glasses? I think this year's one is even better, because there's a new furry friend added to the mix – Cuddles the cat.
I'd definitely recommend you have a watch. A super cute pug in a jumper and glasses in a keeping up with the Joneses Christmas decoration style war with a cat. Seriously what's not to love? It kind of reminds me a bit of the film Cats and Dogs which also happens to be one of mine and my children's favourites. Of course, it's only right that the dog should save Christmas – although my cat will never hear me say that! If I can give you some advice make sure you keep on watching to the very end. The end genuinely caused me to laugh-out-loud.
Have a watch and let me know what you think.
For more festive Gizmo fun, make sure to checkout Vision Direct's Christmas website which has lots of fun things including an advent countdown and lots of competitions. If you haven't heard of Vision Direct before, they are the UK's largest retailer on online glasses, contact lenses and eye care. Including glasses for pugs as you can see…