A Night out with Hotter Shoes in Reading
I love shoes, I love handbags more, but I definitely do love shoes too. But as I entered my 30s, something has changed in that I wanted my shoes to be comfortable. I am over crippling myself until my feet are blistered and raw or hobbling back and the balls on my feet are hurting so much from the heels that I am wearing. A lot of the walking I do now is days out with children or the school run. But just because I want practical does not mean that I don't want stylish.
I was rather intrigued and exciting to be invited to a blogger's event at the Hotter store in Reading a couple of weeks ago. I had met Hotter before at Blog on Win last autumn, so I had come across the brand before.
Hotter shoes are passionate about making comfortable shoes. So completely after my heart there. When I mentioned Hotter to people, some of them thought of Hotter's heritage collections which are perhaps more classic and not very fashion forward. However, when I entered the store it was clear that yes there was a place for Hotter's heritage, they also had some rather fabulous collections in there that were very much on trend too.
From patents to brogues to chelsea boots and ankle boots and ballerinas there was plenty to choose from. What I particularly loved was the gorgeous colours and prints – who says shoes should be black and brown? I always think life is so much better with colour.
Hotter are always very passionate about service and fitting your shoes properly. They actually measured my feet on a gauge – I haven't had that done since I was a child and then advised me which shoes would suit me the most. Some of their shoes have insoles that can come out too if you have wider feet, which is rather clever.
Anastasia Boots in Purple
What I was taken aback with was the comfort. I chose these absolutely gorgeous purple boots to take home with me. Now in general while I do love heels, I don't often get on with them as I find them so uncomfortable. But these were so comfortable, they were cushioned inside and I could see myself going out for a night in them (when that does very rarely happen!) and not want to burn them because of the pain in my feet by the end of it. I just love the colour, the bow detailing and the really gorgeous floral print lining.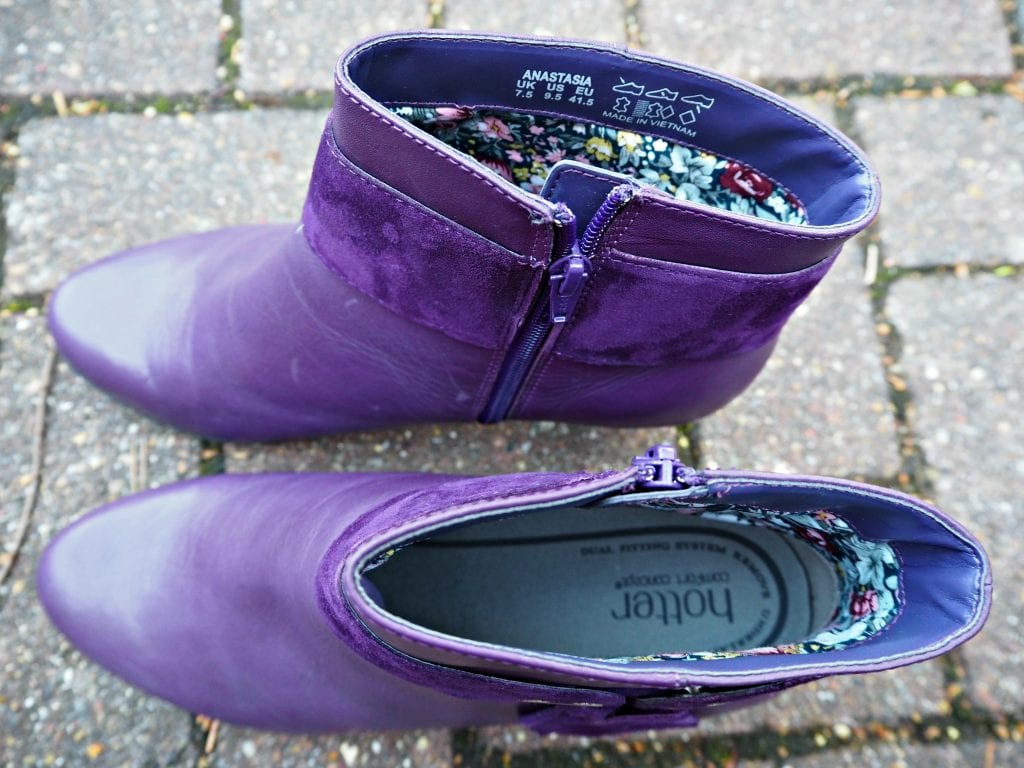 Lotty Boots in Tan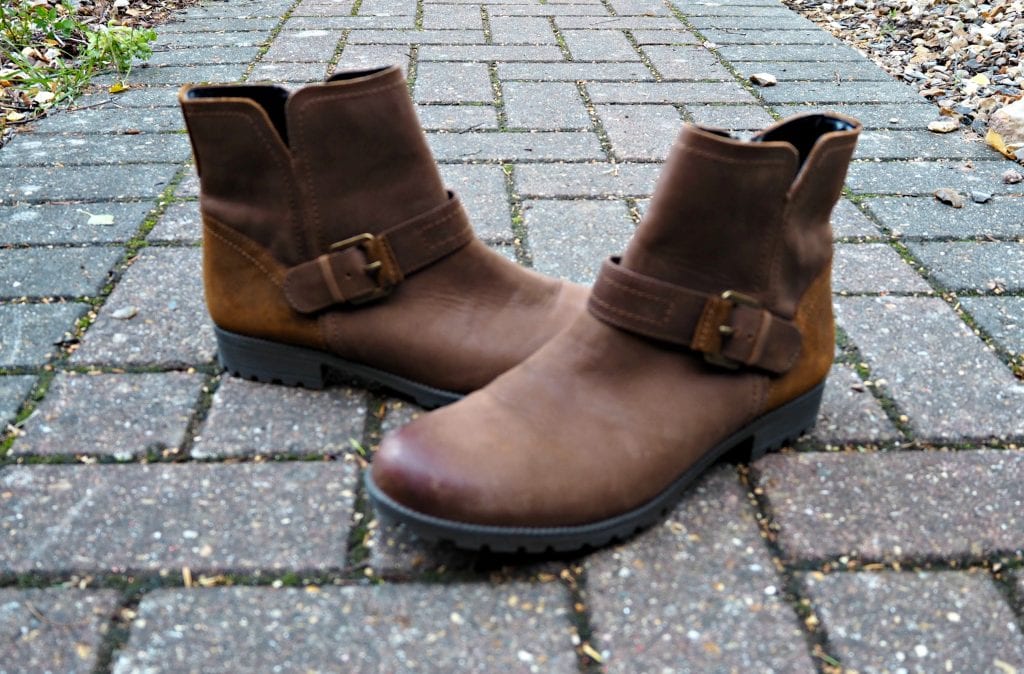 I have to confess that I am a bit of an accessories sucker and while I was in store I got totally taken with not only the purple pair, but these tan boots too. I met Alice from Life As Alice and it turned out we had exactly the same sized feet. Which meant lots of shoe or boot trying on fun between us! At first I wanted the Lotty boots in black, until I saw them on Alice. And then seeing how great the looked in tan, I wanted them in tan. Sadly, we both decided we both wanted them. Isn't that always the way? Rather than fighting over them – it was mentioned briefly – think of the stats 😉  I had to go home and be patient for a pair to be sent to me.
As soon as they arrived I opened the box excitedly. Ready to rock them on the school run. I should say that my feet blister very easily and I usually have to 'wear in' shoes. But the boots were so comfy I put them on straight away and run off (literally) up the road. However, and as I am always honest in my reviews, as comfy as they were unfortunately they did blister my heels the first time I wore them. My feet pretty much always blister with new shoes. So this is probably more about my feet than the shoes and I haven't had a problem with my purple boots at all, so I shall have to just slowly wear them in like usual. But I will not be giving up on them as I love them.
Handbags, handbags, handbags…
As you all know I rather love handbags, and I did get somewhat distracted by Hotter's handbag collection. I didn't even know they sold them. I had to be very disciplined not to take one home with me! But I did take quite a few photos so you could all enjoy looking at them too 😉 .
Special Offer for Blog Readers – £10 off *
Hotter are also offering a fantastic £10 off  and free delivery to my blog readers off any full price item until the 29th January 2017. Simply enter code PQBTPD at the checkout. Enjoy!
*T&C's – £10 off plus FREE delivery is for first orders only. You are entitled to £10 off the total order value of any full priced items in the Hotter range (excluding shoe care products) plus FREE delivery. This offer cannot be used in conjunction with any other promotional offer or on Sale or Factory Clearance items and gift vouchers. Expires 29/1/17
**Disclosure: Hotter gifted me with a free pair of boots and a discount on a second pair of boots in exchange for attending their event. However, as always, all opinions are my own.