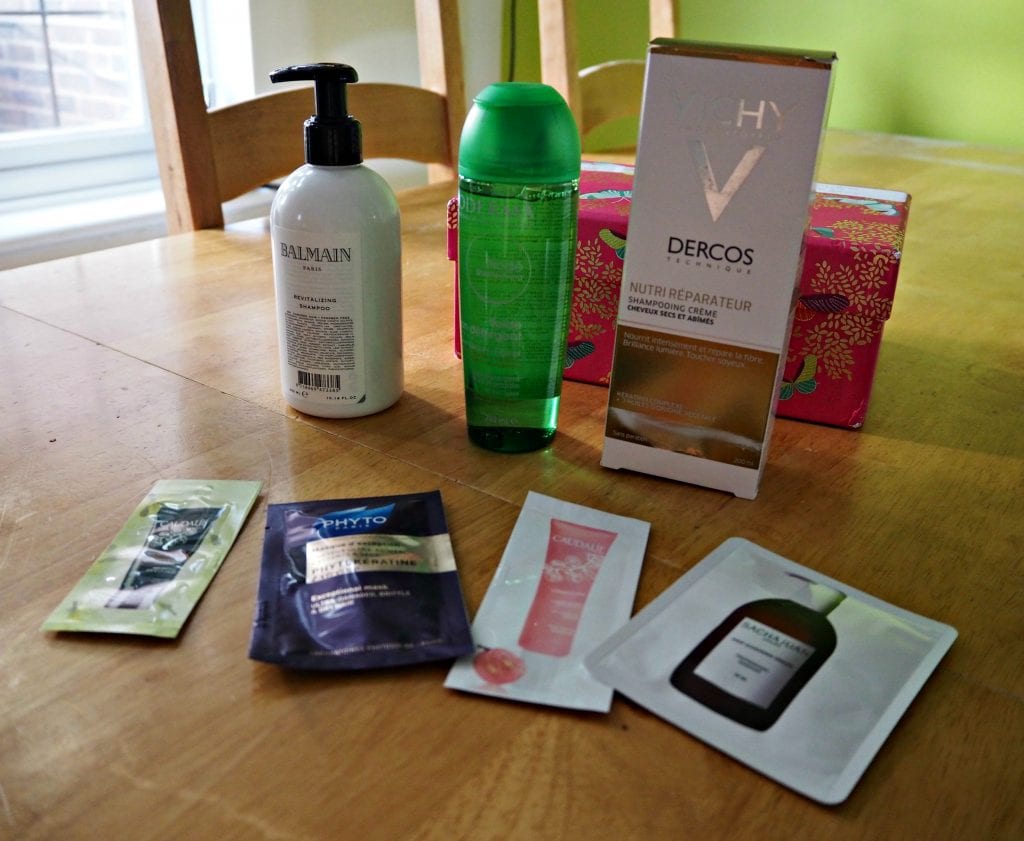 Harley Street Hair Clinic Hamper Review
I was very lucky to be sent a hair hamper from the Harley Street Hair Clinic. I always like trying new hair and beauty items and often get stuck in a rut just using a few faovurites, so it was great to be able to try some new to me brands. I was sent three shampoos to try, I tried each of the shampoos at least twice, if not more before reviewing them.
Before I start I should probably tell you a little about my hair. My hair is naturally wavy and gets greasy at the roots quickly. I wash it every other day, but wash and style my fringe every day. I also leave my hair to dry about half naturally and then rough dry to finish it off. Other than when I'm going out, I'm not into lots and lots of styling day to day.
Vichy Nourishing Cream Shampoo
The first shampoo I tried was the Vichy nourishing cream shampoo. The is a restorative for dry and damaged hair. It is suitable for frequent use. I wouldn't say I have dry hair, but what hair doesn't need a bit of nourishment now and then?
My first impressions were that it smells absolutely amazing when you put it on your hair, and creates a lovely lather. But, I have to confess it was my least favourite of all of the shampoos. It made my hair really greasy and lack lustre after less than a day. I think it was most likely a case that that it did not agree with my hair type rather than it wasn't a good shampoo. But by the second day it looked like my hair needed a wash again already and I needed to tie it up. This happened both times I used it. So this is not a shampoo I would use again.
Retail price £8.50
Bioderma Fluid Shampoo
The Bioderma fluid shampoo is a non detergent shampoo which is meant to restore the hair's natural balance. It's also recommended for us after using medicated shampoos and suitable for daily use. The first thing I had to get used to was the fact that this shampoo was fluid. I am so used to shampoos being cream like, but the first time I poured this shampoo into my hand ready to put it onto my scalp, and half of it poured onto the shower floor. This really frustrated me the first time I used it and I wasted loads of shampoo.
The second time I washed my hair with it I actually just poured the shampoo straight onto my scalp, and this solved the problem. I did find I used more shampoo than normal to get it into a lather, but once I got the lather going, it really got going. The shampoo itself had a slightly more medicated smell than the others, but it left my hair feeling really clean and manageable and I would be really interested in trying it after using a medicated shampoo to see if it does restore the natural balance. I have never had the need to to date, but my son does start school next week, so you never know!
Retail price £8.50
Balmain Moisturizing Shampoo
This shampoo was my absolute favourite of them all. I didn't know how much it cost when I first started trying it, and sadly I could never justify paying £23 for a bottle of shampoo, but it did leave my hair feeling absolutely lovely. There was nothing about this shampoo I did not like. It smelt fabulous, it lathered beautifully and my hair felt great after it. It wasn't frizzy and it did as it was told. Seriously if you can justify £23 for a bottle of shampoo go and buy it, because I loved it!
Retail price £23
Summary
As you can see I quite clearly had a favourite, but I think each of the three different shampoos obviously had different uses. I don't have dry or damaged hair, but if I did and the Vichy worked some magic on it, maybe I would be happy to ignore a couple of greasy days. I liked both the Bioderma and the Balmain, but the Balmain won hands down for over double the price though, but as I said before I would like to see how the Bioderma worked restore the balance after a hair treatment.