Ladies Trespass Snowy Down Jacket Review
I have a bit of a thing for jackets, after handbags and shoes they are one of those wardrobe pieces I often find myself buying. I'm not sure why. Since becoming an at home Mum, my requirements for a jacket have changed. They need to be washable, practical and for those days when I find myself shivering watching my children play in the park – warm too.
I have to admit that when I was contacted by Trespass to review one of their jackets, they aren't normally a brand that I would naturally think of to buy something for myself from. But, after I had a look through their site I was really surprised at some of the styles they had on offer.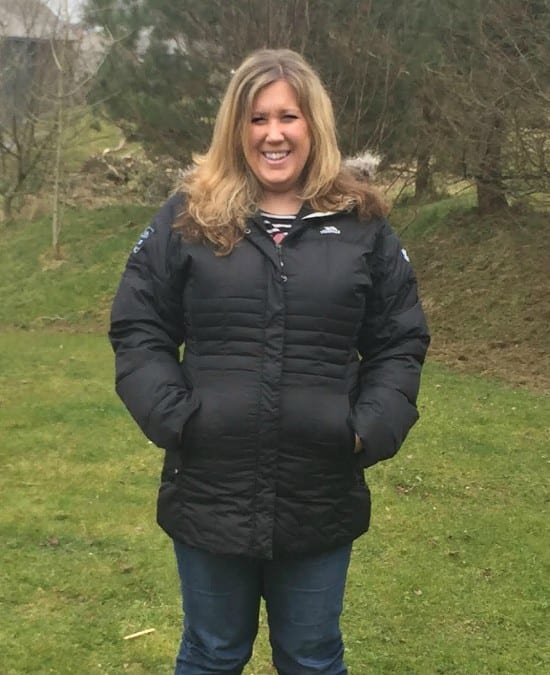 I chose the Ladies Snowy Down jacket to review, which is available in black or shiraz, which is a purply colour. I have to admit I really wanted the shiraz and originally got sent one in an XL, but it was too small. The colour in real life is really lovely. So I swapped to the black in XXL (the shiraz isn't available in XXL), which I would say is about a dress size 18.
The jacket itself is filled with 50% down and 50% wadding and is very cosy. As I am not the skinniest lady, I am also really quite busty. So, I often tend to avoid padded jackets, worried that they will make me look bigger. But, the stitching on this coat means that it is not too bulky and it has some really nice detailing under the bust to help give you a shape in it too.
A couple of things that I would improve, it would be great if the sleeves were elasticated. My arms are on the shorter side and these are slightly too long for me. Then a personal thing, I'm not so keen on the badges on the sleeves, as I think they look quite masculine. But other people may very well disagree.
The coat also has a great hood, I used to never go anywhere without an umbrella, but now that's just not practical. So a good hood saves me from frizzy hair syndrome! It also has a fur trim to help keep you warm too.
Overall I think this is a really great women's downs coat, I would have liked it in purple, but I am in general quite girly! I like the fit and it is definitely flattering for a padded jacket, personally I would like a bit more feminine styling, but I can add some pretty accessories to change the look.
*Disclosure: Trespass sent me this jacket for the purpose of this review, however, all opinions are my own.