My Top Ten TV Shows of 2015
I know that it's February, but I have been meaning to write this post all January and never got around to it. Last year, we decided to invest in Netflix and as my husband and I love a good boxset glom we fast became big fans. Then we also decided to invest in Amazon Prime too, which is also great from the home delivery side too as well as the TV shows.
Here are the top ten shows I watched last year – not all necessarily new shows in 2015, but ones I discovered and enjoyed.You will also see we are rather big fans of comic book shows. In no particular order, as that would have been too hard!

We were quite late to the party with Orange is the New Black and started watching it on holiday last year. We watched seasons 1 and 2 back to back, immediately getting sucked into the story. Not soon after our holidays season 3 was released on Netflix and then we went straight on to watch it. Based on a true story, the plot follows decidedly middle class Piper Chapman who gets convicted of transporting money for her drug dealing girlfriend after ten years. But it's not just about Piper's journey, it is also about the inter actions and lives of all of the characters in the prison. It's compelling viewing and I cannot wait until season 4. I'm really tempted to read the book too.
Not quite a super hero show, private investigator Jessica Jones with super powers is battling to get over a past traumatic relationship that comes back to haunt her. The villain of this season is played marvellously by David Tennant, look out for Carrie-Anne Moss of Matrix fan and a super hot love interest. Rumour has it season 2 is out in March and it's on my must watch list.

Another show we were slow to start watching. It is not for the faint hearted, it is gruesome and, well, horrific. I enjoyed season 1 , and nearly gave up on it in season 2 as it as so terribly gruesome and barbaric. Then in season 3 the show completely came into its own. It has a stellar cast Jessica Lange is superb, as is Kathy Bates who comes into it from season 3. I haven't seen season 5 yet but Lady Gaga and Matt Bomer join the cast. Each season has a different setting and story, but many of the cast remain just in different parts. The show is immensely dark, but very well written and compelling.
If you have yet to watch Modern Family, where have you been? This is one absolutely hilarious sitcom based around the lives of one family. The Dad with his stunning younger wife, his daughter with her 2.4 family and kooky husband and his gay son and husband and their adopted daughter. It's the show that made Sofia Vergara one of the biggest earning tv actresses and you can see why. Season 5 gives us a wedding, a male nanny and plenty of belly laughs. This is probably my favourite comedy on TV at the moment.
Vikings was one of those shows I was kind of reluctant to watch, but my husband really wanted to see it. It is also a show I was really pleasantly surprised that I enjoyed. It follows the story of Ragnar Lothbrok, a Viking leader who was one of the first to raid English shores. Travis Fimmel is great as Ragnar, and I also enjoy that this show as a strong female lead too who is also a warrior. It's fascinating to see the portrayal of Viking beliefs and superstitions and the ruthless raiding and wars. The interactions and family life also humanises the characters and as ruthless as they are, you also cannot help but like them.
6. Arrow – Season 3
This series is worth watching for Stephen Amell alone *fans one self*. The dark bow and arrow wielding hero, playboy by day, vigilante by night. The supporting cast are equally as cool each with their own super skills that help clear up the corruption in the city. John Barrowman makes a delicious villain who you love to hate, and I am still hoping for Oliver and Felicity's happy ending.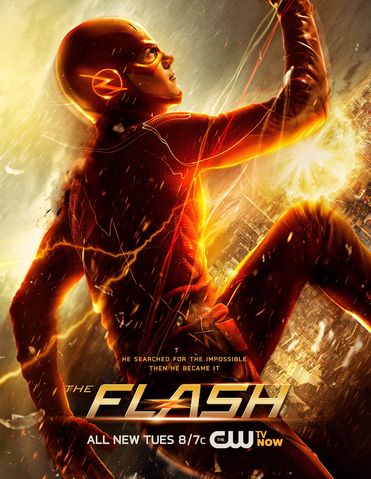 A spin-off from Arrow, after he gets struck by lightening Barry Allen discovers that he has the power of super speed. Using his new super power to help people, Barry begins to discover a wider plot affecting the city and more people suffering with powers, some of them not so determined to do good with them. Barry is one of the nicest people, slightly geeky, but only in a good way. We also discovered our son loved this show and he liked to pretend to run around the front room as fast as he could.
8. Sense8 – Season 1
Made by the makers on The Matrix, this show did take a couple of episodes to warm up. But, my advice to you would be don't give up on it because when it gets into it's swing, it's really, really good. It follows 8 strangers who are psychically connected and can appear to one another. The plot if very thick and complicated but the more you watch it the more you get sucked into the character's lives and the wider plot.
I'm a big fan of comic book adaptations, not that I have read any comics, I just love super heroes! Dare Devil is Netflix's latest foray into the comic book TV series scene. Blinded as a child Matt Murdock gained super hero powers and uses them to help people as a vigilante series by night and works as a lawyer by day. Ok, yes this story might be familiar, but it doesn't make it any less good. One of things I really enjoyed with the series is its portrayal of the series villain, he's human and likeable as well as being evil. The setting is dark and moody and the characters are complicated and multi-layered.

10. Madmen – Seasons 1-4
Set in a 1960s ad agency, I really wish I had started watching Madmen sooner because it's so good. The boy's club world of the ad agency is completely fascinating. Be prepared for your jaw to drop at the crazy sexism as well as the smoking in the offices. The relationships between the characters are complicated. The lead Don Draper is a womanising, virtual alcoholic and yet eminently likeable. If I was ever to confess to having a girl crush it would most definitely be for the stunning Christina Hendricks who plays Joan. A great show.
What shows did you enjoy watching in 2015?
---