Welcome to a weekly feature on my blog – Ben's Zone. Written by husband… Ben. A foodie, coffee obsessed, ex-smoking, ex-drinking and Ridgeback loving Dad. Who is also seriously into his fitness.  You can find him on the blog (most) Sundays. Enjoy 🙂
---
Post Christmas Pulled Pork
Everyone loves a good roast at Christmas and there are plenty of articles on the subject, all I'll say is plan well and use your probe thermometer. What I can offer advice on is a little lift post Christmas, and there's nothing better than a change of scene by changing your cuisine (say it out loud, I was very proud of that). This year my family are visiting on the day after boxing day and I decided to create a post Christmas lift by doing an American classic, pulled pork. As well as being a tasty change of gear there are also a number of practical advantages to pulled pork. Firstly, I have young kids, as does my brother, at the best of times they find big roast dinners hard work, pulled pork served in a soft white roll is easy going and a relaxed way for them to eat. Another advantage is it can be prepared weeks ahead so there's no need to rush around on the day. Finally it involves getting the barbecue out and that's never a bad idea in my book.
First up, let's look at barbecue sauce. I prefer a pretty straightforward sauce, nice and thick and with tastes coming out of the deep south rather than some of the Korean and Chinese barbecue flavours. There's nothing impressive in the sauce, I found one that was close to what I was looking for on the internet and tweaked it using treacle and paprika to give a darker edge to the flavour.
Homemade Barbecue Sauce
Ingredients
Tbsp soy sauce
4 tbsp tomato ketchup
1.5 tbsp golden syrup
0.5 tbsp black treacle
1 tbsp honey
2 tbsp dark muscovedo sugar
2 tsp English mustard
4 tbsp red wine vinegar
Big pinch of smoked paprika
Small pinch dried thyme
Recipe
The method is as simple as putting everything in a heavy bottomed pan and heating slowly to boiling point. My experiments have indicated that once boiling it should be allowed to bubble for around 5 minutes before being taken off the heat. It will thicken as it gets colder and so don't worry if it appears thin. Check the taste and if it tastes too 'dark' squirt in some honey.
What I would suggest is making this a couple of times beforehand to see how you prefer it and what tweaks you want. If you want it sweeter, omit the treacle. I would not put more than 50% treacle as it became overpowering. Another tip is to make this well in advance. The flavours may well seem a bit harsh and clashing at first but given a week they will mellow out nicely.
Pulled Pork Recipe
Next up is the pork. Here you want pork shoulder, bone in is probably better but I have also done bone out and it was fine. It needs to be shoulder as it needs a good amount of fat to keep it moist. Get the meat the day before and give it a good rub with the following mix (also great for mixing into breadcrumbs for breaded chicken).
Meat Rub
1/4 cup paprika
1 tbsp dark brown sugar
1 tbsp granulated sugar
2 tsp salt
1 tsp celery salt
1 tsp fresh ground black pepper
1 – 3 tsp cayenne pepper to your taste
1 tsp dry mustard
1 tsp garlic powder
1 tsp onion powder
I always keep a coffee jar of that rub to hand as it goes nicely with a lot of things. It also works well mixed into brown rice to accompany jerk pork.
Cooking the Pork
Pork – bone in our out pork shoulder, minimum 2kg
Rub the pork the night before you cook and refrigerate.
On the day you're cooking (which can be a while before you need the pork) get up early. Set the kettle grill for indirect cooking meaning coals at the sides and a drip tray with water in the middle. Use a chimney starter to fire up some more coals and while you do, soak some wood chips in water.
If you want, before you put it on the grill, you can inject apple juice mixed with a little rub. I will do this but don't think that the dish is ruined if you don't have a meat injector.
The crucial thing to do is to use a digital probe thermometer. This will safely cook the meat without drying it out.
When the coals are hot, pour them on to the unlit coals at the side of the grill. Then dump on some of the drained wood chips, keep some of these back to add periodically.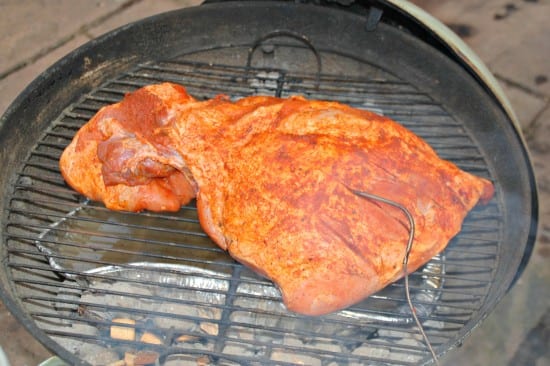 Then put your meat on, connect the thermometer, kettle top on with the vent cracked and wait. You need to keep checking the time until the thermometer reads 195F. Don't be worried if it looks like a meteor when you are done, this is fine. It may take 8 – 14 hours to get to temp if it's a big piece (and it needs to be ), be prepared to spark up and add extra coals if need be.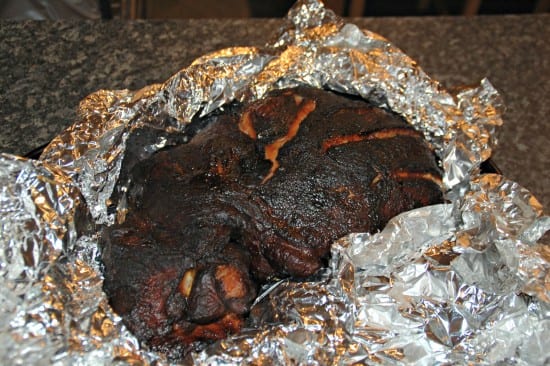 During this cook is where you really need the thermometer as the cook is going to stall. At around 160F your pork, which has been cooking nicely for a few hours, is going to stop cooking and stay at 160F for a long time. This is going to make you worry because it has another 35F to go and the day is running out. There are two options here, you can leave it be, keep the fire going and wait out the stall, that is ok but be warned it can last for hours. The other option is to use the 'Texas Crutch' which is a trick from the pitmasters of the American South. Take the pork inside and wrap it tightly in 2 layers of heavy duty foil. Once wrapped, get it back out to the grill. This will stop the water escaping, stop the cooling effect of the evaporation and (hopefully) beat the stall.
Now bring it inside and allow it to cool. Once it's cool enough use your hands, or a pair of forks, to 'pull' the pork apart into small shreds. Remove any whole chunks of fat as you go. If you can't pull the pork easily, something has gone badly wrong.
Once you have a big bowl of lovely flaky meat you're done. I then vacuum pack this and freeze it down.
On the day all I need to do is to make some dough for bread rolls in the bread maker, dish out some shop bought coleslaw (I'm sure it's better home made but I'm no Delia), warm the pork through and serve with either BBQ sauce or a nice jerk marinade.
Et voila, doesn't matter if it rains in the day because the BBQ bit will have been done ages before. Sorted.