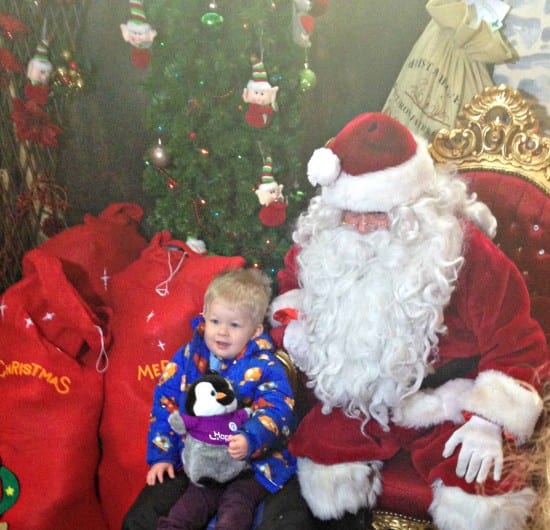 Before I start this article, you need to understand that I love Santa. That jolly man in red with a big white beard is awesome and I won't hear otherwise. I believed until I was eleven and only then because my Mum sat me down and told me because I was at secondary school, and do you know what? I cried. Because I so, so wanted him to be real and didn't want the magic of a man flying around the world and delivering presents to be over.
Which means I am completely baffled by a new trend I have seen emerging – particularly on social media. Of people believing you shouldn't tell your children about Santa, because to do so is lying to them.
Erm.. what?
I fully believe that parents should raise their children the way that's best for them. As parents, my husband and believe in being honest with our children where possible, and realistically we always try to do so. But Santa….?
A lot of my absolute favourite memories from childhood are of Christmas. Not being able to sleep on Christmas Eve, the wonder of discovering my stocking filled in the morning, the gasps as we went into the front room to see all the fabulous goodies that had been delivered. From writing our letters and receiving one back, visiting Santa at a grotto and finding that mince pie had been eaten in the morning. There was not one part of it I didn't love. Why wouldn't I want that for my children? I didn't resent my parents for the lie, I was sad it was over and even now I treasure the memories.
Yes, if you wish to be pedantic about it I am lying to my children. But I am also letting their imaginations grow and prosper with exciting possibilities. I am lying to them for the sake of fun and magic. I am lying to them because I want them to experience the joy I felt at Christmas and I am completely unapologetic about it.
As a parent you have to make value judgements every day on what is best for your child. I imagine most children do not know where (specifically and exactly) babies come from for instance.  For me the Santa debate comes to this – if I were to weigh up on a scales what my children get from believing in Santa versus the fact I am lying to them – I would see the magic and wonder it gives them far out balances any wrong doing.
Let's take another example. This summer we went to see some dinosaurs in our local town centre, they were large two person puppets. When my son saw the stegosaurus he gasped and looked at me and said – Look Mummy you were wrong dinosaurs aren't extinct! – I immediately went to correct him, caught the look on his face and stopped myself. Why would I burst that bubble? Why would I take that away from him, he was filled with wonder. He'll learn the reality of life soon enough, but right there in that moment his imagination was bursting. Instead I said – Do you know Logan I think you might be right.
We must not underestimate the importance of fostering imagination and creativity in children. It is fundamental for their growth and development. If and when my children are old enough to work out Santa isn't real and they come and outright ask me, of course I will be honest with them. But for now I will let them believe in an amazing man, his toy making elves and wonderful flying reindeer, because why wouldn't you want to believe in that? Isn't it nice for us all to have the thought, the notion that it might just be true, he might just be flying past our windows on Christmas Eve somewhere over the moon?