Welcome to a weekly feature on my blog – Ben's Zone. Written by husband… Ben. A foodie, coffee obsessed, ex-smoking, ex-drinking and Ridgeback loving Dad. Who is also seriously into his fitness.  You can find him on the blog (most) Sundays. Enjoy 🙂
---
Making Baba Ghanoush
I'm always looking for new nutritious snacks to have during the day. I tend to have very small meals but supplement these with mid-morning and mid-afternoon snacks. It's a pointless exercise if I'm snacking on sugary rubbish like biscuits and sweets. They're bad for me and I'll only be hungry soon after eating them. I've been eating a lot of hummus recently as it packs a big tasty punch and it's relatively light and good for you.
I was happy with hummus until on a work trip I went for breakfast at my boss's house. He's from Lebanon and his wife introduced me to baba ghanoush which is similar in nature to hummus but made from aubergine rather than chick peas. The recipe is simplicity itself and works really well as a luxurious daytime snack or alternatively an interesting addition to the dips for a Christmas party.
For me, the key flavours here are garlic, the sharpness of fresh lemon juice and the smokiness of the aubergines. Most of the smoke comes from the grilling but to add an extra kick (and as an excuse to play with a favourite toy), I add smoke from a smoking gun. In this instance I used some nice hickory chips to impart a subtle extra smokiness.
Ingredients
4 medium aubergines
4 – 6 garlic cloves (dependent on preference and whether you need to talk to people that day)
Juice of 1 lemon
2 tbsp tahini
3 tbsp extra Virgin olive oil
Sea salt
Recipe
I have cut corners here because I want a good result and I'm going for something quite specific. My goal is a nice, smooth flavoursome result. Some recipes (and there are many) are quite coarse with large chunks of aubergine. That's ok but not what I want. I also do not want to set fire to myself burning up the aubergines with tongs over a gas hob and it's December so I'm not cranking the barbecue up (actually I am on Christmas Eve but that's a post for another time).
Prick the aubergines with a fork and put them under a grill. Keep turning them as the skin blackens, this is the start of our smokiness
As the aubergines cook, get the rest of the ingredients ready. In a glass bowl mix the tahini, lemon juice and olive oil.
Peel the garlic and put into a mortar with a good pinch of salt. This is about bowl flavours so don't be shy.
Use the pestle to grind the garlic into a super smooth paste. Bold flavours are one thing, eating raw garlic is another thing altogether.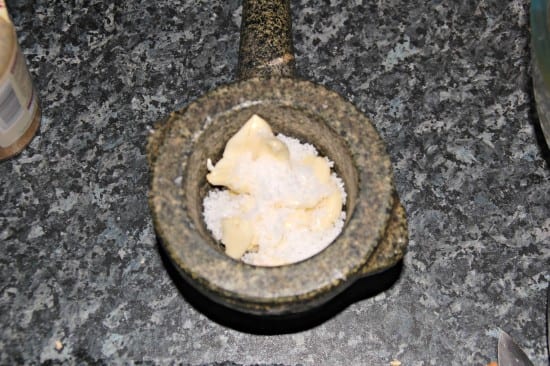 Keep an eye on those aubergines, turning them as required.
Mix the garlic and salt into the glass bowl.
Once the aubergines have blackened take them out. Cut off the ends and use a spoon to scrape the flesh out into a bowl.
I wanted the aubergine nice and soft so if required I give them a minute in high in the microwave
Once you have the aubergines cooked through, blitz in a food processor to a nice smooth paste.
Combine all the ingredients in the glass bowl.
Cover with cling film, put the hose from the smoking gun in and give it a good dose of smoke.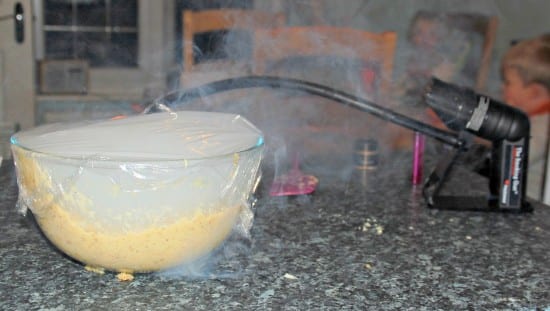 Let the smoke absorb into the baba ghanoush.
That's it really, there are 6 good snack size servings in there, ideally you'd want it with some authentic unleavened bread, but if you happen to be lazy (like me) toasted wholemeal pitta also works well.
Stuff you could add
I think cumin, smoked paprika or even a little bit of chilli could add something here but be careful not to over complicate, this is about getting simple things right.
In terms of garnish take your cues from the region, mint and parsley would work well but again, nothing that detracts from the key flavours.
Enjoy!