Selfie Clothing Christmas Children's Tops & 20% For You
There was a time ala Colin Firth in Bridget Jones's Diary when to wear a Christmas jumper, would incite an invitation from the fashion police. Move forward over ten years, I wonder if it started with the Weasleys in Harry Potter? And anyone serious about Christmas needs one in their wardrobe. As a reluctant convert myself, I now have more than one to choose from. The more flashing lights, musical carols or fluffy Rudolph noses the better.
Enter Selfie Clothing, who have taken Christmas fashion one step further, with their children's Christmas tops. The concept is simple, choose a design – and they have reindeer, elves, snowmen and of course Father Christmas to choose from – upload a picture of your child and voila. They are great fun and I can't help but grin every time I see them. We chose the reindeer design, because we love reindeers in our house.
The tops arrived in a well presented box, wrapped in tissue paper and are really good quality. There is some great detailing on the top from pictures on the sleeves of gingerbread men and presents and a sugar cane on the back of the top, giving them that extra attention to detail. The cotton of the top also is really thick and nice quality, not like the thinner material you normally find in supermarkets.
My son Logan, here wears the age 4-6 years top. He is 4 years old. In terms of sizing the sleeves needed rolling up, but the top had a handy seam in order for us to do that easily. But the head hole (my son does have a big head!) was on the snug size. But otherwise it was all good, with plenty of room to grow into.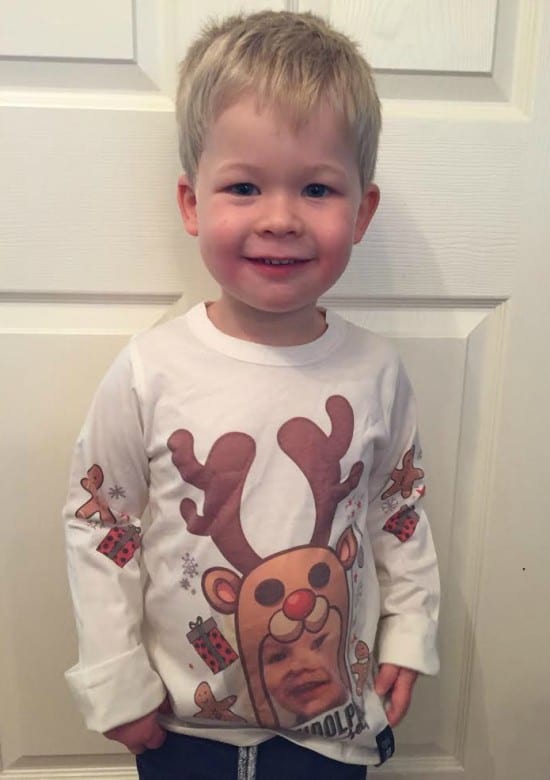 And because I promised him he could do one with a silly face 🙂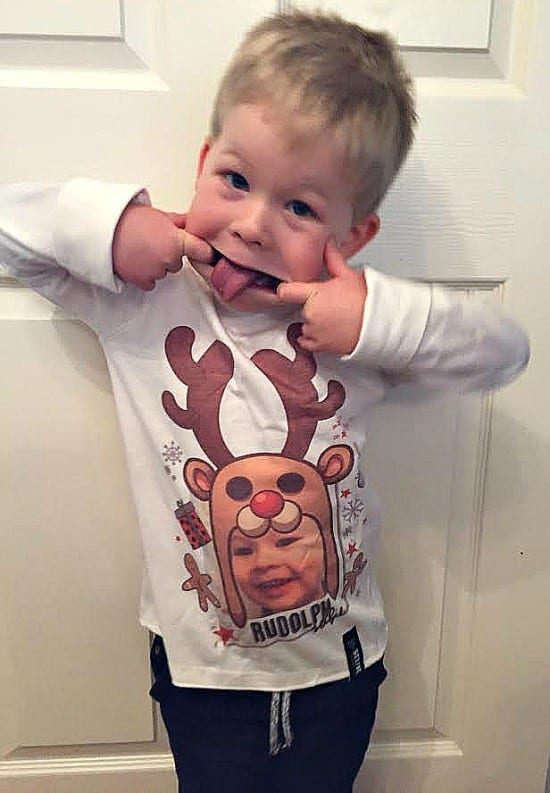 My daughter Aria, is 18 months and wears the 2-3 year old size top. Aria is quite petite for her age and is still firmly in 12-18 month clothes. This top, as expected, was on the big side for her. The sleeves needed rolling up, as with Logan, but also, overall the top was loose on her. She is modelling it here with a skirt, but I think it would work better with leggings. However, as with Logan's top the head hole was really snug and I had to give it a good tug to get it on and Aria is definitely on the smaller side. So if I could give any feedback to Selfie Clothing it would be to revise the head hole sizes, or add buttons like a lot of children's clothes, to make them easier for dressing and undressing. Other than that, both children loved their tops and I'm sure they will be firm favourites this Christmas.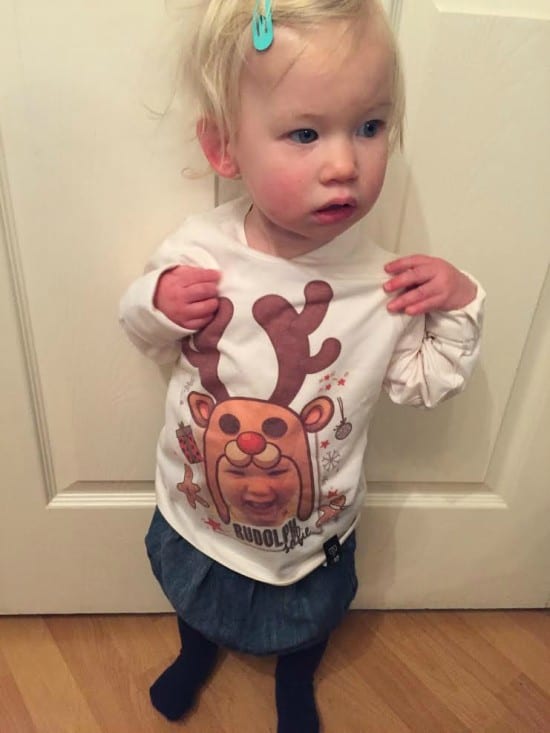 And because Aria wanted to do a silly face too!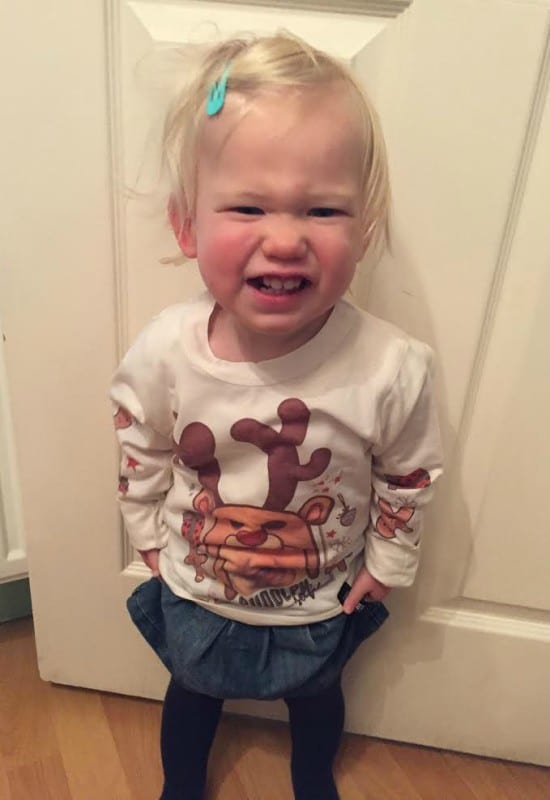 20% Discount Code For You
If you would like to grab yourself one of these fab Christmas selfie tops for your children too, Selfie Clothing are offering 20% off for all readers of my blog.
Simply visit SelfieClothing.co.uk and enter laura20 at the checkout.
Happy shopping and enjoy.
*Disclaimer: Selfie Clothing kindly sent me a top for each of my children in exchange for an honest review.