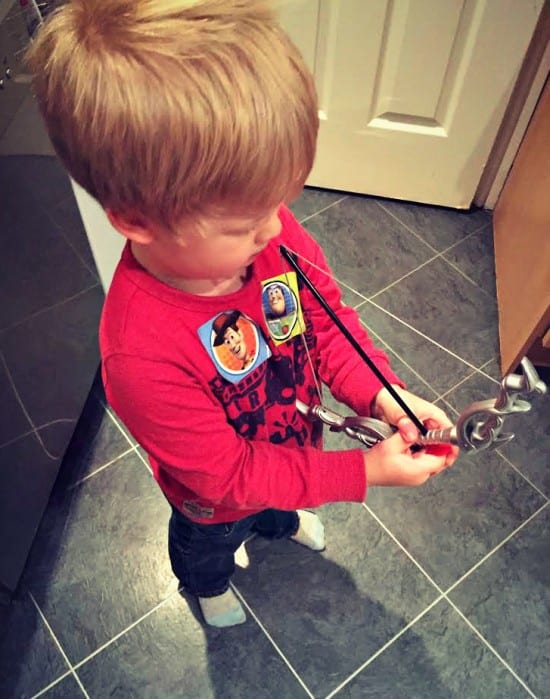 How Do You Feel About Your Children Playing with Toy Guns?
My son is at the age where being a hero and beating the bad guys is about the coolest thing ever. He's developed a love of the Star Wars films, and a light sabre is firmly on his Christmas list.
When my husband recently travelled to the States with work, we put an extra-bag in his suitcase with the intention of him doing some Christmas shopping out there, as some of the children's toys in particular are cheaper.
He rang me from a children's toys store and talked me through some of the options. He said ooh there's a nerf gun on offer and my immediate response was no. No, because I do not want my son playing with guns.
This has been a discussion we have been having for a few months. One which my husband has so far politely adhered to, although I am pretty sure he is just humouring me, and it's not something he himself agrees with.
It is something I am struggling with. Guns are everywhere – films, tv and even children's TV shows. We went on a laser ride at Legoland where the whole family got to shoot the bad guys and I have to admit it was a hoot. I guess with this week's horrendous news it is even more on my mind. But, guns are designed with the sole intention and reason of killing another human being. For me it doesn't sit comfortably that a 4 year old should be playing with a toy version of this.
My husband has (gently) suggested I may be fighting a losing battle. So far, my son has created guns out of Lego, Duplo, Megabloks & his toy drill also seems to make a good substitute. Where there is a will it seems, my son will find a way.
Last weekend we watched the film Big Hero 6. After a trip to the dentists this week, I had promised my son a magazine of his choice for being good – he choose the Disney one with Big Hero 6 on. Which also came with a free cross-bow. I decided a cross-bow wasn't as bad as a gun & my son has delighted in shooting imaginary villains, so I guess in reality it's really not much different at all.
Both my husband and I have had a chat with my son about guns – at a simple level on why I don't like them. Now when I notice he has constructed yet another out of Duplo he will simply say to me, oh it's just pretend Mum, I'm only shooting the baddies or it's just a water gun don't worry.
I suspect as media, and next year school, come into play more and more, I will have little control over this. Perhaps I am better to just let it go and continue to explain to my son why guns aren't nice things. But it bothers me when he pretends to shoot his sister (she's Darth Vader today Mum). In hindsight my husband played with guns as a child and he's a good man, so maybe I am being totally over sensitive. I can't remember if I did as a girl (I was big into my dolls), but it wouldn't surprise me. Using my fingers as a pretend gun at least. Actually I am pretty sure I did.
So, why am I struggling to let this one go?