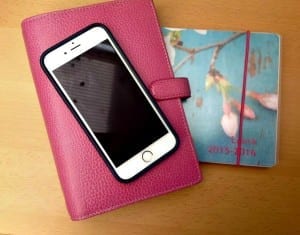 As you know I love stationery, and diaries most definitely fall into this category. One of the great things about the new year is starting a crisp new diary, all those lovely smooth pages full of possibility. I also absolutely adore filofaxes. If I could get away with it, I would buy a new one every year, but as I particularly like the beautiful, but expensive leather ones, my budget wouldn't stretch to it. I also enjoy putting in the new diary insert to my filofax each year, ready to start filling it once more.
But, in the age of the smart phone, are diaries becoming redundant? As much as I do love paper, I could not be without my online diary. It keeps me (sort of) on the straight and narrow. Whenever I need to put in an appointment – and I have a few as I see clients every week – it goes straight into iPhone. My iPhone also sends me reminders and you can put repeats in for birthdays, which makes things a lot easier.
However, by contrast, nothing beats writing things down. I think it helps to cement things in your memory. And let's face it, with the amount of sleepless nights I face, mine's not great. A to-do list simply has to be written down, just for the joy of ticking things off. I have be known to write things down I have already done just so that I can tick them off… just me?
So my solution is to combine all three. Nothing like a great excuse to have lots of stationery is there not? I have a Personal Planner for my blog planning and blog diary, my Filofax for day to day work and just life in general, my to-do lists and reviewing my week in advance. Then my smart phone for appointments and reminders. If I stop using all three and this usually happens when I get super busy and my organisational pants fall down, I have to confess I couldn't survive without my online diary. That is always my fail safe and back up. So I guess it probably wins over all three, but it probably isn't half as pretty and nice to write on.
How do you organise your time?