Weigh, Lose or Stay
Week Twenty Two
If you read last week's Weigh, Lose or Stay you will know that I have decided to take a couple of weeks break from the diet, but by this time next week I will back on it with the aim of getting to goal before Christmas. For this reason I have decided not to weigh myself this week, but will for next week's update.
I have been tracking my calories via My Fitness Pal, and I have found especially when I have abstained from eating for so long that it is hard not to fall back into old habits and eat bad things. Some days have been better than others, but overall I have not done too bad. I just need to keep the focus.
On Saturday we had some good news to celebrate so we all went out as a family to Frankie and Bennys and on that day I totally blew the diet, but it was worth it.
This week I am setting myself the goal of getting back into exercise I have really slipped on this the last three weeks and I think I can tell in my body too. It doesn't help that I have a crazy busy week ahead too, so if I can get just one workout in I will be pleased. So that is my goal – one, ideally two workouts this week on top of calorie counting via My Fitness Pal and back onto the Cambridge Weight Plan next Monday.
How's everyone else's diet going?
 Results
Diet following: Cambridge Weight Plan (read more here)
Weight lost this week: n/a
Number of weeks on the diet: 20 (with a week off and I am not including my holiday weeks)
Weight loss in total: -30.75lbs / 13.95kg
Measurements
This week:
Bust: cm
Waist: cm
Hips: cm
Arms:  cm
Legs: cm
Total loss this week: n/a
Total lost so far: -48cm
Goals
My goals are:
Have two weeks off calorie counting & then go back on to plan.
Get to three stone – and treat myself to a new pair of jeans.
My non scales goal is to get my wedding rings and eternity ring all on one finger. I've got two of them on, I just need to fit the third.
Linky Rules
I must stress this is open to anyone, you do not have to join in the Linky if you just want to share your weight loss or maintenance stats in the comments, this is totally fine. But if you want to link up that is also fab.
This is a feature that everyone can join in with (including my own clients!). Not every body is on a diet, but they do like to keep an eye on their weight for maintenance purposes. So this is a weekly weigh-in whether you want to lose weight or stay the same.
The more the merrier please join in. It doesn't matter what diet you are following, dieting is hard whatever route you take this is just about supporting one another.
Grab the Weigh, Lose or Stay badge and pop it in your post
You can link up any weight-loss or fitness and maintenance related blog posts each week
Use the #weighloseorstay hashtag on Twitter and Instagram
Share the love – try and read & comment on 3 other blogs listed on the Linky
Tweet me (@laurasummers) with your Link up and & I will retweet it to my followers
Linky will be open every Tuesday for one week
Grab the Badge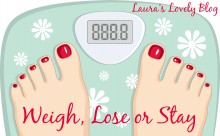 Loading InLinkz ...