Welcome to a weekly feature on my blog – Ben's Zone. Written by husband… Ben. A foodie, coffee obsessed, ex-smoking, ex-drinking and Ridgeback loving Dad. Who is also seriously into his fitness.  You can find him on the blog (most) Sundays. Enjoy 🙂
---
Aeropress Review
Before I start this post, I think it's important to say that I have purchased the Aeropress myself and it was not sent to me for review. Either way, that doesn't affect the honesty of the review, but I just wanted to make it clear.
I'm a bit particular about what I do and don't drink. Over the years I've become less and less inclined to drink instant coffee and it's all down to taste reasons. Likewise I find cheap bean to cup machines equally unpleasant. That's not to say I only use my own hand prepared Ecuadoran grind and I certainly don't drink coffee that's formed part of the diet of someone or something before me (yes this happens – Poo coffee) but I do take care. My home choice is a simple Tassimo machine, it's tasty, reliable and while not cheap, it's not crazy expensive either. When considering my holiday I was not looking forward to two weeks on instant . So I looked for a travel solution and I decided upon the Aeropress
The Aeropress was conceived by the guy that brought us the aerobee hoop frisbee thing when he himself went on the search for a good cup of joe. It's a plastic tube onto which you screw a cap with a paper filter, a plastic plunger goes into the other end.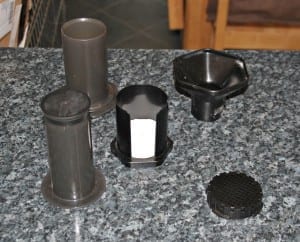 Making the coffee is simplicity itself, screw on the cap and filter, pop it on top of a mug, load up with ground coffee (any coffee works, espresso grind is probably the preference), pour in hot water, stir, leave it to infuse then push through into the mug with the plunger. Coffee people can be terribly serious about things and there is a world championship for brewing with these things but honestly, who has time.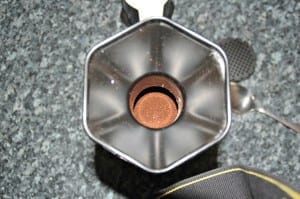 In practical terms there are some really nice aspects. It's plastic so it cools quickly and transports without worry, it's quick and easy to use and most of all a dream to clean. Once you're done, unscrew the cap and simply push the plunger to pop the grounds into the compost. Sure, a quick rinse is helpful but not essential every time. It makes a mockery of the Greek punishment that is proper cleaning of a French press or stove top espresso.
And what about the result? Like I say, I'm far from a connoisseur, I like my coffee thick, black and bitter and as long as I have that I'm happy I get that and more here. The resultant brew is usually a large cup worth (topping up with hot water doesn't weaken the brew) with a lovely thick texture, it's entirely devoid of grounds or any other nastiness so it slips down like very jittery velvet. The flavour was what really blew me away though, like I say, I'm no expert but my test grind was some stuff a friend bought in a grocery store in Brasil. Even with this relatively pedestrian fare there were clear notes of chocolate. Strictly on the level, I'm tasting things in coffee I've never tasted before and I've drunk my fair share of it.
In terms of downsides, it's a relative but each Aeropress makes about one cup at a time. Not an issue for me as I'm the only coffee drinker in the house but it's not as communal as a big old French press. The only thing that really bothers me, truth be told, is that I can't get a crema on my brews, for purely aesthetic reasons I love a nice thick crema and the lack of it does make me wistful, but it doesn't detract from the taste or texture.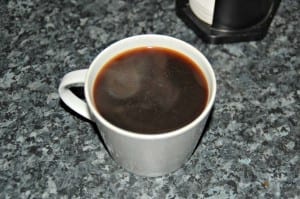 In conclusion, if you like coffee I'd give this a whirl. It beats stove top and French press hands down. Is it as good as a full on espresso machine? No, but I have a friend who has an espresso and an Aeropress and his view was that while the Gaggia knocks it into a cocked hat, it takes longer to clean, longer to heat through (and thus the all important first morning brew) and so in the week the Aeropress is his go to.
Two thumbs up.
*Disclaimer: This blog contains an affiliate link