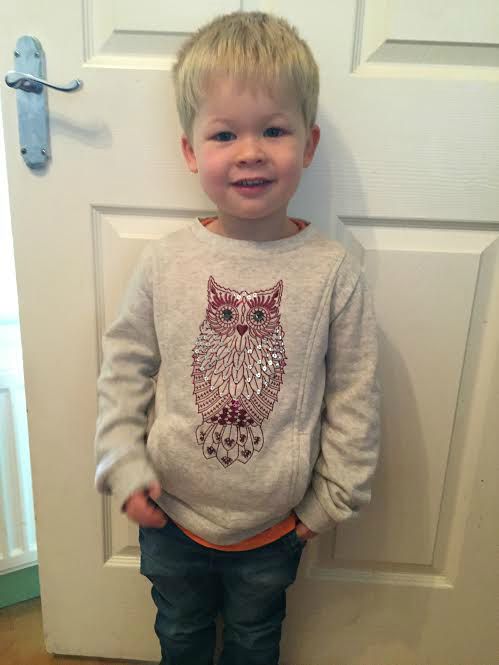 Should Boys Wear Pink Sparkles?
I'm not sure what happened to my son in the summer, I think he must have stood in a bag of fertiliser or something, because he has outgrown much of his wardrobe and made a serious dent in my bank balance.
After a morning where he got very upset that at least five of his jumpers were too small, making their way towards crop tops rather than items of clothing meant to keep you warm. I promised him a trip to our local supermarket where he could choose two jumpers of his choice.
Sometimes I am not really sure what goes through children's clothes designer's minds. But the selection in the boy's section was decidedly drab and dark. My son looked at them uninspired and I can't say I blamed him. I didn't want to go to a more expensive store that may have had a better selection, I was just wanted a couple of low priced jumpers I didn't mind getting a bit of paint on at pre-school, but that didn't mean they had to be boring.
Then we walked passed the girl's section and his eyes lit up. A grey jumper with a pink and maroon sparkly, sequined owl on it called out to him and he gasped I love it Mummy.
For a moment I faltered. Could I, should I, buy my son girl's clothes? Ridiculous really now in hindsight, if it had been the other way around I doubt I would have thought twice about it. But my main concern was if other children laughed at him for his choice, I didn't want that for him.
But… I decided to give him the choice. I said – do you know that it's a girl's jumper? To which he replied yes. I said how would you feel if someone thought you were silly for wearing a girl's jumper and he said to me – I would think they were silly. Sage words from a nearly 4 year old.
That sentence cristalised my decision. As I thought about it, I bet most children won't even notice or care other than perhaps to say ooh that's pretty and it sparkles. If my son wants to wear a sparkly jumper who am I to say no and put upon him silly gender stereotypes and rules? I could see the appeal, it was a much nicer jumper than the mud coloured ones hanging in the boy's section.  So I chucked it in the trolley and said ok then. He was delighted and I smiled. And  in actual fact having seen him wear it a couple of times now, I don't even think that it's that girly.
There is just too much gender stereotype crap thrown at children from the marketing world. Just go in a children's toy store and you will see it. Pink aisles with dollies for girls and blue aisles with trucks for boys. Never the two shall meet. But what if there was just lots of neutral aisles and children just choose what they loved in both pink and blue? Who says boys shouldn't wear sparkly jumpers or even tutus if they want to for that matter? They're just children playing, attracted by fun looking things. And trust me they all look the same after they've made mud pies in them. If I could give a children's clothes designer a hint, think sparkly dinosaurs – I know some young boys and girls who would explode with excitement if they saw that.