Welcome to a weekly feature on my blog – Ben's Zone. Written by husband… Ben. A foodie, coffee obsessed, ex-smoking, ex-drinking and Ridgeback loving Dad. Who is also seriously into his fitness.  You can find him on the blog (most) Sundays. Enjoy 🙂
---
National Kids Take Over the Kitchen Day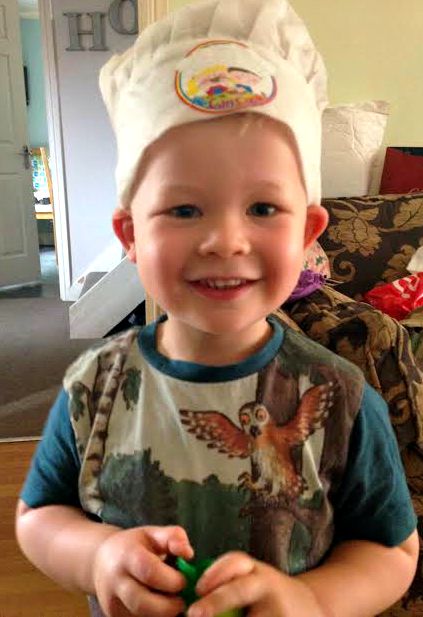 So today is National 'Kids Take Over the Kitchen' Day and so I have decided to dedicate my post to this auspicious day. I've blogged before about my love of food and of cooking with my son, Logan. Hopefully my daughter Aria will be joining us in the kitchen but at 15 months she is just a little bit too young right now. I thought it might be interesting to hear from Logan himself about what cooking means to him.
Dad: Logan, do you enjoy doing cooking with Daddy?
Logan: Yes! I would say yes. So, what else on the interview?
Dad: What is your favourite thing to cook?
Logan: Carrots and cinnamon.
Dad: Care to share any techniques?
Logan: Yes. [says nothing further]
Dad: What is the best bit of cooking with Dad?
Logan: Mmmm, using the noise (his name for my Kenwood chef), that it is using noise.
Dad: What do you like to make with noise?
Logan: Chocolate cake, Chocolate cupcakes.
Dad: Can you think of other things you like making in noise?
Logan: White chocolate cake, white chocolate cupcakes
Dad: Pasta?
Logan: Yep
Dad: Is there anything you don't like about cooking?
Logan: Jambalaya
Dad: Who is your favourite chef?
Logan: Me, I would say. I'm the best cooker. So I would call me the bestest chef.
Dad: Do you like to eat what you cook?
Logan: Yes, I would say I would eat it, as much as I like.
Dad: Are you going to be a chef when you are bigger?
Logan: Yes, or maybe a builder, I would be a builder, now do a building interview, maybe do a fixing interview, I don't like sanders dad.
So there you have it, probably best to make a reservation now before he gets his first Michelin star.
And on reflection, I don't really know what else I expected when interviewing a 3 year old.
---