The Benefits of Coconut and My Coconut Oil Skincare Review
I first discovered the joys of coconut last year when I needed to go dairy free when I was breastfeeding my daughter after she was diagnosed with cow's milk allergy. After trying coconut milk on my breakfast cereal, I am pretty sure I won't be going back. Honestly try coconut milk and muesli it is one awesome combination. It is also pretty much as low fat as Skimmed Milk, so you can't go wrong.
I was a lucky girl in that a couple of weeks ago Holland and Barrett sent me this fabulous box of coconut goodies to try.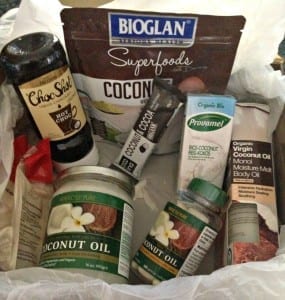 6 Things I Didn't Know About Coconuts
They also sent me some amazing facts about coconut that I wasn't aware of and wanted to share with you.
Did you know:
Coconut oil can be used to whiten teeth? It also helps with the body's absorption of calcium and magnesium so can strengthen them too.
Coconut oil is great for very dry skin and can treat psoriasis, eczema and dry, rough skin.
You can use coconut oil as a DIY hair mask for dry or split ends.
It is also anti-bacterial and is great for zapping zits and shrinking cold sores.
Coconut oil (which can be bought in tablet form) can help reduce cholesterol.
Coconut water is great for post workouts. It is low in fat, carbs and sugars and also contains potassium a key electrolyte used for muscle function.
My Coconut Oil Skincare Review
With all of these facts in hand, if you have read any of my skincare routine updates on the blog recently you will know that I have problem skin prone to breakouts. So I decided to give the coconut oil a go and see if it can improve my skin, as per the facts Holland and Barrett provided me.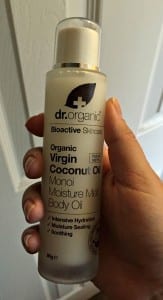 I have started using it as part of my evening routine. I cleanse my face as normal and while I am cleaning it I have to leave the oil in a shallow pool of warm water to melt, as it is hard when it is in the bottle. Then I use a small amount of oil and massage it into my face.
What do I think? I have to admit I have been pretty impressed. Firstly I had a small patch of eczema on my right eyelid which I had been trying to clear up without resorting to Hydro-cortisone cream, that has completely gone now.
I also had a small patch of spots on my right cheek – the side I sleep on – which I have been struggling to clear up for literally weeks. The oil has had two affects on this breakout zone. It has calmed some of the spots, but on others it has drawn them out. Kind of like pulling all of the crap out of my skin. It seemed to have to get worse before it could better, but after a week of using it consistently it is definitely improving. I'm really pleased and it's a much nicer way of treating skin than some of the other more abrasive methods you can buy. I am a coconut oil convert and I plan on using it regularly now. Have you tried it?
*Disclaimer: Holland and Barrett kindly sent me this coconut gift box in exchange for an honest review.