Handbag of the Month
I have no shame in admitting how much I love handbags. Giving up work and having two children has put a serious dent in my handbag budget, but it doesn't mean I don't lust after them… Repeatedly. Handbag of the month is where I pick a bag that has caught my eye for this month, even if I can't afford to buy it! 😉 Some might old, new, cheap, mega expensive… This is simply all about bags I love. 
---
Pick of the Month – August 2015
Orla Kiely Step Zip Shopper + Beach Towel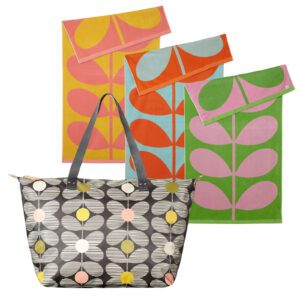 If you still haven't been on your holidays this year and haven't checked out last month's beach bag feature, then I have a bag here that might be for you. Orla Kiely currently have this gorgeous zip beach bag on sale and it comes with a super funky beach towel too. I think it would have to be the green and pink one for me. If I had a holiday coming soon I would definitely be tempted to sneak that credit card out 😉 .
*Disclaimer – I receive no financial compensation for this feature, it is simply about bags I find and love.