Making My Bedroom A Haven
Last year, before I gave birth to my daughter, we redecorated our bedroom. My vision was to create a child-free, peaceful haven to relax in. Most of my house has now been invaded by primary coloured plastic. From toys in the lounge, Ikea storage units in the conservatory to rubber duckies and plastic ships in the bathroom. Most of the time I am ok with this – we did choose to have children after all. But other times I am wish for a neater, tidier house. This is where our bedroom came in – I wanted it to be toy free, a place for just my husband and I. Within reason of course – I do love a good bedtime snuggle with my little ones.
So we decorated it, it was the last room in the house we hadn't decorated since we moved in and it was in desperate need. But then, things got a bit crazy as life tends to do when you have a 3 year old and a newborn. We decorated the nursery and things got dumped in our room to make space for that, finishing touches never got completed. For example we wanted a new mirror but never got around to it so the old mirror is just propped up. I wanted a new bed sheets, but we kind of ran out of cash and it fell down the priority list.
Do you want to see a really honest few pictures of our room? It's not all bad, we have some lovely bits like a handmade patchwork throw and really pretty wallpaper and lampshade. But the rest is pretty bad. I'm kind of embarrassed to share a couple of these pics, but here goes…
My Bedroom At The Moment
Pretty bad huh?
Well this last week, I had enough it was more than time to claim back our space, de-clutter, sort out that mirror and add the finishing touches to the room it desperately needs.
My Yorkshire Linen Mood Board
So when Yorkshire Linen asked me what I would do if I had £75 to spend in their store I knew exactly what I would do with it! I would get those accessories, sheets and bedspreads or throws for my room. I would make it a lovely, beautiful and relaxing space.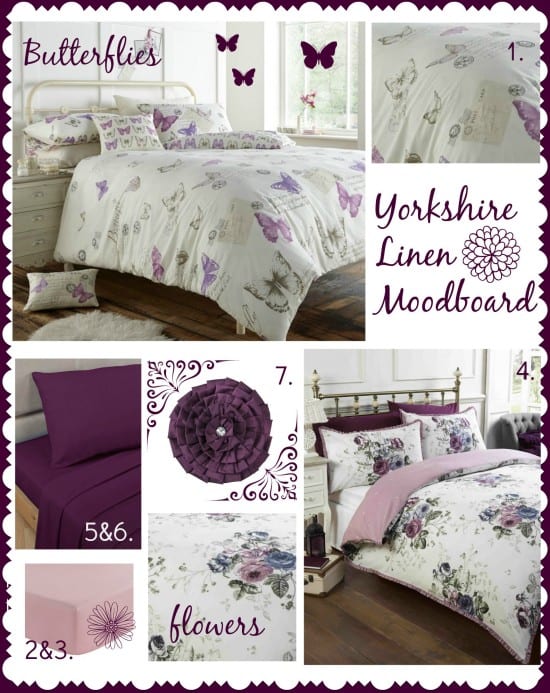 Items featured on my moodboard:
So, I am on a mission to reclaim our bedroom. I have already cleared through a bag of things to take to the charity shop. I have also ordered a new mirror from the room and I am determined to create the haven I have longed for. Watch this space for after pictures coming soon…
*This is a collaborative post.