Have You Been On A First Aid Course For Your Child?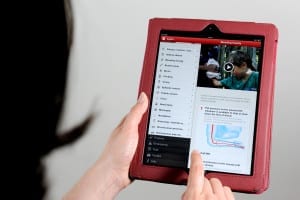 If you're anything like me, I did a first aid class years ago for work and have been meaning to do a child's one since both of my children were born, but have never quite got around to it. It's one of the things on my never ending to do list.
The couple of more serious incidents I have had had with my children, I have been grateful for the people on my life who were more up to date with theirs. My son had a nasty fall when he was about 18 months and had the most amazing egg come up on his head – I called my Mum. My daughter nearly choked (and I do emphasise nearly) and my husband had her out the high chair so fast, I was very glad for his training. When my daughter had a rash that didn't go away when a glass rolled over it, I was grateful for NHS 111.
But, let's face it being a parent can sometimes be a seriously scary business. There is no one that can terrify me like my children, and I do wonder how my parents coped before good old Dr. Google.
It would seem I'm not alone, apparently two thirds of parents with children wish they knew more about first aid.
Introducing the Free First Aid App from The Red Cross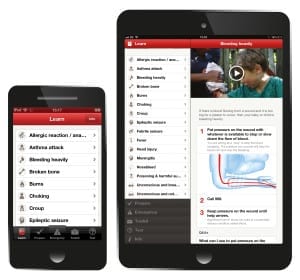 There is help at hand, the Red Cross have launched a really helpful app for parents to download for absolutely free.
The app contains lots of advice and videos to talk you through different emergencies you might encounter with your children from poison, to burns and febrile seizures. For example, only a couple of months ago my son had croup, on the app there is a video of what the cough sounds like, how to treat it at home and when to seek medical advice. Sometimes you just need someone to give you advice and reassurance and this app is perfect. Other times you're just not sure what to do, or even if you want to educate yourself for the future, it's a really useful resource.
I will stress that while this is a collaborative post, I am genuinely impressed with the app and will most definitely be keeping it on my phone and recommending it to friends.
What are you waiting for? Go and download it here.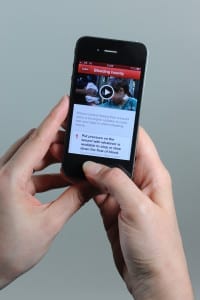 First Aid Courses for Parents
I also didn't know that the Red Cross run first aid training courses for parents. These are specific first aid courses for baby and child and a great way to learn in case of emergencies. You can do a day course in the week, or if like me and childcare is an issue they also run courses on Saturdays or across two evenings.
Find out more on the Red Cross's website.
If you do download the app, let me know what you think, and I shall leave with this rather tongue- in-cheek video from the Red Cross.
https://youtu.be/E5gJQMsUBk0
*This is a collaborative post.