My Skincare Routine – An Update
A wrote back in March – Help! I really Need To Improve My Skincare Routine – about how bad my skincare routine was and how I felt like my skin really needed quite a bit of help. My routine was basically an all-in-one facial wipe and a bit of moisturiser. As I am heading towards 40 and my skin is prone to break-outs I felt that this really needed to change.
So what have I changed?
I decided to be realistic with myself at the same time as improving things. I still have a one year old that wakes frequently in the night, and I'm still pretty knackered. If I put in a routine that would take me about 20 minutes to do each night, I can pretty much guarantee it isn't going to happen.
I am still using my all-in-one cleansing wipes (I know), however, what I did decide, was that I needed to add the following:
A toner
A serum
A twice weekly deep cleansing routine
A Toner

At the moment I am still in the stage of trying out different samples of toners. I can find them quite drying, and while I am prone to break-outs, my skin does gets quite drys so it's a balance. I still haven't quite found a favourite – but what has definitely cemented the fact I need a toner is how much crap comes off my skin even after I have used my beloved wipes.
What have I tried? The Younique Rose Water, Safa skincare toner (review on the blog tomorrow) and Pure Beauty sent me a few Dermalogica sachet samples to try. While a sachet hasn't really been enough for me to ascertain if I love a product or not, I was particularly impressed with the Dermalogica Overnight Clearing Gel, which had a definite affect even after one treatment. Although it did make my skin feel quite dry, I would like to try it out a bit more, although I'm not sure I would use it every day.
So I am still in the sampling stage, but I am definitely adding a toner to my routine.
A Serum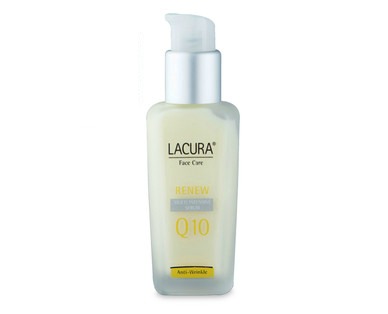 Inspired by Caroline Hirons blog, the one thing she recommends everyone has in their routine for anti-ageing is a serum. I always kind of thought that moisturisers and serums were the same, so I had to do a bit of research. For those of you that don't know you should add a serum first after your cleansing routine and then your moisturiser.
After a recommendation from people on my last blog post, I decided to give Aldi's serum a go – yes Aldi. And well, I love it! And at £3.49 it's much better for the bank balance than a lot of the other serums I looked into. I'm not on my second bottle and do not see the reason to pay for expensive premium branded one, honestly give it a whirl.
Twice Weekly Deep Cleansing Routine
Yep, well. Total fail here I'm afraid. One for me to work on for my next beauty update…
What Next?
I want to try some more toners and definitely get some more Dermalogica testers before I spend out on some expensive products. Get that deep cleansing routine sorted. I was also given a lovely Bare Minerals skincare kit for my birthday, so I want to experiment with that too. My routine is definitely a lot better than it used to be, but there's still room for improvement!