Inspiring Parents: Claire Povey Interview

Welcome to my Inspiring Parents feature. Where I interview parents that have been inspired to do something different with their lives after they have had children. Be it start their own business, tackle a huge sporting feat or change their lifestyles all for the better. You can read more about the concept here.
Now everybody knows that I love handbags. I actually cannot tell you how many I own. So I was very excited to be offered the chance to interview Claire Povey – owner and creator of Irish handbag brand Povey. She makes all of the bags herself from hand and I am finding it very had after looking at her website, not to get my credit card out. Especially her gorgeous beach bags!
---
The Interview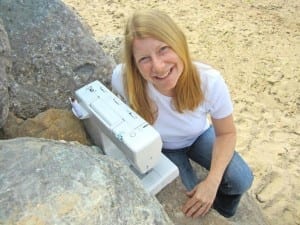 1. Tell us a bit about you. Why did you decide to start your own business?
I'm English, was born and grew up in the Midlands, and also lived in Sussex for several years. In 2009, I moved to Ireland with my husband, Richard, and two young children, Poppy and Will.
We settled in Co. Waterford in a stunning spot in Villierstown overlooking the River Blackwater. We're surrounded by fields, cows, woods and a week doesn't go by without a trip to the beach!
When we moved to Ireland, our children were soon at school going age and I found more time to make. I joined a local market selling gifts for the home and personalised canvasses and quickly spotted the potential for handmade bags.
I got busier and started going to markets, fairs and events and felt there was an opportunity to grow the business further, particularly online. Fortunately for me I'm married to a marketing consultant. So we created a new brand and website with online buying, which launched in October 2013.
2. Now I love handbags… A lot! But why handbags?
I'm a great lover of handbags too! Small, large, one for town, evening bags, day trips out – you can't have enough!
When I joined a weekly market, I found that many people were looking for a classic style of bag; like messenger, tote, everyday and handbags. So I developed a range of classic bags and added stylish and memorable patterns in quality materials, blend craftsmanship, memorable patterns, and functional designs to make you feel great, whatever the occasion.
And people love that it's designed and handmade by me. It has more integrity; it makes them feel special knowing that the bag they own is unique to them – a one off.
The first range of bags I created was the everyday, which are still a popular line today. There are four styles; compact, tall, grand and extra.
The range also includes town, city and metro handbags, classic and courier messenger bags and two beach bags in harbour and bay designs.
There is also an accessory range including a wallet, coin purse and gadget holders.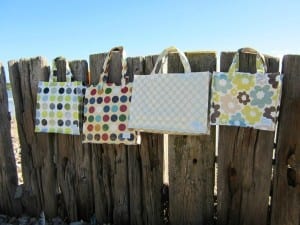 3. Your pieces are all handmade to order, which is lovely. What made you to decide to do this rather than a more traditional manufacturing process?
I've always had a passion for making. It started at an early age; even my school report book said "very enthusiastic" when it came to art and craft!
This interest only grew when I bought my first home. I borrowed my mum's sewing machine and revamped the whole apartment with new curtains, blinds, cushions – and even made gifts for friends.
So when it came to making with a business in mind, I naturally went towards the handmade route. It's what I know and enjoy. It's a great feeling knowing how a bag is put together and seeing the finished product.
4. What did you do before you ran your own business? Has it helped you in anyway?
My background is in database marketing and in data programming – very different from what I'm doing now! Although this experience has helped with making bags.
As I have an analytical mind, it enables me to plan the material cutting process. I can accurately and efficiently make the best use of material, down to the last centimetre.
5. As a parent how do you manage running your business around your family?
As I work from home, it can be difficult juggling the business with family life, and I make a lot of effort to ensure they both don't collide!
What's really great is that both my children are at school full-time, so I have from the morning until mid-afternoon to work on Povey bags. And when they come home, I switch from bag making to being a mum again – so it can work well.
And when the children are around when I'm making, I try and include them. I talk to them about what colours they like, or how a bag looks. And when they see someone in town with one of my bags – they say "Mummy – you made that bag!'"
6. What has been your greatest achievement to date?
Apart from having two lovely children, I would say it's moving to Ireland and settling in a wonderful area and creating an amazing lifestyle for our family. Along with this, creating my own business and seeing it grow.
I wouldn't have thought all this would happen to me – I have to pinch myself sometimes as it doesn't seem real!
7. And your greatest challenge?
Moving to Ireland during an incredibly tough economic climate and establishing a new business, whilst ensuring the children had a happy life in a new country.
I also have to continually ensure I'm on top of all aspects of the business; new designs, materials, hand making, updating the website, getting the message out there. It is constant – very satisfying but hard work.
8. What are your favourite items from the collection?
Now that's a difficult one to answer – one great perk of the job is that I get use every bag! The messenger bag and the town hand bag I find great for popping into town – and always with a matching coin purse or wallet.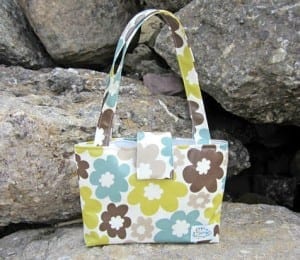 I also love the bay beach bag just launched as I tested it out in Greece last year and it brings back many happy memories!
9. What are your plans for the future?
I'm keen to grow the stockists in Ireland and the U.K. I also have seen interest from America so I'm currently sourcing our first retailer there.
Along with a growing online community, I'll also be attending fairs across Munster and other areas. I'll also be looking to design new products which I'll be launching later this year.
10. If you could give any advice to other people and in particular parents thinking of setting up their own business what would it be?
Believe in your brand, believe in your product, and have a 'don't give up' attitude.
There are knock backs when establishing a business, so being positive helps you through tough days and gives you a strong focus to develop the business.
And if you're a parent working from home, have a structure and plan in place so that family life and business don't merge. That way you can get the best out of both.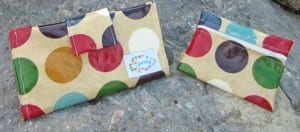 ---
Thanks so much for your time Claire. I love your bags and the craftsmanship that goes into each one. I will also be looking forward to seeing your new range later on in the year – good luck!
If you fancy grabbing one of Claire's bags, shop online at www.povey.ie with free P&P to Ireland, UK and Europe.