Rock of Feather Teething Bracelet Review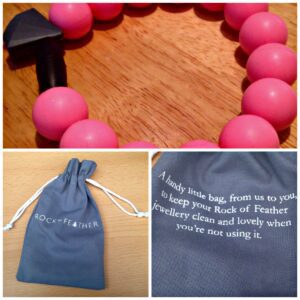 I was sent the beautiful Hummingbird bracelet in pink by Rock of Feather to review. I've seen teething jewellery before, but never ever tried or purchased any, so I was very intrigued to see what they were like.
Like most Mums, a lot of my jewellery has been stowed away for the moment, for fear of grabby little hands breaking or chewing on something that could damage their gums or teeth. I try to wear some of my tougher pieces occasionally when I miss wearing my pretty, shiny things and most of my earrings have been swapped for studs.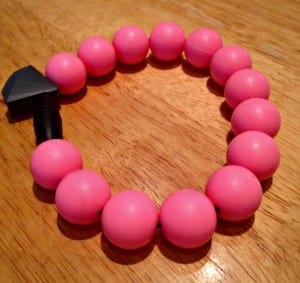 Teething jewellery is made from silicone so it is tough and perfectly safe for babies to chew on. It's not a new concept, but Rock of Feather are focusing on fashion forward and edgier designs with their collections.
Mine arrived in the post in a neat little pouch and was a fabulous looking in real life as it looked on their website. As soon as I put it on my daughters little eyes lit up and she was immediately attracted to it. She made a grab for it and it popped off. I honestly had a oh crap moment as I thought she had broken it before I had even had a chance to wear it properly. But luckily the clasp was designed for these circumstances and just pops open.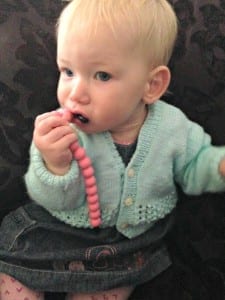 I found the clasp virtually impossible to do up on my own, but quickly realised I didn't need to undo it to put the bracelet on, it's quite big and I could just roll it on.
The design is very striking and whenever I wear it I do get compliments and questions from other Mums about it. I also went to an appointment last week and did a total rookie Mum mistake and forgot to take a toy for my daughter. Then I remembered my bracelet, popped it off and she happily chewed away on it for a while. I have to admit I do keep checking it for teeth marks, but the silicone is very resistant and remains completely in tact.
If I could give one piece of constructive criticism on the piece it would be that the cord used to hold the bracelet together seems to be growing a little bit. I guess that is because the it gets pulled and chewed as well as worn as a piece of jewellery. So it is slightly bigger now than it was when it arrived. The silicone does seem to attract hair somewhat too, although this would be an issue with all teething jewellery so I have found I just need to gently clean it every now and then.
In summary this is a really gorgeous bracelet, I love the design and the bold colour. I wasn't sure on teething jewellery before worried that it might encourage my daughter to chew on my actual jewellery, but I am a convert. You could even stack up the bracelet with other pieces and use the teething bracelet to distract your child from the less child friendly pieces. I am really tempted to get a necklace now as I can see what a great distraction device it would be when you're holding a fussy baby.
*Disclaimer: Rock of Feather kindly sent me the Hummingbird teething bracelet in exchange for an honest review.*
If you would like to learn more about Rock of Feather make sure to read this week's Inspiring Parents post where in interview the founders – Natasha and Amelia.