Welcome to a new feature on my blog – Ben's Zone. Written by husband… Ben. A foodie (he doesn't admit it, but he's a total food snob), coffee obsessed, ex-smoking, ex-drinking and Ridgeback loving father (our dog adores him – as does our son whose favourite toys are cooking related just like his Dad). Who is also seriously into his fitness. Be it bikes (he has far too many) or more recently muddy racing after completely Tough Guy (and getting hypothermia just for the fun of it) in January this year. Oh and he has a bit of a penchant for pink. He will blog pretty much about the above and you can find him on the blog (most) Sundays. Enjoy 🙂
---
Eat Slim Rice and Noodles Review
Welcome to my first review! Normally Laura gets to do the reviews and I hang around in my zone smelling of old trainers and complaining about shouty children. So I was stoked when Holland and Barrett sent me some of their new range of Eat Slim products to review. The deal is I got the products for free and in return I give an unbiased review, I wonder if they knew what a food snob I was when they sent the goods! Probably not.
These products hit a number of touchpoints for me, they are aimed at weight loss (a staggering 9 calories per 100g), they are gluten, sugar, carb and dairy free and they're packed full of protein, so to say I was intrigued is an understatement. There is also a diet that goes along with the products, you get voucher code for an e-book in the packaging, I tried to download this and was not able to. In this review I am going to concentrate on my two test products, Slim Rice and Slim Noodles and my impressions of them.
The basis of the product is a plant called Konjac which is widely used in Japanese cooking. The plant is a root vegetable processed into either rice or noodles. I'm always wary of very highly processed foods however the level of processing here seems more akin to Tofu than some of the concoctions you come across. I must say I don't know the exact process used for these products but the use of Konjac to make noodles and flour goes back a long way. I also did some checking and found that Holland and Barrett insist that their supplies do not use GM products, again, a strong pedigree.
So, on to the food. I'm happy to supply recipes on request but as I'm talking about taste here I'll give the cooking chat a back seat (and believe me it's very hard for me to do that).
The first meal I tried was a chicken stir fry using the Slim Rice. This was based on the recipe that came with the rice itself, that called for Tofu, but I had not got any pressed so I used chicken. The recipe itself was easy and practical, not calling for any ingredients you would not have in the cupboard and fridge and it yielded a massive amount of food. The rice was easy to work with as it came pre-cooked and could go straight into the wok. I could easily have split this between Laura and I were she not on the Cambridge Diet. As it was, I had to take one for the team and eat it all, tough life.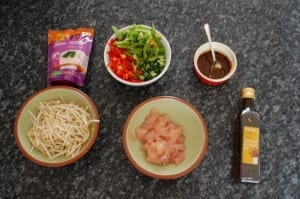 Flavour wise the rice was fine, it worked well in the stir fry. The texture was not quite right, whereas with normal rice you get the slight resistance as you bite through the husk, here there was a slight, jelly like give. I think if you ate just the rice on its own that would be weird but in the stir fry, with many other ingredients, it was fine. My Fitness Pal calculated the calories at 477Kcal. You can see from the pictures what a huge amount of food there was. To put this to a proper test I then went for a nice fast ride on the bike. I didn't feel hungry either before or after riding, the claim that the Konjac keeps you feeling full definitely held up.
For my evening meal I had bavette (a cut of steak) cooked sous vide with the noodles stir fried with some pak choi and some other bits. Although there was still that strange initial bite, this leant itself much more to noodles than it did rice. Overall, my impression was that they felt very similar to rice noodles in my mouth. I'd eat this again and would also try this in a Thai style Laksa as I think the texture would work there really well (I like to make that with butternut squash and asparagus). In terms of taste, you don't get the starchiness of egg noodles but you wouldn't expect that. Again, the noodles were pre-cooked and so straight into a hot wok.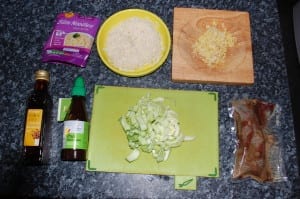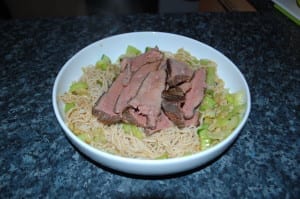 So in conclusion, what do I think? Well, as I said, the texture was not quite right but weighed against the amount of things that do work here, that's a small concern to me. My daughter cannot tolerate dairy and so while my wife breast fed she and I went dairy free. Finding products to replace ones with allergens like for like is always tricky and even getting close to the 'real thing' is good going, for the most part Slim Rice and Slim Noodles do that which is a big achievement.
Then we have the calories, 9 calories in 100g is just bonkers and given that it's all protein and fibre instead and that is a win for me. In terms of cost, 200g of pre-cooked Basmati rice is about £1 if you find it on offer as opposed to £2.50 for Slim Rice / Noodles so it does cost more but that can be halved by buying in bulk which brings the cost much more in line. So now the all important question, would I buy this again? Simple answer, yes. You can have a massive filling meal with this stuff and get it under 250 Kcal if you have a normal size portion. I would not want to be eating this 24/7 but for a nice big meal with no guilt, it works like magic. Maybe I wouldn't serve it for a dinner party but every time I found myself comparing this to normal rice or noodles I just kept coming back to the tiny amount of calories and for me, that outweighed my misgivings on texture.
*Disclaimer: Holland and Barrett kindly sent us the Slim Rice and Slim Noodles in exchange for an honest review.*