Welcome to a new feature on my blog – Ben's Zone. Written by husband… Ben. A foodie (he doesn't admit it, but he's a total food snob), coffee obsessed, ex-smoking, ex-drinking and Ridgeback loving father (our dog adores him – as does our son whose favourite toys are cooking related just like his Dad). Who is also seriously into his fitness. Be it bikes (he has far too many) or more recently muddy racing after completely Tough Guy (and getting hypothermia just for the fun of it) in January this year. Oh and he has a bit of a penchant for pink. He will blog pretty much about the above and you can find him on the blog (most) Sundays. Enjoy 🙂
---
Getting Ready for BBQ Season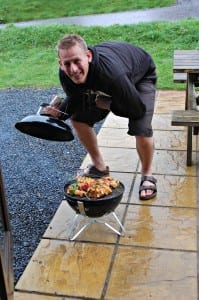 It's late April and we're lucky to have already had some lovely sunshine, the evening air has been perfumed with the scent of gently smoking charcoal. As Brits, we're used to grabbing whatever snatches of summer we can get and making the most of them, so it's time to get the barbeque ready and today I'd like to focus on my tips for a succulent summer. I enjoy all types of cooking but there's nothing that I love more than a good grill up, the food is healthy, the smell sublime and an hour spent watching a Weber smoke is as peaceful as can be. People tend to underestimate the barbeque, using it as a backdrop to an afternoon of cold lager and only slightly warmer sausages. It doesn't need to be like that, and here's how.
Get clean!  The old adage that that black tar on the grill adds flavour is a nonsense. It leaves nasty black marks and tastes foul. At the start of summer give the grill (charcoal or gas) a good cleaning with a wire brush. Invest a fiver in a long handled wire brush for cleaning the grill while cooking. Give the grill a rub down between meats and make sure to oil the grates so the meat does not stick. To oil the grate, dip a piece of folded kitchen paper in vegetable oil and wipe over the grates using tongs. Watch for flare ups.
Get rubbing!  A nice spice rub can transform even cheap cuts of chicken into something far more interesting. A couple of tablespoons of rub in a bag with some frozen chicken becomes an instant glaze and marinade as it defrosts. There are lots of recipes on the net but I have included my favourite below.
Buy a book (and then read it). When thinking of grilling, most people reach for the burgers and sausages with alarming regularity and that can be ok if you're ok with boring. I'm not ok with boring. A few pounds invested in a barbeque cookbook opens a world of possibilities. I would recommend looking for something by Steven Raichlen, he's a classically trained French chef who lost his heart to glowing wood embers and his recipes are great, from how to perfect BBQ classics right through to mastering complex recipes such as Satay. Push the envelope with the food choices too, try cuts like skirt steak, try some interesting vegetables, even some seafood, all of these work well on an open air grill. If you have an enclosed BBQ like a Weber, experiment with larger meat joints (the famous 'beercan chicken' is a must for any grillmaster)
Win it with wood chips. Whether you grill over gas or charcoal there are two things you're looking for in a barbeque, sociable al fresco eating and a hint of woodsmoke. To get that perfect touch on either type get some woodchips in at the start of the season. Garden centres will sell bags of woodchips of various types in their barbeque sections and it's well worth the investment, it gives the food that authentic caveman feel and makes your garden smell delicious. To use, soak them in water for a couple of hours, drain off and as you spread the coals. For a gas grill smoking boxes are available (or sometimes built in) to contain the chips.
Cook don't cremate!  The classic complaint about barbeques is that the outside of the food is burnt and the inside is raw or if it is cooked, it's totally dry. This is not cool. Noone would ever have a dinner party and serve burnt food on purpose so the BBQ should be accorded the same courtesy. Control the heat on the grill using vents on a covered grill and the grill height on an open BBQ and above all, invest in a cheap probe thermometer. A good probe thermometer can be used to check the internal temperature of the meat making sure it's done without being dried out like Weetabix, it also does just as good a job when cooking Christmas turkeys 😉
Stay safe. Barbecues are fun, social and a way to enjoy great food together, but be careful. Each year the combination of heat stress and higher than normal alcohol consumption causes a marked increase in heart attacks, usually among men. Enjoy a beer with the BBQ but make sure to stay hydrated and take breaks from the sun too. And for heavens sake, keep an eye on the food.
Southern Rub Recipe
1/4 cup smoked paprika
2 tbsp dark muscovado sugar
2 tsp sea salt
1 tsp celery salt
1 tsp ground black pepper
1 tsp cayenne pepper (more if you like)
1 tsp English mustard powder
1 tsp garlic powder
1 tsp onion powder
Combine in an old coffee jar, 2 batches lasts me a summer 🙂
Happy grilling!
---
This article is part of Mums' Days and You Baby Me Mummy's Linky #TheList