Bluestone National Park Wales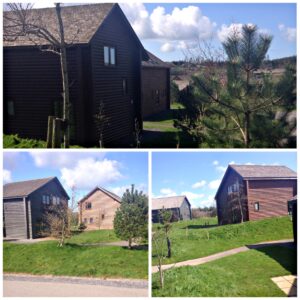 We were very lucky to be invited to stay for a long weekend in one of Bluestone Wales' lodges last week. They offered us a 4 bedroom, 8 sleeper luxury Dinas lodge, so we went for a lovely break with the childrens' grandparents too.
After a 4+ hour drive we arrived at the resort. Check-in wasn't until 4.30pm – which as we regularly holiday in self catering apartments, I found slightly late. I think the standard is 3pm. But, unlike other apartments we have stayed in, all bed linen and towels were provided, so it was really nice to arrive to beautifully made up beds. While check-in is 4.30pm, you do have access to all of the facilities from 11am, so you can start your break sooner.
The Lodge
The Lodge really was beautiful. Immaculately clean, well equipped and very comfortable. It has things that if you're travelling with children made such a difference to be included as standard, such as a travel cot, highchair and blackout lining on all of the curtains. If you're staying in a lodge with stairs (which we weren't), babygates are standard too. Which lightened our carload somewhat and was super handy! Things you do need to pack though if you have little ones are plastic plates, cups & little cutlery, a step for the bathroom and if your child is like my son and refuses to use a toilet without a trainer seat that would be useful too. As a blogger and social media lover I also really appreciated the free wi-fi too.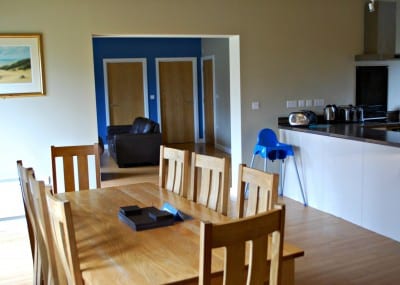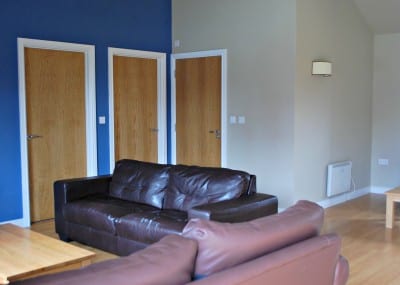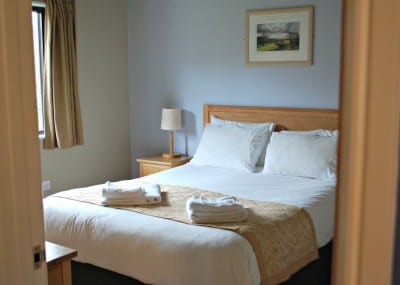 The kitchen was well equipped, there was a dishwasher, oven, grill and microwave and plenty of facilities to enable you to cook your own dinners from scratch. Perfect for a luxury self catering holiday.
I did found it a bit odd that there was no washing machines in the lodges or even a launderette in the village (there is a 48 hour turn around service if you're desperate via guest services). This was fine for a long weekend, but it would prevent me from doing a longer holiday with them because with small children it's really hard to not even be able to wash a few things through. All it takes is my son to wet his pants accidentally more than I had foreseen and I'm in trouble!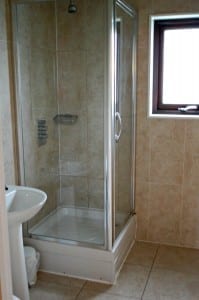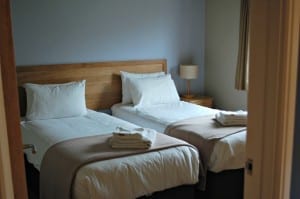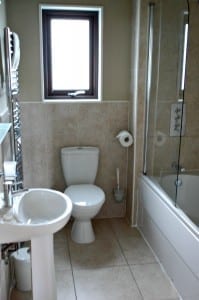 The beds were super comfy, the bathrooms modern. We had one bathroom and one wet room. The bath was great for the children. Outside of the lodge there were two large picnic benches and plenty of space for Al Fresco dining in the summer,  or a BBQ. Which even though it was raining, my husband couldn't resist ;-).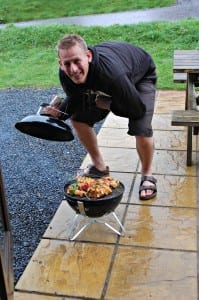 Just a small note, there was a distinct lack of instructions in the lodge. Most of the time we were fine working out how everything worked. But we did end up googling how to work the oven. Also our leather sofa was looking a bit sad and peeling and could have done with a refresh. Small things in the greater scheme of things.
Overall all thought, the lodge was fab and we were thoroughly pleased with it.
The Resort
The resort was completely designed with children in mind. There were some lovely little details. For example, they were in the process of building some additional lodges and located next to this building area, was a viewing area where children could climb up and watch the diggers at work – which my son absolutely loved!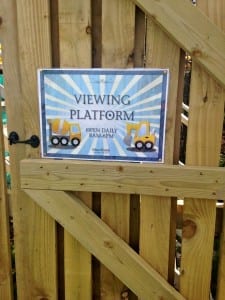 My daughter is allergic to dairy, so things like allergy grids in every restaurant were amazing and made such a difference. We immediately knew what she could and couldn't have off the menu.
The resort is car free. You're allowed to drive your car down to unload, but you have until midnight on the day of your arrival to return your car to the long stay car park. We dutifully did this, but we're then a bit miffed to discover that all of our neighbours still had their cars the next morning. But I suspect the park management did a round up, because by lunchtime all cars (except those for disabled guests – understandably) were gone.
This is an active holiday, if you do not wish to hire a golf buggy for your stay (advertised as from £29 per day) – prepare to do a lot of walking. We had a pedometer with us and we averaged 8 miles per day (with hills) on both the Saturday and the Sunday. Our lodge probably was on the farthest away from the swimming pool, and it does depend on where your lodge is located on the resort. But we were 1.4 mile walk away from the Blue Lagoon. Which for my three year old son a 1.4 mile walk, then a swim and a 1.4 mile walk back was quite hard going. If we went again we would probably take our bikes with us (which were also available for hire) or a double buggy. I personally felt the cost of the buggy hire was a bit steep, but have nothing to compare it too. My son did end up spending a lot of time on Daddy's shoulders. To help you grasp the size, there were at the time we stayed 300 lodges on the resort.
There is a lovely little village in the middle of the resort. When I read the website, I thought the village would be near by, not actually in the middle of the actual resort. It is an old, quaint village which I suspect the resort itself was built around. There was a bakers, a butchers, a little village shop and the restaurants are located there. Plus, a rather cool vending machine that sells milk!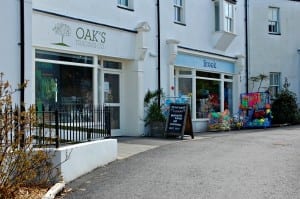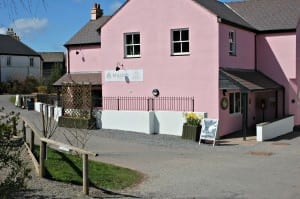 The Blue Lagoon, Adventure Centre & Activities
We were self catering, so included in our stay was all day access to the Blue Lagoon swimming pool and access to the indoor adventure centre. Although some of the activities in the adventure centre came with an additional cost, particularly for older children, there is still plenty to do in there on a rainy day.
My son (3) though the Blue Lagoon  was the best thing since sliced bread, there was a wave machine, fountains, rapids that went outside which sounds strange but was really fun, jacuzzi and water slides. We had to drag him out. My younger daughter (10 months) did find the pool a bit cool at times, so we went and sat in the adjacent cafe one morning instead.  There was some disappointment as the water slides were for children 1.1 metres and over, which sadly meant my son couldn't go on them, even on his Dad's lap. But I imagine that is for safety.
Worth a note that the swimming pool is also open to the general public. The pool is open exclusively to guests on the park between 9 and 11am. So if you are staying over the weekend I imagine the pool does get busy later on. We went during the exclusive time in the morning, but as we were leaving the changing rooms definitely started getting a lot busier at 11am.
The adventure centre was fun, with soft play, mini golf, lego, zip wires, high ropes, rock climbing and a giant crazy swing. There was so much to choose from with messy play and baby sensory for the young ones and 4×4 driving and outdoor assault courses (which my husband couldn't resist doing) for the older children. We struggled to fit it all in in a long weekend and you really couldn't get bored. A lot of this however, comes with additional cost which you need to book (you can book during your stay). If you're on a budget, this holiday could quickly add up, but at the same time if you watch your pennies and just go with the activities included on your holiday you'll be fine.
There are five restaurants for you to chose from if you want to eat out and we did for one night at the Farmhouse Grill. The restaurant was very child friendly as you would expect, the food good pub fare. The waiting staff were great, but the food service was a little slow and we did end up asking where our food was at one stage. But we still had a great night out, and the children loved the children's menu.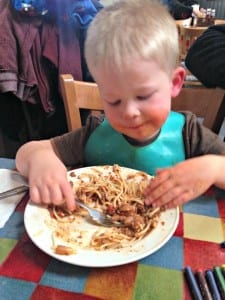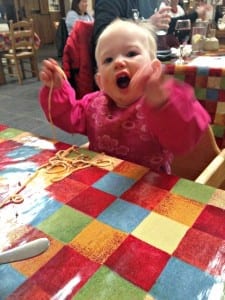 There is also on onsite takeaway if you just want to relax in your pjs.
The Spa
The Spa is probably the most negative part I have to add to this review. My mother-in-law and I asked to book in for an express pedicure each, advertised as £35 for 25 mins, versus the full manicure which was 50 mins for £60 .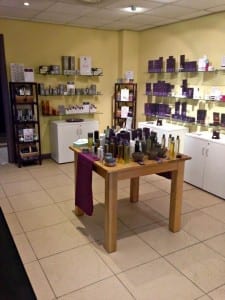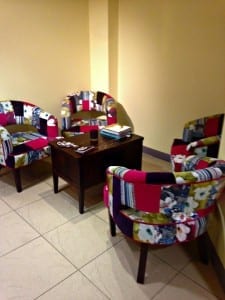 The whole process was a bit strange. Firstly we went to Guest Services (who were very helpful), who told us that they couldn't book us in and sent us across to The Spa itself.
After which The Spa staff told we couldn't book in for an express pedicure, because it was only 25 mins and if they gave us a 25 minute slot they could potentially lose out on more business, as they could could give that slot to a 50 minute customer who would pay more. Then we asked as the express pedicures were 25 minutes each (obviously totaling 50 minutes), could we not both book into one 50 minute slot and both have ours done in this time? We were told (with no explanation why), that this was not possible.
I questioned why this service was advertised on their marketing literature and website, and was told it was something the marketing team had decided to do with a shrug.
Then the receptionist told us actually due to a booking error there were in fact two 25 minute slots available at separate times, an hour apart, in the afternoon, but we could not have one together. So in the end feeling a bit miffed at the whole approach we decided against this and politely declined.
What is completely barmy is the fact that two express pedicures (£35 each) would have generated more revenue for them than one customer having the longer 50 minute pedicure (£60).
Final Thoughts
We had an absolutely lovely time at Bluestone. I have tried to be as honest as possible in my review, and while there were niggles, it really is a beautiful resort with stunning lodges. The countryside is beautiful.  We had such a lovely time in fact, we are seriously considering going back for a long weekend early next year. I would definitely recommend it.
*Disclaimer: Bluestone Wales kindly invited us to stay for the weekend in exchange for an honest review.*