Welcome to a new feature on my blog – Ben's Zone. Written by husband… Ben. A foodie (he doesn't admit it, but he's a total food snob), coffee obsessed, ex-smoking, ex-drinking and Ridgeback loving father (our dog adores him – as does our son whose favourite toys are cooking related just like his Dad). Who is also seriously into his fitness. Be it bikes (he has far too many) or more recently muddy racing after completely Tough Guy (and getting hypothermia just for the fun of it) in January this year. Oh and he has a bit of a penchant for pink. He will blog pretty much about the above and you can find him on the blog (most) Sundays. Enjoy 🙂
---
Why I Love Obstacle Racing (and why you should too!)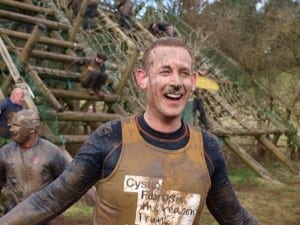 It started at a birthday party. Andy, my son's best friend's dad said he was doing an obstacle race and asked if I'd like to come along. He described it as a cross country run with an assault course at the end. I said I'd love to, it sounded like a hoot. He was referring to Tough Guy, it's a 15km run, with over 50 obstacles, in January and that's before you get to the assault course which lives up to its name 'The Killing Fields'. I did it and surprised myself by loving it. So far I'm the only one of our team already signed up for next year and I did that within a week.
It also ignited in me a passion for obstacle racing that, if it weren't for my good lady wife, would be an obsession. In this post I'd like to share that passion.
Tough Guy gave me a training goal. I'd been struggling with 2 steps forward, one step back on my fitness for a couple of years. Having a stretch goal to work to got me out training even when our daughter had been screaming all night, or on days I felt under the weather. Having a training goal galvanised me so I've continued to put in those goals and as a result my training has been constant.
I have a lot of fun Obstacle Course Racing (OCR). It's like going to an adventure playground but adult sized and without anyone calling the police. It's running without the monotony, the gym without walls and Parkour without looking silly. You can join in at any level. Tough Guy and its better known doppelganger Tough Mudder are well renowned for being very difficult, but you don't have to start there. The low key Chiltern Warrior allowed dogs to compete with their owners and the Colour Rush in Windsor promises inflatable obstacles and bombs of bright colour as you run through. You can go hard if you like and, make no mistake, the guys at the front are elite athletes, but the pack is normal people, having a great time on the weekend. Fancy dress is optional, but commonplace.
It's also nice to line up in an equal field. I'm also a keen mountain biker and, frankly, it's a sausagefest. The profusion of women in OCR makes for a fun atmosphere, but most of all an inclusive one. I want the things I do for fun to encourage participation from everyone, I'm just as stoked by the thought of taking Aria my daughter to her first OCR, as I am Logan (my cheeky son). The key is, it's about mental, not physical toughness. You don't even have to be that physically fit (though a bit fit is necessary), but you do have to have an iron will. And that's the real secret to why OCR is a beautiful thing. It's about completing it, not winning it, it's about you against the man that designed the course and proving you can't be broken and that does something very special. It changes the person next to you. In a traithlon, they are a competitor and you need to beat them, in OCR they are a comrade and you both need to beat the course. It means you're there to help each other over obstacles, encourage each other when the tiredness sets in, or give you a hug when you're hypothermic (yes, January, remember?) and that's an amazing feeling. An OCR starts with cameraderie and ends with an immense sense of shared achievement, even without the numerous practical advantages, or the fun of the race itself, the esprit de corps would keep me coming back time and time again.
As OCR becomes more popular and more mainstream the opportunities to get involved get even easier. My big hope for next year is that maybe I'll get to watch my mum in the Race For Life Pretty Muddy race or who knows, maybe even my Lovely Blog Landlord?