One Lovely Blog Award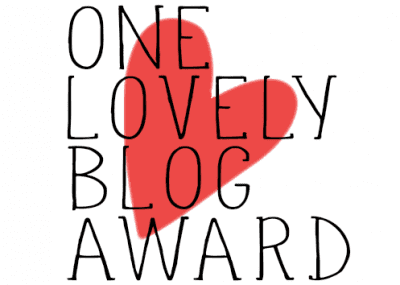 Becky from Cuddle Fairy has very kindly nominated me for a blog award – The One Lovely Blog Award. For those of you who haven't come across this award before, The One Lovely Blog award is given from one blogger to another blogger. It's a way to acknowledge blogs that are lovely! Kind of fits given my blog title does it not? 😉 In all seriousness I am very chuffed by this nomination, so thank you very much Becky. 
The first part of the award nomination is to share seven facts about yourself. So, here they are:
I am a classically trained singer. I used to have regular singing lessons before my daughter was born and hope to go back to them very soon.
I hate eggs, they're gross. As does my husband.
My favourite colour is purple, but pink is a close second.
I am frightened of spiders, but really wish I wasn't. I keep considering the really scary course at London Zoo where they are meant to cure you.
I own a lot of handbags (A LOT), I have a special weakness for Radley. I can't tell you exactly how many I have but my Radley collection is in the double figures.
My husband was my first serious boyfriend and my first love. We have been together since I was 18.
I love books and reading and I have a degree in English Literature.
Next to nominate blogs that I think are lovely. Here are my nominees:
You don't have to participate if you do not wish to, I just wanted to share the love :).
---
This article is part of Mums' Days and You Baby Me Mummy's Linky #TheList