How You Talk To Children Is Important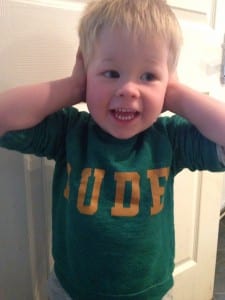 I came across this great article – Words that Build (or break) a Child's Spirit – on Toddler Approved's Facebook page, it's a really lovely article about unconditional love and encouraging our children. It also reminded me of something that happened to me when I was a girl.
I remember a teacher – Miss Ball – when I was at primary school. I was in my second year of school so I can't have been more than 5 or 6 years old. But I remember her words distinctly.
I had been playing a game with a boy in class, it had been going on for a couple of days. It was kind of like 'Had', but we'd basically try and get each other when the other wasn't suspecting it. It escalated as things do when you're children and in one class I walked up and smacked him on the bum.
Of course from the teacher's perspective I had just walked up to a boy in class and smacked him with no apparent reason. With my grown-up mum head on, it was right that I was reprimamded for this.
I cannot remember the conversation I had with the teacher but I do remember one sentence she said to me: I've never liked you Laura Summers.
I wouldn't be so dramatic as to say it psychologically damaged me. But, coming up to 30 years later I do still remember it clearly. I remember where she was standing when she said it, her big curly 80s perm and giant glasses. I also remember being very upset and I spent the rest of my school year thinking my teacher hated me.
Who knows what was going through her mind, maybe she had just broken up with her boyfriend, maybe she had a cracking headache or some terrible news…
Now switching to the present, I had a conversation with my son a few of weeks back. I was crabby and tired it had taken me ages to get the baby down for her nap and then he started jumping on the bed and shouting. Which is just the sort of thing that would wake her up. I snapped at him something along the lines of – for goodness sake, stop jumping on the bed and will you just be quiet if Aria wakes up I'm going to be really cross with you – or something roughly along those lines.
Then, I looked at his face, it had crumpled and he had put his hands over his ears and he was upset and cross. I took a deep breath and then another. I apologised. I tried a different tactic. Instead I said – we've just got your sister to sleep, can you help mummy out and be really clever and be quiet so we don't wake her? The difference was immediate.
I doubt Miss Ball even remembers me, or her comment. I imagine it was probably a flippant moment born out of frustration at the end of a long week teaching infants. But when I find myself getting grumpy and snappy with my son, I like to remember her and remind myself, (where possible) to try and find a nice way to say things to him. Because the way you talk to children does matter.
These past two weeks have been a real challenge for me, sleep deprivation and exhaustion have dogged me daily. I cannot say I have totally lived up to this promise. But I know that I will keep trying and I also remember to tell my children I love them regularly. As parents we will never be perfect, we will be frustrated and exhausted many, many times. But I hope that I will never be flippantly unkind and I will always try to be positive where I can, to learn and to think if there is a kinder, gentler well to teach and to talk to them.
Perhaps Miss Ball taught me a lot after all?
---