Pebble Grey Illuminated Mirror
About two months ago our bathroom mirror unceremoniously fell off the bathroom wall. Perhaps it was the horror of my son's potty training (it wasn't pretty), and I have been on the hunt for one ever since. So when Pebble Grey asked me to review one of their lovely mirrors, I had a browse and saw they were just what I was looking for.
I chose this round, battery operated illuminated mirror (Tavia LED Mirror £150 – currently on offer for £89). You can get mains powered ones, but then you would need an electrician to install and it and I didn't fancy that given our walls are all tiled.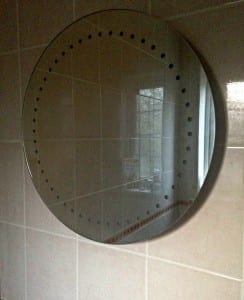 It was simple to install (according to my husband), and just needed four holes drilled into the wall. He replaced all of the provided fixings, but he does this with everything we buy after a curtain rod fell of the wall because the raw plugs provided weren't that great. So that probably says more about my husband than Pebble Grey! If like us, you always tend to mislay instructions, then you will also find it really useful that they are all listed on the website.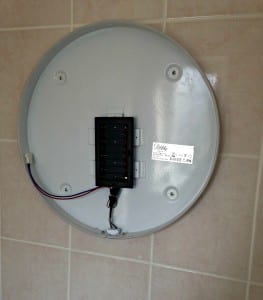 The mirror takes 8 x AA batteries (not provided), I have yet to see how long these last, as we've only had this up a week. It has a switch at the bottom which has a waterproof cover on it.
The mirror itself is gorgeous quality and both illuminated or not gives a great reflection. The kind of reflection that makes you think, holy crap I need to put my make-up on better than that! In the evening, illuminated it gives a good a reflection as bright daylight does.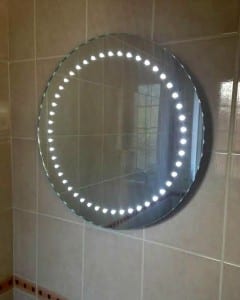 We've installed this in our downstairs cloakroom as we needed a new mirror in there, but I am seriously considering getting on of their bathroom cabinets for upstairs because I am so pleased with it. They also do a great little illuminated pocket mirror I am tempted by too.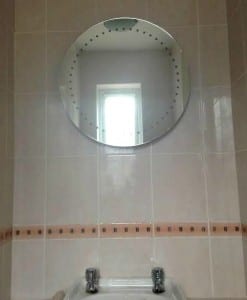 If, like me you haven't come across Pebble Grey before, I'd heartily recommend checking out their site. Being a new to me company I wasn't quite sure what the mirror would be like when it arrived. However I have been thoroughly impressed with the beautiful quality.
Side note: But, I have learnt since writing this post, is it's really hard to take a photo of a mirror without getting a picture of yourself in it too, this is even harder when there is a window directly opposite the mirror ;-).
 *Disclosure: Pebble Grey kindly sent me this mirror in exchange for an honest review.*