*Collaborative post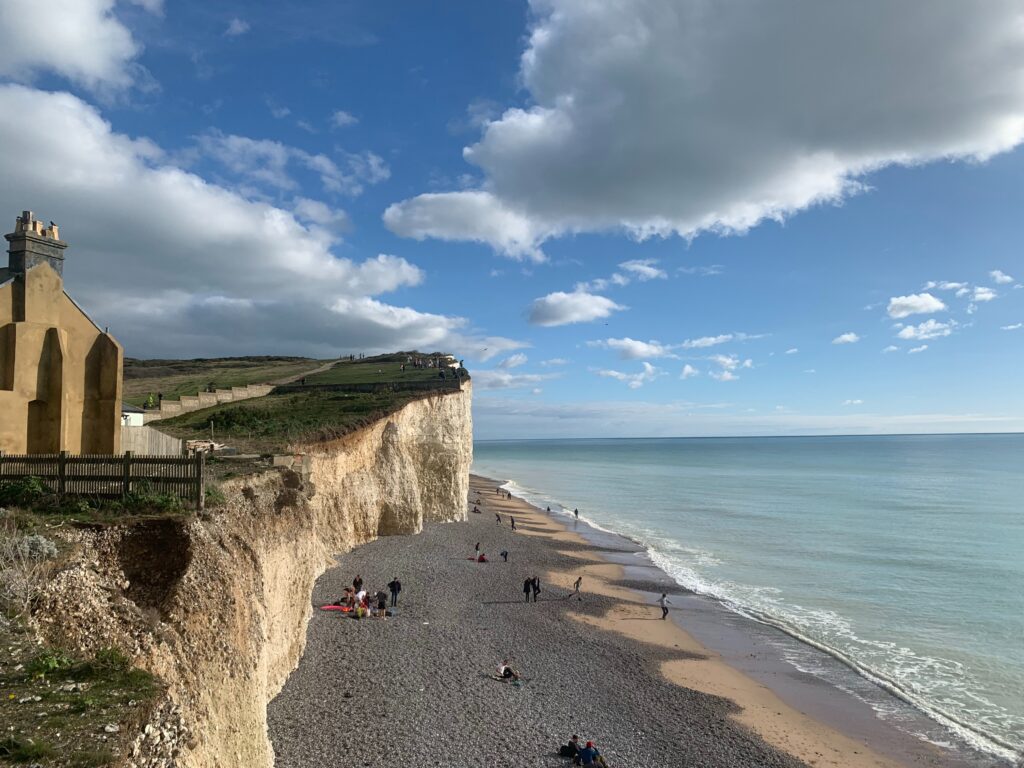 The UK is not particularly known for its beaches, but a little exploring might surprise you. With thousands of kilometres of coastline, you will undoubtedly find some of the most beautiful beaches in the world. These range from well-known beaches such as the Isles of Scilly to the sandy beaches of Devon. Each beach is known for a different attraction or activity, so we will look at a selection of UK beach destinations that offer something different.
Seven Sisters in Sussex
Seven Sisters is one of the most captivating beaches in the UK due to a dramatic cliff of white chalk cliffs that dominate its landscape. Its name refers to its peaks, and those who would prefer to hike along the cliff can do so on the train that runs atop it.
Seven Sisters is better known as the beach for nature enthusiasts and is the perfect destination for those who love outdoor activities like canoeing and birdwatching. Wild swimmers can still enjoy its water, although that is less common than at other beach destinations.,
Visitors can stay at the Saltmarsh Farmhouse & Cafe, a boutique hotel located in the Seven Sisters National Park.
East Portlemouth in Devon
Visitors looking for a quieter area that does not get as overcrowded as others should visit East Portlemouth to enjoy the sights of Milly Bay, Smalls Cove, and Fisherman's Cove. You can reach these beaches using a passenger ferry that flies the route between Salcombe and East Portlemouth.
The pristine beaches and blue waters often draw families with young children, paddle boaters, and kayakers. The area is also safe for swimming, so bring your designer swim shorts. The best time to visit this area is during low tide to enjoy it all to yourself.
You can stay at the South Sands Hotel with magnificent views of the beach and East Portlemouth.
Bamburgh Castle Beach in Northumberland
Bamburgh Castle Beach is located in the North part of England and is named after the castle standing close by. It has some of the best beaches in that part of the country and provides visitors with a different experience because it is a rugged and rough area that sees rough waves all the time.
Partners and families can walk along the beach admiring the castle or sit beneath umbrellas and watch the waves. You can also participate in one of the many water sports activities that regularly happen on the beach's rough waters.
Blackpool Sands in Lancashire
Blackpool Sands is just under five kilometres long and provides visitors with gorgeous views and numerous activities. You can enjoy the seaside cabanas and cabins, go yacht sailing or compete in water sport events.
The beach's clear blue waters are inviting and safe for swimmers. You can also enjoy a better view of the sea and surrounding area by hiking to the top of the small hills right on the beach.
You can get away from the magnificent cities of the UK by visiting one of its many beaches. These beaches provide opportunities to swim or engage in different activities while allowing you to enjoy local cuisines and drinks right on the water. You can also go for a walk or hike to enjoy a better view of the sea and the beaches.