*Collaborative post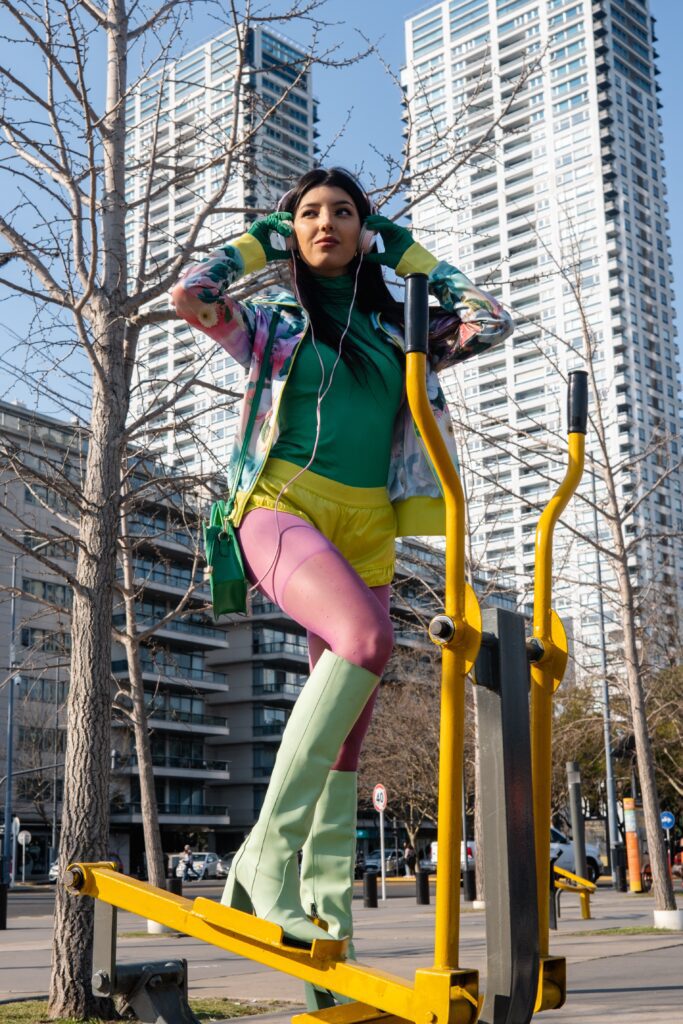 Tights are versatile pieces of clothing, and not just because they offer protection and freedom of movement to their wearers. They're also easy to wear in a number of settings, including professional ones like offices. Neutral-coloured tights, in particular, are popular pairings for different types of outfits. Whenever you buy pairs of tights to wear for work, travel, or casual outfits, it's highly likely that you gravitate towards colours like black, nude, and even midnight blue. 
But in truth, you shouldn't limit the colour range for your tights if you want to come up with some truly spectacular outfits. Distinctly coloured tights are a playful wardrobe staple that can instantly add a pop of colour and personality to your ensemble, and they're worth wearing to virtually any occasion.  
Whether you're going for a casual chic look or embracing a bolder and edgier style, colored tights for women may be just what you need to elevate your current style game. Below are eight fun outfit ideas that you can try with your new pair of coloured tights:
Playful and Casual
Colourful tights will be the perfect addition to an outfit that simply screams fun. Even just adding colourful tights to your standard jogging outfit of shorts and a T-shirt can make you look and feel more energetic, for instance. 
While you're off doing errands and other day-to-day activities, you can incorporate colourful tights into your getup to invoke a more playful feel. Try combining a pair of bright red tights with a denim skirt, a white graphic T-shirt, and a denim jacket. Finish the look with a pair of white sneakers for an effortlessly cool vibe that's perfect for weekend outings or hanging out with friends.
Chic and Sophisticated
Black tights aren't the only tights that can make your office attire look more fashionable. A pair of colourful tights can also level up a polished outfit in ways that you haven't yet discovered. 
Deep purple tights are a great option for office outfits. Pair them with a black pencil skirt, a cream-coloured blouse, and a tailored blazer. Complete this ensemble with a pair of classic black pumps for a refined look that's suitable for an ordinary day at the office, a meeting, a pitch, or even a dressy evening event.
Bohemian Vibe
Colourful tights can also be successfully incorporated into a Bohemian-inspired outfit. Get the laid-back vibe right by donning mustard yellow tights. Combine these with a flowing, floral-printed maxi dress, a chunky knit cardigan, brown ankle boots, and a wide-brimmed hat. Add a natural cotton or leader Boho bag to your look to give it a bit more flair. This free-spirited ensemble is perfect for embracing a laid-back and artistic style, which will be perfect for music festivals or casual outdoor gatherings.
Sporty and Street Style
No one said you can't wear tights while being active and exploring your neighbourhood. If you're aiming for a sporty or streetwise look while you're out and about, try wearing electric blue tights with your go-to athleisure-inspired outfits. Make a statement by pairing your tights with black athletic shorts, a black tank top, and a zip-up hoodie. Then, complete this sporty look with white sneakers and a baseball cap. You'll want to wear this outfit for casual outings, running errands, or hitting the gym in style.
Vintage Glam
Channel vintage-inspired glamour by opting for burgundy-coloured tights. Wear them with a high-waisted black skirt and a white blouse, plus a faux fur jacket or statement cardigan. Pull on some black pumps or some handsome leather boots and dab on some bold red lipstick to complete this elegant and timeless look. This ensemble is perfect for a night out or a special event (with a special someone).
Edgy Rocker
Why not infuse your outfit with a touch of edgy coolness by wearing black tights with noticeable metallic accents? Pair these with black leather shorts, a band T-shirt, and a black leather jacket, then finish the look with black combat boots and studded accessories for an outfit that exudes rock and roll.
Preppy and Polished
Of course, you can also use colourful tights to achieve a preppy and polished aesthetic. One of the best choices for this purpose is a pair of forest green tights. For a stylish look inspired by the academe, wear these tights under a plaid skirt and with a white button-down shirt and navy blue blazer. Knee-high boots and a structured handbag will complete the ensemble and offer a sophisticated and put-together look that's suitable for a business-casual environment or a chic day out.
Colour Block Delight
If you're keen on experimenting, try bold colour combinations by wearing tights in contrasting shades, such as pink and orange. Pair them with a black mini dress and a colour-blocked coat. Wear your favourite pair of ankle boots and some socks in a coordinating colour to create a fashion-forward and eye-catching ensemble.
As you can see from the examples above, there are lots of ways to style a pair of coloured tights that will truly unlock your creativity and sense of fashion. Don't be afraid to mix and match colours, patterns, and textures you'd normally shy away from—and don't hesitate to add your own flair to these outfit suggestions to truly make them your own!