*This is a collaborative post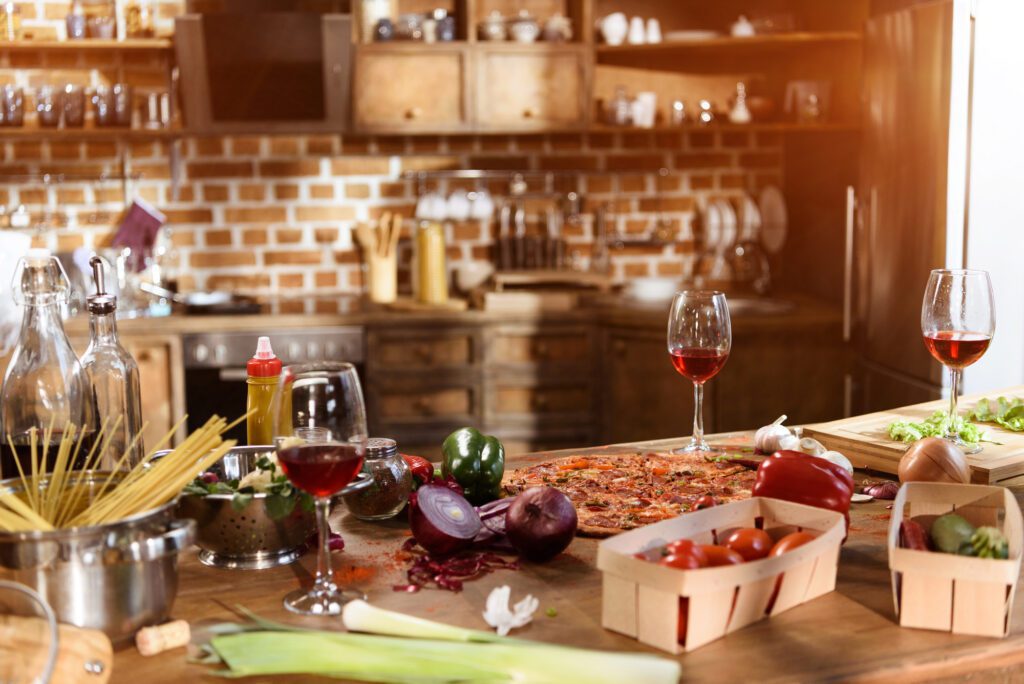 If you've been wanting to switch up your family dinner routine, incorporating a theme around the meal is a great way to spruce up the dinner table.
Not only will it make dinnertime more fun and interactive, but it can also be an excellent opportunity to teach your kids about different cultures, cuisines, and historical periods. It can also pose as a fun little mini-challenge for you to prepare dishes outside of your comfort zone!
With a little forward-thinking, preparing a themed family dinner can be easy to pull off. Here's a list of some ways you can make family dinners more fun for everyone!
1. Make a Hotpot
Not in the mood to eat out? No problem! You can bring the restaurant experience home by making a homemade hotpot.
Hotpots are a type of Chinese dish that typically features a simmering pot of broth placed in the centre of the table, with an assortment of raw meat, vegetables, and noodles placed around it.
Diners then cook their food in a boiling broth and can choose their dipping sauces to go with it. Everyone has their bowl, and they can customise their eating experience.
Making a hotpot is a great way to get everyone involved in the meal, and it's also a delicious way to bond with your family since everyone's dipping into the same pot.
That said, the ingredients are key here. Be sure to have a variety of fresh cabbage, carrots, thinly-sliced beef, tofu, and noodles on hand—all uncooked. A stew pot and induction stove are also necessary to prepare this meal.
2. Enhance the Social Experience
If your family's often tied up to their phones during mealtime, consider planning a themed dinner that will help encourage more face-to-face interaction.
One idea is to incorporate games during mealtime! You can consider cooking a variety of finger foods and host a trivia night where family members have to answer questions about each other in order to pick an item off the plate.
Of course, you can also simply improve the quality of conversations by asking fun and open-ended questions at the dinner table. They don't have to be too deep—just enough to get everyone thinking and talking.
3. Formalise Your Guestlist
Everyone knows that the best dinners are the ones with great company. So, take some time to decide who you want to invite over for your themed family dinner.
Invite people who bring positive energy to the table and make everyone feel comfortable. This can be your immediate family, extended family, or even close friends. Just make sure that everyone gets along well so that you can avoid any awkwardness or conflict.
Once you have your shortlist, message or call each person to confirm their attendance. You can also use this opportunity to let them know the theme of the dinner so that they can dress accordingly.
4. Get Everyone In On It
Remember, you're not alone! You have every right to involve your hubby and kids in the planning and preparation process. Cooking a meal for your entire family can be an arduous task, so getting some help in the kitchen will definitely lighten the load.
What's more, this is a great opportunity to teach your kids how to prepare certain dishes. But if cooking is not the family forte, you can always consider hiring a catering service like Gathar to give everyone more time to enjoy themselves and each other's company.
5. Clean Your Place Up
No one likes dining in a messy environment. So, take some time to tidy up your place before your guests arrive. This includes doing the dishes, sweeping the floors, and making sure that there's no clutter lying around.
Make sure all your light bulbs are in working order and open up the curtains to let some natural light in. Lastly, make sure that the steps leading into the front entrance set a good first impression.
6. Plan Your Table Setting
As soon as you get confirmation from your guests, start planning how your guests will be seated. Is there enough room for everyone at the main table? How about the kids' table? If it's a birthday party, where will the celebrant like to be seated?
You can also use this opportunity to add a few fine embellishments to the table, like tablecloth or napkin holders This will help make your dinner table look more put-together and inviting.
7. Put Together a Song Playlist
Nothing beats a good song playlist to get everyone grooving throughout the meal!
If you're not sure what kind of music to play, consider playing chart-topping songs or old classics. If you already got a good feel of a guest's musical tastes, put that into consideration as well!
Another suggestion is to ask each attendant to submit a song beforehand. This way, you can create a playlist that's custom-made for the guests of the party, which can help make the party feel even more special.