*Advertisement Feature
Back in September, we reviewed Colief Vitamin D drops and talked about how easy they were to use and the importance of vitamin D. Today I am here to talk to you about Colief's Vitamin C drops. Vitamin C is something I always associated with colds, whenever I got a cold as a child, my Mum always used to say to me you need some vitamin C and would ply me with orange juice and fruit. In actual fact, she was right. Vitamin C is an essential nutrient that we need in our diets, it also helps our immune systems. It also helps with collagen production, which is needed for the formation of blood vessels, bones, cartilage, gums, skin and teeth. Which as I'm sure you realise is particularly important for children.
Did you also know it helps with the absorption of iron? I was told to take a glass of orange juice with my iron tablets, to help my body absorb them better by my GP. So it helps us absorb another essential nutrient for our health.
Where can you find Vitamin C?
Vitamin C can be found in many fruits and vegetables, including oranges, strawberries, kiwi fruit, bell peppers, broccoli, kale, and spinach. Even better if they're raw rather than cooked. As a Mum, I know this is not always an easy feat! My oldest child is actually crazy about vegetables, but my youngest can spot them at a thousand paces no matter how hard I try to hide them from him! This is where Colief Vitamin C drops come in. A simple vitamin supplement that can easily be added to a drink without your child even noticing.
The NHS also recommends that children aged 6 months to 5 years are given vitamin supplements of vitamins A, C and D every day. So this is a great way of getting one of these important vitamins easily into their daily routine.
How do you use Colief Vitamin C Drops?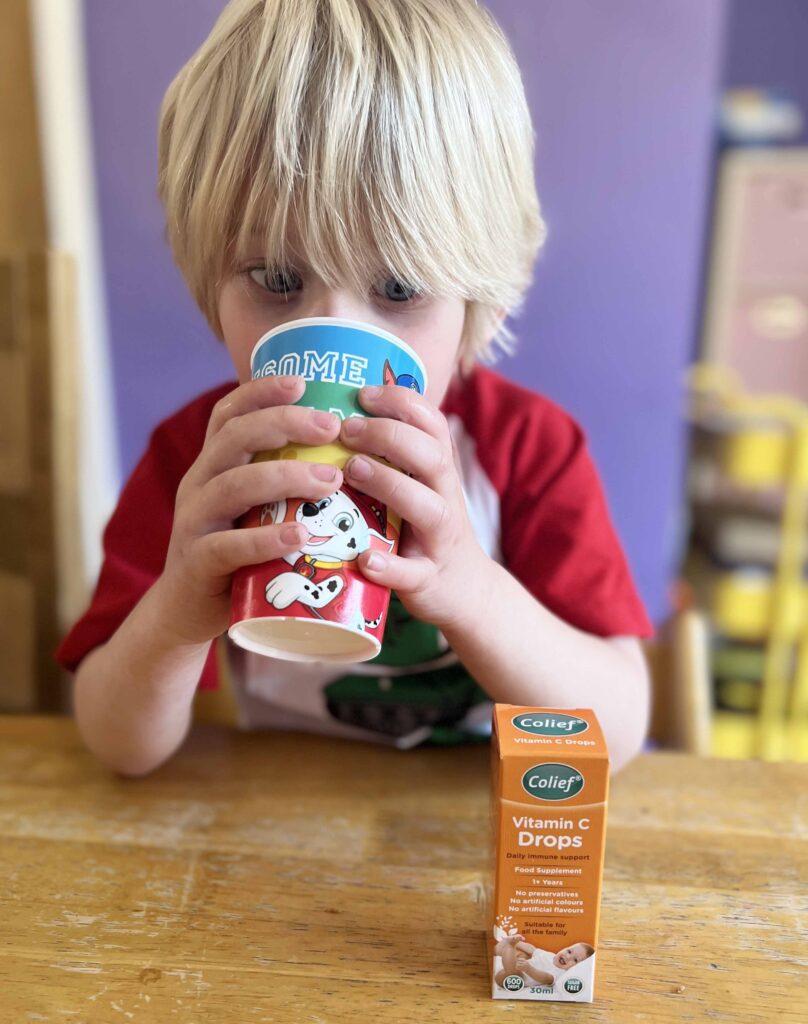 Colief Vitamin C drops are a vitamin supplement you can add to your child's (or your) drink. The drops are free from yeast, gluten, corn, starch, wheat, nut, soy and dairy. Great for children who have allergies, my daughter Aria has to be careful with dairy, so this is great news for us. It can be given to children aged a year or over. It's sugar-free daily and is produced without artificial flavours, colours, or preservatives.
You simply add a few of the vitamin drops (the amount required is dependent on your child's age) into your children's drink each day, such as milk or juice and they won't even know it's there. My children have happily drunk theirs each day with no fuss at all. It's reassuring to me to know they are getting their vitamin C each day to help with their health and growth and development. These drops can be used for all the family right up to adulthood. One bottle contains 600 drops so they will last a little while.
In Summary
Colief Vitamin C drops are a really easy way to get an essential vitamin in your family's diet without them even noticing. Vitamin C is essential for children's health and development and supplements are recommended by the NHS for children aged 6 months to 5 years. They help your immune system and even help you to absorb iron. It's something every member of the family should make sure to build into their daily diet. You can find out more about the drops on the Colief website or the Colief Instagram page.