*This is a collaborative post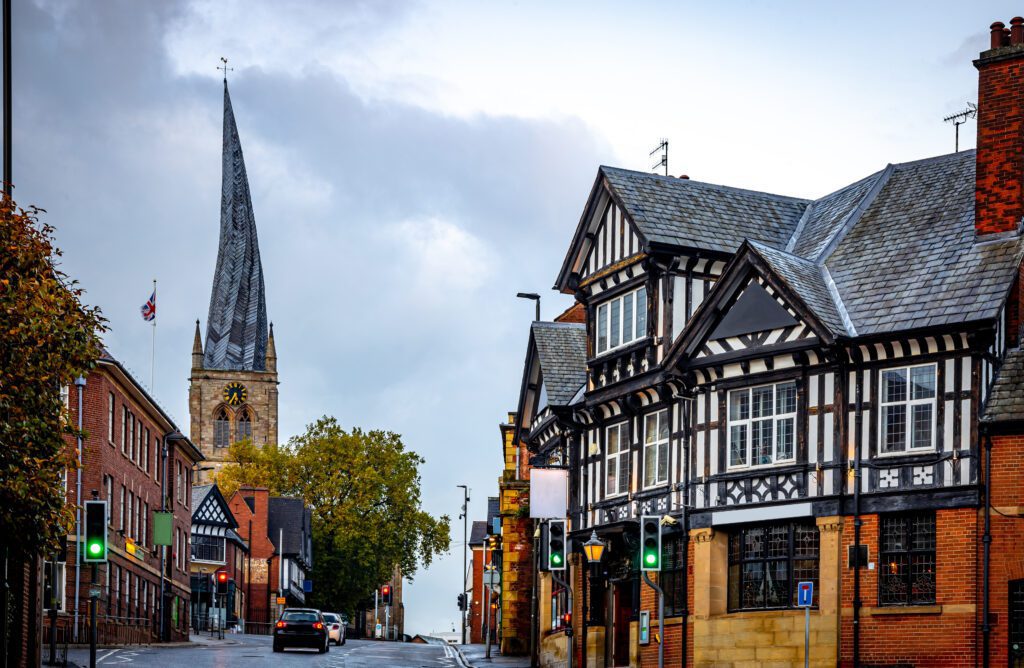 Chesterfield is a market town in Derbyshire in the East Midlands which is famed for the crooked spire on its local church, 13th century St Mary's and All Saints Church, its medieval cobbled centre "The Shambles" and its proximity to the stunning Peak District National Park. 
Only 11 miles from Sheffield and 24 miles from Nottingham and Derby, Chesterfield is an ideal spot for house hunters looking for a painless commute in a more rural setting with a strong sense of community and local heritage.
With its own train station, Chesterfield offers regular rail services between London, Nottingham and Sheffield with each city being reached in less than 2 hours, just over half an hour and 15 minutes respectively. Chesterfield's location on the A61 from Derby to Thirsk and the M1 between London and Leeds also provides excellent road links. There is a good local bus network taking in many of the nearby towns and villages and regular coach services travelling further afield too. For domestic and international flight options Doncaster Sheffield Airport is also just over an hour away by car. 
For parents of school-age children, there is plenty of choice when it comes to education with several local primary, secondary and independent options available plus Chesterfield College for further and higher education courses. 
When it comes to local amenities, Chesterfield's impressive, 800 year old open-air market is one of the largest of its kind in the country and the town also has a good selection of high street and out of town retailers in its own right, plus the mighty Meadowhall retail and leisure centre on the doorstep.   
From the Queen's Park Sports Centre to the Chesterfield Museum and Art Gallery, Grassmoor Country Park, the Pomegranate and Winding Wheel theatres and Robin Hood's old stomping ground Sherwood Forest on the doorstep, there are plenty of leisure facilities for all ages too. Social Chesterfield also enjoys an active calendar of events from The Real Ale Festival to the Walking Festival at Linacre Reservoir and Christmas at nearby Chatsworth House.
Homebuyers will also be pleased to know that Chesterfield is competitively priced for the East Midlands area when it comes to properties. In the last 12 months, properties in the town sold for an average price of £201,378. Making Chesterfield more affordable than both Derbyshire (£235,584) and the East Midlands region overall (£250,094). 
When it comes to the most affordable areas of Chesterfield itself, whilst the west side of the town closest to the Peak District National Park tends to be more expensive with plenty of spacious, detached properties in sought after streets like Chatsworth Road, there are still bargains to be had if you know where to look.
To the north of the town, Whittington Moor has had a very competitive average house price of £135,525 over the last 12 months, despite a rise of 7% in local property prices during the same period. Terraced homes are even being snapped up for an impressively low £89,000.
At £148,140, £148,812 and £148,992 respectively, average property prices in Hollingwood, Birdholme and Staveley to the northeast are also competitive despite rises of up to 3% across all areas over the past 12 months.
Boythorpe to the southwest of Chesterfield had an overall average price of £148,812 over the last 12 months with terraced properties coming in under £120,000 and semi-detached homes under £140,000.
Properties in Tapton Grove, Tapton and Brimington to the northeast of the town offer a similar level of value with average property prices over the last year of £162,519, £163,367 and £164,195 respectively.
For a similar price point (£164,564), the area of Holmewood around 5 miles southeast of Chesterfield has plenty of semi-detached homes and terraced properties available for under £135,000 despite an impressive average price rise of 28% over the past 12 months.
Still healthily below £200,000 is the southeast area of Grassmoor with an average sold price of £174,934 over the last year, despite its sought-after location on the edge of Grassmoor Country Park and the South Chesterfield Golf Course.
However, if you are in search of a bargain in Chesterfield then it might be best not to hang around since property prices in the town have risen 7% overall in the past 12 months.