Welcome to a weekly feature on my blog – Ben's Zone. Written by husband… Ben. A foodie, coffee obsessed, ex-smoking, ex-drinking and Ridgeback loving Dad. Who is also seriously into his fitness.  You can find him on the blog (mostly) on Sundays. Enjoy!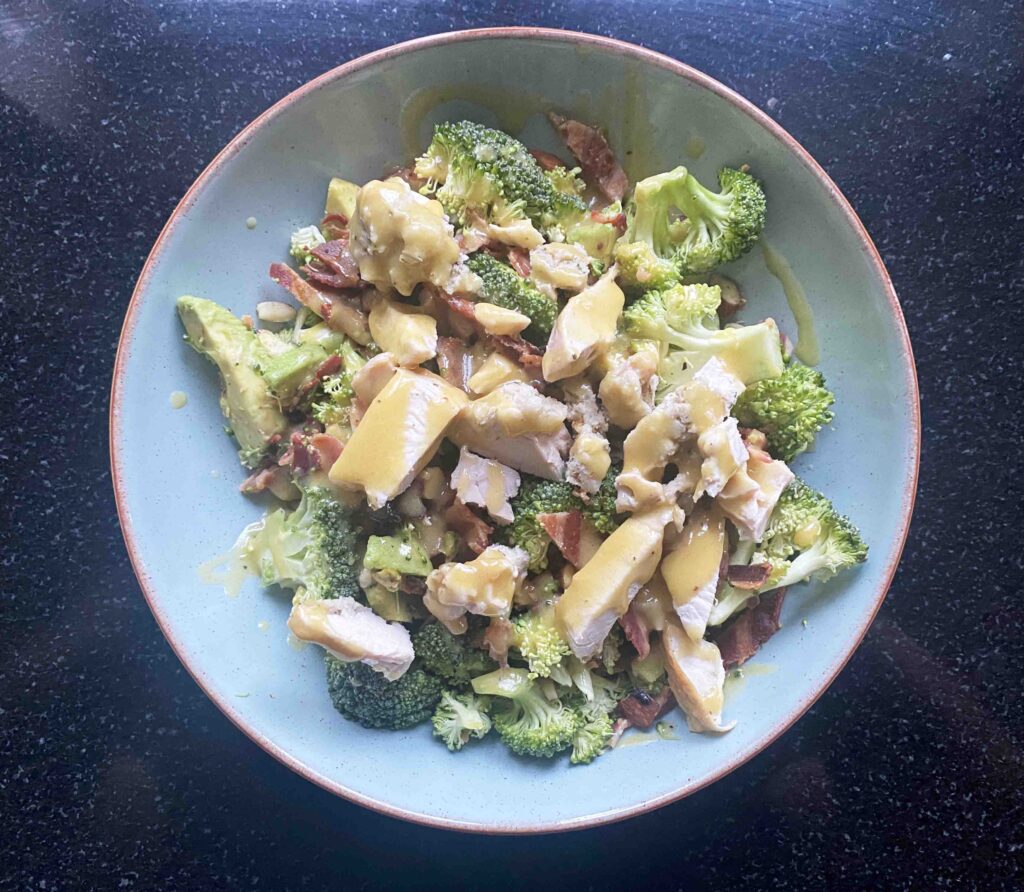 Easy Brocolli Salad With Bacon Recipe
Although my hatred of roast dinners is well documented, my family loves them and what that means is that by Sunday evening I'm tired and wanting something light for supper, but still pretty tasty.
In recent weeks my go-to Sunday dinner has been a really simple salad that still manages to pack in some Sunday indulgence before it's time to go back to work. I like the pepperiness of the uncooked broccoli, the smokiness of almonds toasted with their skin on, and the creamy decadence of a bit of avocado lending a creamy edge to the whole thing.
I'm usually working out first thing in the morning so I like to pack in some protein too, the bacon acts more as a seasoning than anything else but the chicken is nice and lean and tasty. You can use either leftover roast chicken from lunch or roast up some chicken thighs and use those. The honey mustard dressing just brings everything together with a bit of a zip. There's nothing surprising here, just a bunch of flavours that go well together and a dish that can be prepared quickly and easily.
Ingredients
(serves 2 with big servings)
Salad
1 head of broccoli
1 handful of almonds, skin on.
1/2 pack smoked streaky bacon or pancetta
2 handfuls shredded roast chicken
2 ripe avocados
Dressing
2 tablespoons Dijon mustard
2 tablespoons honey
1 clove garlic
3 tablespoons extra virgin olive oil
3 tablespoons cider vinegar (or white wine would be fine)
Method
1. Cook the bacon. Personally, I do this in the oven at about 220C between two baking sheets. I want it nice and crispy so it can be crumbled over the salad. It could also be fried until crispy but rest on kitchen paper after cooking to remove the oil.
2. Toast almonds in a heavy-bottomed pan, shaking periodically. I take them off the heat as soon as I see them start to colour and let them finish cooking off the heat.
3. Remove the florets from the broccoli and put them into a large mixing bowl. Chop them down a bit if they are big.
4. Using a knife, carefully cut around the middle of an avocado down to the stone. Twist the two resultant halves to split. Push the stone from the skin side to pop it out. Remove the flesh from the avocado with a dessert spoon. If you can't get it out with a dessert spoon then it's not ripe enough to use. Do the same for the other avocado.
5. Chop the avocado to rough dice and put it into the bowl with the broccoli.
6. Take the now cooled nuts and add them to the bowl.
7. Crumble the bacon and add.
8. Add in the shredded chicken.
9. Mix well.
10. To make the dressing simply whisk the ingredients together and crush the garlic in via a garlic press. Season with salt and pepper.
Serve in bowls with the dressing over the top.