*Advertisement Feature
There's nothing more precious than dressing your little one in outfits you have always dreamt about, but with thousands upon thousands of babywear brands across the globe, sometimes choosing the right brand choice can be difficult.
In this article, babywear suppliers, Millie & Ralph are here to provide the advice and top brands to look out for when making your next purchase.
Sarah Louise
Specialists in high-quality rompers, dresses and outfits, Sarah Louise clothing is the perfect occasionwear choice for your little one, with each item offering a traditional style and feel.
Sarah Louise are a renowned occasion and christening babywear brand, and their clothing offers intricate details and designs, which is evident to see in each and every item of clothing.
Whether you are looking to find the perfect christening outfit for your newborn, or occasion wear that will warm everyone's hearts, Sarah Louise is the brand to shop for your next celebration.
Bizzi Growin
Now, onto an accessory brand.
Bizzi Growin are the "textile revolution" brand of the babywear industry, and specialise in incredibly soft and high quality blankets, shawls, muslins and much more.
With over 25 years in the industry, Bizzi Growin offers the luxury your baby deserves and has even opened up into high street, so you can easily shop for them online, through suppliers and in store.
This distinctively British brand offers amazing quality items that work both for your little one, but also for gifts too.
Caramelo Kids
Caramelo kids specialise in both clothing and accessories, but different to our previous brands, they offer clothing for up to 8 year olds.
This brand is especially one to watch out for if you are looking for up to date seasonal babywear for your little one, and might we say, for amazing prices too!
From dresses and vests, to sleepsuits and rompers, Caramelo Kids certainly offers a wide variety for parents to choose from, definitely a brand that offers the most range.
Baby Gi
This Portuguese born brand focuses on the natural and classic materials for newborns. Baby Gi clothing is designed by leading designers who have captured the eye of the industry to create each product.
Baby Gi's motivation is to provide what parents want for their child, which is comfort and wellbeing.
From frills, to intricate prints, Baby Gi offers the perfect selection for your baby, including their especially adorable baby grows!
Millie & Ralph
That's right! We have our own line of babywear too.
At Millie & Ralph, we offer a collection of gorgeous sleepsuits, onesies and sets to cover all of your needs when finding high quality nightwear for your baby. From intricate cable detailing, to soft, cotton and velour based materials, our collection aims to exceed all expectations and will ensure your baby will stay comfortable through every night's sleep.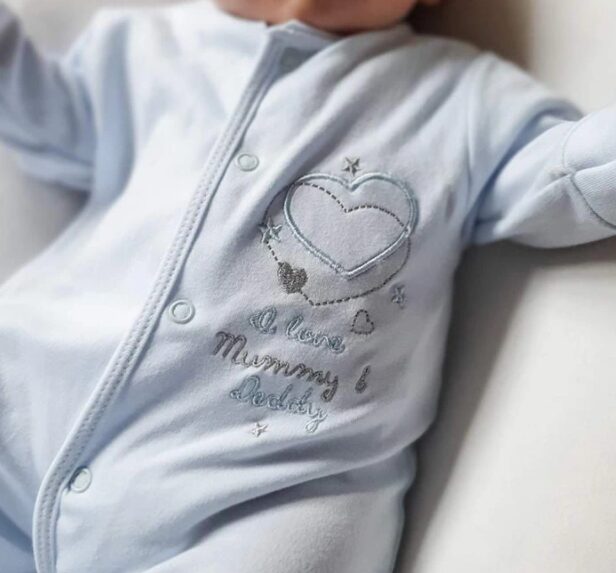 Alongside our nightwear, we also supply a range of outfits, sets and hats too.
If you are looking for nightwear and outfit options, especially for the colder months, our high quality, cotton knitted products are definitely an option to consider for the Winter.
Choosing brands you know and trust can take time, but finding the very best for your baby is worth every single minute.