Welcome to a weekly feature on my blog – Ben's Zone. Written by husband… Ben. A foodie, coffee obsessed, ex-smoking, ex-drinking and Ridgeback loving Dad. Who is also seriously into his fitness.  You can find him on the blog (mostly) on Sundays. Enjoy!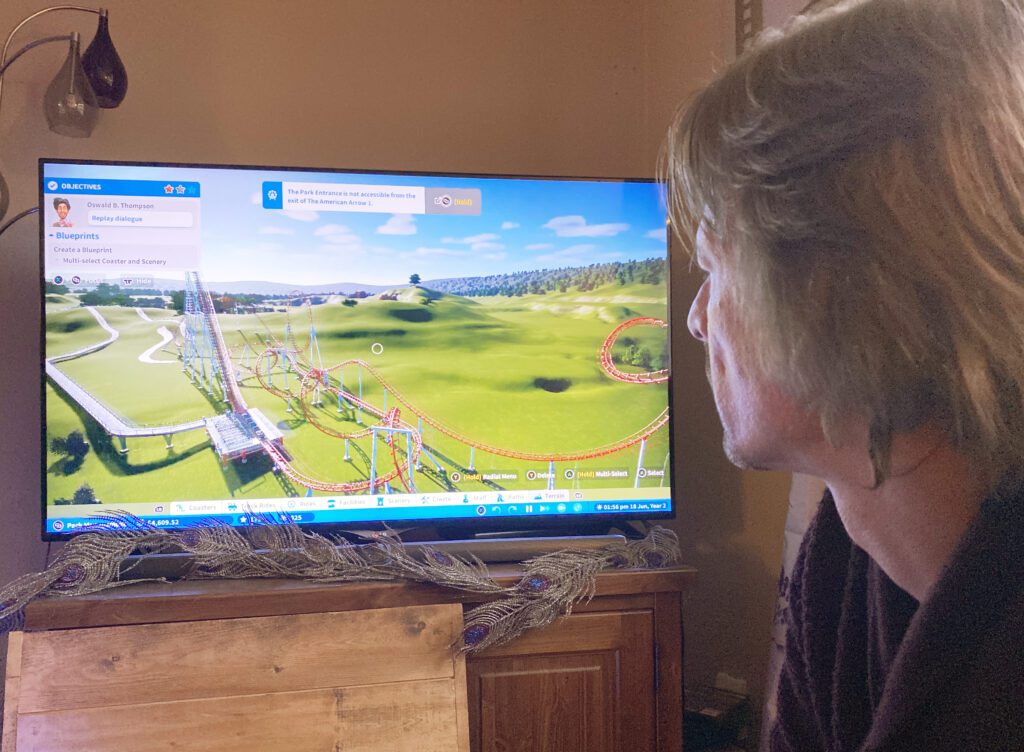 Planet Coaster – Xbox One Review
*AD – gifted and this post contains affiliate links
This week I was sent Planet Coaster to review for the Xbox One.  Planet Coaster is a theme park management game, a sub-genre of sim games started by the venerable 'Theme Park' way back in 1994.
The premise is simple, build and run your own theme park, the practicality of it is not simple, not simple at all. There are a number of scenarios from which to choose and each has a difficulty rating. This indicates exactly how hard the objectives for each scenario are. Rather than throwing you in at the deep end and getting you to build the park from scratch, existing parks are provided for you to build upon and improve. This is a good job as the model running behind the scenes is extremely complex.
The level to which the park is interrelated is truly staggering. If you don't have janitors then the park fills with litter and the visitors get annoyed, so you employ janitors, but if they're not paid well enough, trained well enough or don't have a staff room to go to they then get upset and leave. If the scenery where customers queue isn't nice then they get upset and dissatisfied with the rides. If things are too cheap you lose money, if they're too pricey people don't buy them. There is a seemingly unending depth to this game that was, at times overwhelming.
The initial part, which takes the form of a tutorial area in itself takes quite a long time to move through as there's just so much the game needs to explain to you for you to be able to get moving. In that aspect, though it would have been more difficult, I would have appreciated either a more stepped approach or an option to turn on helpers to manage certain areas until the basic mechanics were in hand. This seems like it should be achievable as games like Civilisation have managed well enough.
The graphics are extremely well rendered and the park environments themselves a joy to look at. The world is very easy to fly around with a combination of the two analogue sticks and it's all very fluid with no glitches or stops between the various menus (and there are lots). I did find that selection was a bit painful, though perhaps I just needed to get the hang of things.
I have to be honest and say once I had played the game sufficiently to make a fair assessment of the functionality I stopped playing. It's a hugely complex and impressive simulation but the subject matter itself did not grab me. As I found it hard to get into as a casual player, the complexity simply put me off. That with a clunky selection mechanism made it something I could not really dive into. I think if park simulations are your thing then there's a ton of potential here but for me it wasn't a game I could see myself coming back to which is a shame as it's a huge game with an undoubtedly amazing model tied into some really gorgeous visuals. Park sims are a niche thing but within that niche I have no doubt Planet Coaster is best of breed.