Welcome to a weekly feature on my blog – Ben's Zone. Written by husband… Ben. A foodie, coffee obsessed, ex-smoking, ex-drinking and Ridgeback loving Dad. Who is also seriously into his fitness.  You can find him on the blog (mostly) on Sundays. Enjoy!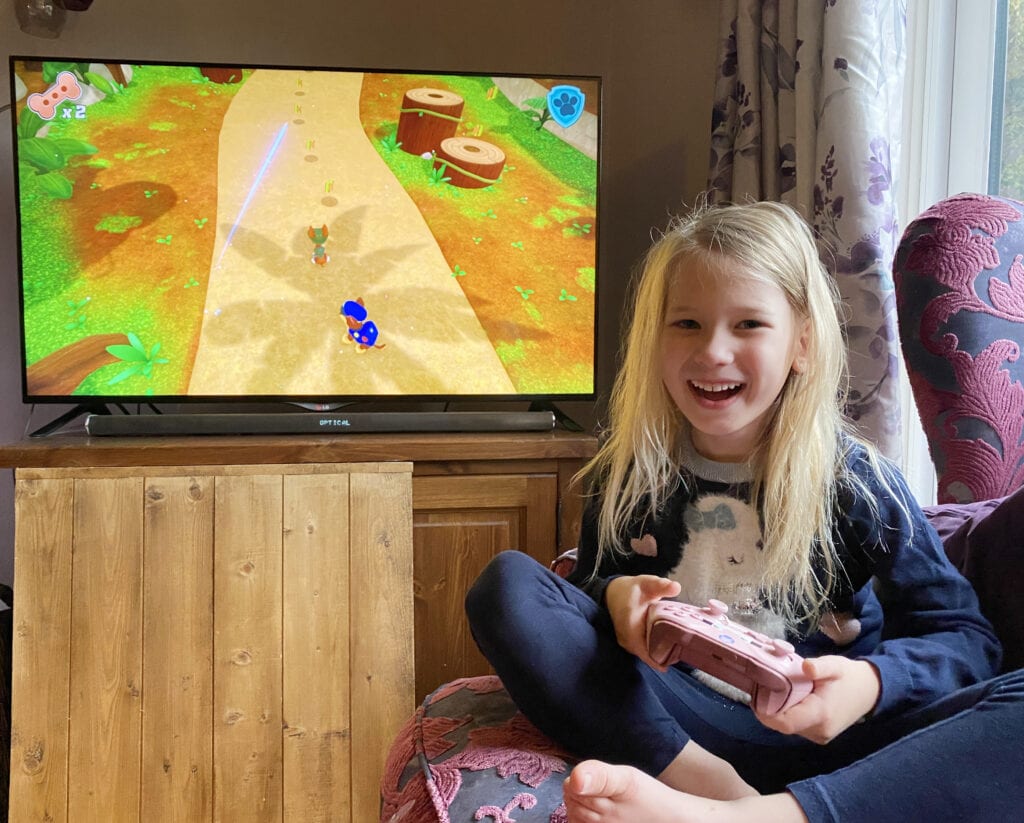 *Advertisement Feature
Paw Patrol Mighty Pups Save Adventure Bay Computer Game Review
I remember when I first heard about Paw Patrol. I was travelling in the US and texting my wife about toys our eldest, Logan, might like me to bring back. She mentioned that he'd just got into a show called Paw Patrol and particularly a character called 'Rubble'. Little did I know that since then Paw Patrol would become a near daily facet of my life. The joke amongst parents when the clocks change is 'Did you enjoy your extra hour of Paw Patrol on Sunday'. Kids just love it.
Logan is now a bit old for Paw Patrol but Aria (6) and Bo (2) are still massive fans.  When I got the opportunity to review 'Paw Patrol Mighty Pups Save Adventure Bay' computer game, I knew we were working with a low bar.  It could be a remake of a 1970s chess programme and if it had the pups in it, it's going to sell like hot cakes.  I have to be honest, I wasn't looking forward to this.
I was really surprised in a pleasant way. Pups Save Adventure Bay is a lot of fun, it uses the license well and, most important it knows the audience.
The premise of the game is that you do discrete missions. The missions involve you taking control of 2 pups and running them round small sandbox areas. The areas look fully open world but in reality there are invisible barriers to keep the player in the focus area. This is great as it stops smaller children getting lost in the map. Additionally there is a blue swoosh that appears on screen to provide helpful guidance and show the player where to go. In any mission you generally control 2 pups which follow each other around. You can swap between pups at the push of a button and you need to as each of their special abilities will be required to complete the tasks. For example, when looking for a rogue chicken you need Chase to sniff her out but Marshall to dampen the flowers that interfere with Chase's sense of smell. It sounds complex but it's really super straightforward. The running around levels are really a smooth way of linking little mini games where the pups are called upon to move boulders or set up zip lines. The mini games are always simple, achieavable and well explained. Yes, an older child might find it boring but they won't be seen dead playing Paw Patrol anyway. For the children that want to play this game, the difficulty and level of assistance is simply perfect.
With Paw Patrol everyone has their favourite pup (mine is Everest since you asked) and one of the really nice things is you get to play as all of the pups across the various missions. In addition, when driving to missions there are more mini games such as flying with Skye's jetpack or driving Everest in her snow plough. When driving the control effectively switches the pup between 3 lanes, again, simplistic but it stops younger players crashing and allows them to get maximum fun out of the game.
In terms of replayability once the main missions are completed there are unlockable mini games (including a chance to do Pup Pup Boogie dance offs) and collectables as well as badges to find hidden in the levels.  The levels do get more complex as they go on, starting with 2 pups and increasing to 4 as the game progresses but never so complex that children will be overwhelmed.  The developer has put together a very well thought out experience that a Paw Patrol fan is really going to enjoy.
The one criticism I have is that the load times between game stages are a bit too long. It doesn't make the game unplayable but it does detract a little from the smoothness of the overall experience.
If you have an Xbox one, Playstation 4, Switch or PC in the house and you have Paw Patrol fans I would recommend this game without question.  As I said, with the strength of the Paw Patrol brand this could have been rubbish and it would still sell, it's actually one of the best games I've played so far for younger gamers because it gets the level so right.